When Colin Kaepernick took a knee during the playing of 'The Star-Spangled Banner' in 2016, Nate Boyer was standing right there next to him.
It was the San Francisco 49ers' third preseason game, and it was a new form of protest for Kaepernick against racism in America that clearly still exists to this day.
Boyer had little experience in the NFL - some preseason action as a long snapper for the Seattle Seahawks- but his time as a United States Army Green Beret gave him a unique perspective on Kaepernick's protests.
Boyer recognised that the then-49ers quarterback wasn't protesting against the military, against the flag, or against the anthem. He was protesting oppression against people of his skin colour in the country the flag represents.
After the former military man wrote an open letter, Boyer and Kaepernick met and exchanged ideas about the best ways to protest. And in an interview with Shane Hannon for OTB Sports, Boyer recalls how that meeting came about.
"It was an election year, and the Black Lives Matter movement had gained quite a bit of momentum. There were some people that were starting to listen and take notice, but there was still a pretty... the majority of people saw it as a violent movement, or a divisive movement, or they didn't understand the movement.
"You make decisions, you make assumptions, you make stereotypes about what it's about. There's a lot of people, including myself, who had instilled in our heads, 'Hey look, the Civil Rights Movement happened, it's fair now, it's equal now, there's no segregation now, what's the big deal?'
"I spent five minutes in the league [NFL] but in my time overseas in Darfur, in the midst of a genocide of 400,000 people in Sudan, and then going to Iraq, to Afghanistan, seeing and being around people that are dealing with a level of oppression...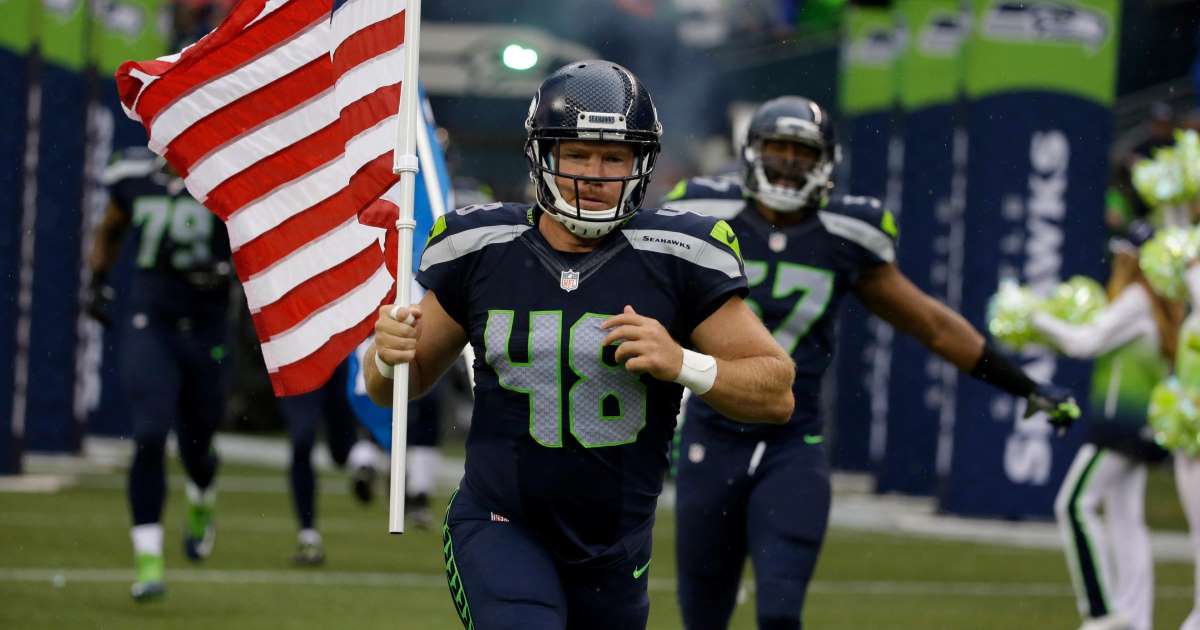 "...Then Colin starts sitting on the bench in protest, and at first I'm upset, I'm hurt. All I see is somebody sitting down when the national anthem is played and I think 'Okay - unpatriotic, doesn't care about America, doesn't like America'.
"I make all these judgements. And I had to stop myself. Just seeing the amount of rage, people were vocalising that and the word 'disrespect' is getting thrown around like crazy.
"I wrote this open letter to Colin [in the Army Times] just saying 'These are my experiences, this is why I feel the way I feel, but it's unfair of me to assume what it's like to be you.'
"The letter went kind of viral, Colin ended up calling me and we met down in San Diego before the final pre-season game that year against the Chargers."
Then came the metting that sparked Kaepernick's current form of protest. Boyer says they left the meeting that day seeing things more clearly from each other's perspective.
"We sat down in the lobby of the team hotel on game day, which is pretty crazy. People don't really do that usually, you're pretty focused on the game.
"It was like four hours before kick-off and we just started talking about stuff and by the end of the conversation, we had so much in common. It was nice for both of us to realise and recognise we want the same things basically.
"His intent was not disrespect for the military, disrespect for the flag... and I totally understood that. He asked me at the end 'Do you think there's another way I could protest or demonstrate that wouldn't offend people in the military?'
"I said 'Man, no matter what you do you're gonna offend some people, that's just the way it is. You've committed to not standing... from my perspective being alongside your teammates would be a good adjustment if you're willing to do that?'
"I said taking a knee looked more proactive. I've never seen that as a disrespectful act - people take a knee to pray and to propose to their wives, and in the military it's common for us to take a knee at Arlington in front of a fallen brother's grave to pay respects.
"I said 'If you do that I'll stand next to you, man.' And he did. So that night he took a knee at the game - it was crazy to hear the boos in the stands, that's what bothered me the most.
"Nothing about his protest really bothered me, especially after talking to him.
"At the end of the day, Colin wants what's best for our country, wants us to get better."
Download the brand new OffTheBall App in the Play Store & App Store right now! We've got you covered!
Subscribe to OffTheBall's YouTube channel for more videos, like us on Facebook or follow us on Twitter for the latest sporting news and content.