When this strange NFL season ends, there will be big moments that stand out head and shoulders above the rest, writes Matthew Carolan.
That Kyler Murray hail mary pass to DeAndre Hopkins might be the biggest of such moments.
Shocked
The 'Hail Murray'
Perhaps the best game of Week 10 in the NFL was on Sunday evening between the Arizona Cardinals and the Buffalo Bills. With 34 seconds left on the clock, Arizona led 26-23. Then Josh Allen found Stefon Diggs for the go-ahead touchdown, and it seemed all but over. Bills 30-26 Cardinals. But it was not over, because Kyler Murray is a sensation that has the potential to produce moments like this repeatedly for many years to come.
With 11 seconds left, Arizona snapped the ball from the Buffalo 43-yard line and Murray looked downfield. With three receivers on his right, he ignored the weighted side of the field and veered left. He evaded the pass rush and threw a perfect spiral down the left side of the field. DeAndre Hopkins did the rest, beating out three Buffalo defenders to catch the winning touchdown in the end zone.
The play showcased everything that can be good about this Arizona team. In Kyler Murray, they have one of the most elusive quarterbacks in the game who has outstanding precision with his deep throws. In DeAndre Hopkins, they have perhaps the best receiver in the league who can do it all. Even when the Buffalo defence did the 'right' thing, it still was not enough.
Could the Giants win the NFC East?
Surely not? The much-maligned New York Giants beat the seemingly more inept Philadelphia Eagles in an early Sunday game to move to 3-7, just half a game out from leading the division.
But are the Giants as bad as they were earlier this season? Wins against Washington (twice) and Philadelphia are not cause for huge celebration, but they have improved on offense, with Daniel Jones reducing his turnovers (none in two games) and their defense is capable of getting stops.
At a time when every other team in the NFC East seems to be trending in the wrong direction, the Giants are moving the right way. There is every chance a 6-10 team could win this division and get to the playoffs. You would be amazed to see that winner go any further than that, but for a team who seemed hopeless a month ago, the Giants are showing real progress and a division title does not seem outrageous anymore.
An unlikely Ravens loss
A few games were played in typical winter conditions on Sunday. First, the Browns and Texans' game was postponed due to brutal weather. Then, in the late kick-off, the Patriots hosted the Ravens as the rain came down heavily. So much so that it was hard to see the field.
To adjust to such weather, the Patriots decided to run through this Baltimore team, with Cam Newton throwing it just 17 times. They did run for 173 yards between Newton, Harris and Burkhead though. As for Baltimore, they opted for the pass a bit more with Lamar Jackson completing 24 of 34 pass attempts for 249 yards, two touchdowns and one interception.
It was another demonstration of how the Ravens tend to struggle when chasing games. Lamar Jackson is now 0-6 when trailing games by 10 points or more, and while they are clearly one of the best teams in the league, they do seem to struggle in such situations.
They flourish as a run team, but they abandon that for the pass when chasing games, and as we saw on Sunday night, that continues to let them down.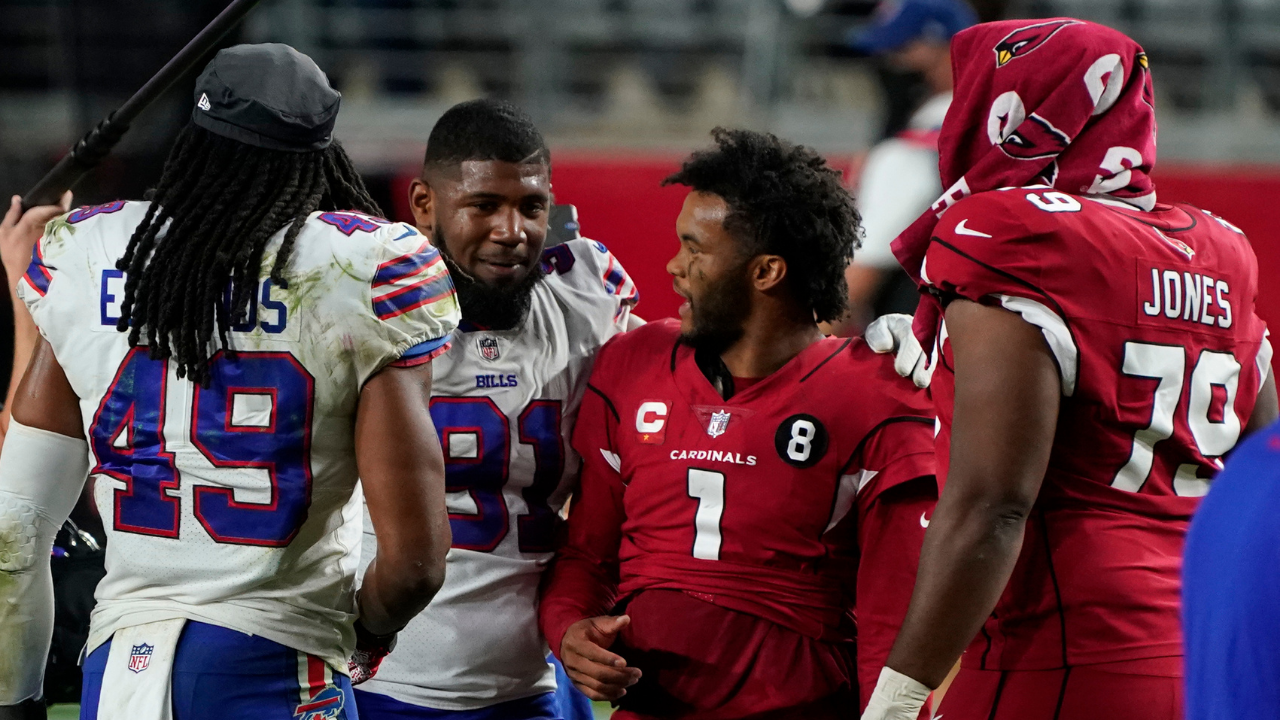 Not shocked
There are few better than Kamara when he is fit
The MVP race is wide open seemingly.
Where Russell Wilson was the firm favourite for some time, his recent form has meant others are in a position to challenge for that accolade. Patrick Mahomes is an obvious candidate, but there are two running backs in contention. Dalvin Cook is one, and Alvin Kamara is the other.
The Saints' running back is showing just how important he is this season. Where the offense has stuttered at times in the absence of Michael Thomas, Kamara has been able to carry that weight. The reason he is so dynamic and important to this team is not just his running ability, it is because he can be as much of a threat catching the ball too.
Where Kamara has 486 rushing yards this season, he also has 648 receiving yards, and 11 touchdowns in total. He can kill you in so many ways and, without him, you could argue the Saints' record would not look so good. Last season, he was not fit and they leaned on Thomas.
This season, he is fit and they are reaping the rewards.
The Buccaneers are perplexing
In terms of teams that are hard to gauge, Tampa Bay ranks highly. On one hand, they are one of the best teams in the league in terms of DVOA. Their defense is usually strong and for the best part, their offense has been improving as the season wears on. On the other hand, they just seem to play badly every so often.
Their opening game loss against the Saints was chalked up as 'it is early, they will improve', and they have done. But then they just about scraped by the Giants and got demolished by the Saints the second time around. You do not know what to expect from this team each week.
In Week 10, they played the Panthers, who have been competitive and probably are better than their record suggests. It had all the makings of another hiccup, so the Buccaneers made light work of it and brushed Carolina aside with ease.
Written by Matthew Carolan.
Read Matthew's last 'Shocked, Not Shocked' edition right here.
Download the brand new OffTheBall App in the Play Store & App Store right now! We've got you covered!
Subscribe to OffTheBall's YouTube channel for more videos, like us on Facebook or follow us on Twitter for the latest sporting news and content.