Matthew Carolan will be reviewing each division in the NFL - taking a look at each team's 2019 season, their ups and downs, as well as looking ahead to what their 2020 might look like.
This week, we take a look at a division that few, if any, would have expected to have two representatives in the playoffs. The AFC South exceeded expectations in 2019, can they do it again?
You would be forgiven if you forgot that Houston won this division in four of the past five seasons. They do not cut the look of a perennial winning franchise. But then again, that is just the AFC South – seldom does anyone look like a perennial winning franchise. No AFC South team has gone 12-4 since 2012. So why should we think 2020 will be any different?
Houston Texans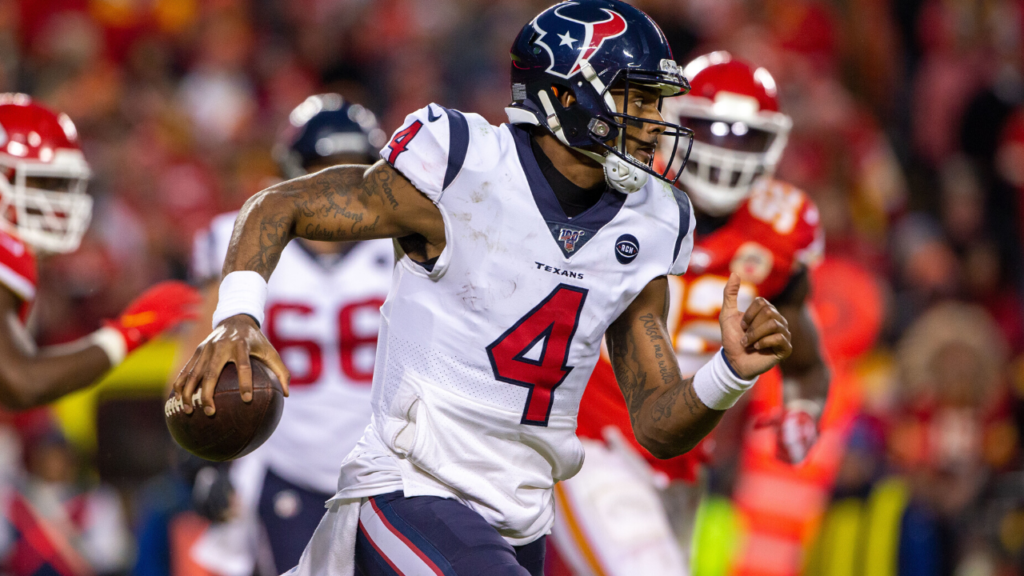 The aforementioned Texans are current champions. They possess the best quarterback in the division in DeShaun Watson, one of the best receivers in the league in DeAndre Hopkins, one of the most annoying (but admittedly brilliant on the field) NFL players on Twitter in JJ Watt. Howeever, they also have a Head Coach who does not inspire a huge amount of confidence. Fresh off the back of losing a 24-point playoff lead to Kansas City, that confidence level is sure to be low.
A fun note: that loss was the first and only time in NFL history where a team lead by 21 points in the first quarter, only to be losing by half-time. For all our praise of Kansas City on that occasion, equal criticism has been dished out for O'Brien. Kicking a field goal on fourth-and-one from the 13-yard-line was the beginning of the end – the Chiefs smelt blood and the Texans never recovered, with a series of mistakes and poor drives that enabled the Chiefs to pull off a comeback for the ages.
But Houston do have plenty to be happy about. They have pro-bowl talent, and in a division where they are already winning regularly, every other team has uncertainty in the most important position in team sports - quarterback. But they never feel like a team who can take it to the next level, and that is in large part due to Bill O'Brien.
Not only is Bill O'Brien the Head Coach, but he is the General Manager too. That way of working can prove productive if you have got Bill Belichick in charge, or away from the sport, with Sir Alex Ferguson at Man Utd. What is apparent in United's instance is that only the right manager can operate without a Technical Director or a Director of Football. Similarly, O'Brien is yet to prove he can do both jobs. Not many can.
So, what can Houston do this off-season to make the leap? Short of moving on from O'Brien (which they won't) they could do with some help in the secondary. Seeing AJ Bouye move to Denver for so little (a fourth round pick) might irk some Houston fans in that regard. With over $60 million in cap space to play with, they could do some damage this off-season. But alas, with Bill at the wheel, their ceiling feels limited. A relatively successful ceiling? Sure. But not a Championship.
Ceiling: 11-5 Floor: 7-9
Indianapolis Colts
It is hard to mention the Colts without mentioning Andrew Luck. With Luck in the team, many would have picked the Colts to push for the Super Bowl. Alas, his last minute retirement put Indianapolis on the back foot from the start of the 2019 season. At times, it looked promising. But ultimately, a 7-9 finish was indicative of a team who are missing that one piece – a good quarterback.
In seasons when Andrew Luck played the majority of games, the colts finished:
11-5 (2012)
11-5 (2013) 11-5 (2014)
8-8* (2016)
10-6 (2018)
*Playing through significant injury.
Suffice to say, the Colts need a good quarterback. Some might say Jacoby Brissett is a fine quarterback – which he is, but in order to compete, they need a better talent. That does not mean they will get one though. They select mid-way through the first round, so unless they find a way to trade up, then the cream of the crop will be gone. Outside of the draft, Philip Rivers feels like a potential candidate to move in there, but nothing is confirmed yet.
Away from their quarterback woes, the unthinkable happened as Adam Vinatieri finally showed his age in 2019. Time after time, the kicker let them down. In three games, Vinatieri's missed kicks cost them the game. Convert them, and you are looking at a 10-6 team.
In terms of positives, they have one of the best offensive lines in the league, so protection is not a huge issue. Quenton Nelson was one of the only offensive linemen to feature regularly on highlight reels, and Darius Leonard is one of the brighter young defensive players in the league too. They do have talent in a lot of places.
For a second year in a row, the Colts have a lot of cap space. If they manage to get the quarterback position sorted, then they could use free agency to bolster this roster into a position where they make the playoffs without Andrew Luck for the first time since 2010.
Ceiling: 11-5 Floor: 7-9
Jacksonville Jaguars
You know the way those rumours of the Jaguars moving to London never disappear? There is a good reason for that. The NFL has a growth strategy to expand overseas, their owner Shad Khan feels like the time is now to capitalise on the interest in the UK, and their management has proven more willing than others to accommodate the London series into their schedule. But their fans are not happy. The games in London are just one aspect that is distancing the team from their fans. The other thing is the players are all leaving.
AJ Bouye just left Jacksonville to play in Denver, and all the Broncos had to give up was a fourth round pick. In fact, since the AFC Championship game in 2018, they have lost a lot of defensive talent:
Jalen Ramsey
Dante Fowler Marcell Dareus Malik Jackson Barry Church Aaron Colvin Tashaun Gibson
Now Bouye, too. And although the Jags plan to franchise tag him, Yannick Ngakoue has clearly state his desire to leave Jacksonville too. Indeed, there are not many positives to hang your hat on as a Jags fan, and yet, amidst a turbulent season, there was one shining light. He donned bandanas, sported a moustache White Goodman would be envious of, and threw for 3,271 yards in his rookie season. That man is Gardner Minshew.
Minshew-mania happened by accident. The Jags committed to Nick Foles as their great white hope, but after injuries derailed his season, the hero they needed arrived in the form of Minshew. His ability to scramble and keep plays alive epitomised their season, because in essence, Minshew kept their season alive.
Now, it looks like Jacksonville will try to ship Foles, with a move back to Philadelphia being mooted. Plus, they have no money to work with in free agency. Things do not look good for Jacksonville, but they do have a high draft pick (ninth overall). They have to make this draft work, because they are losing talent fast and it is becoming a less and less desirable place for players to want to join.
2020 does not look promising. If they make the right moves and Minshew improves, then they could set themselves up for success in 2021 and beyond. For now, though, it is another season in the cold.
Ceiling: 7-9 Floor: 3-13
Tennessee Titans
There was a stretch in 2019 where the Tennessee Titans looked like they might steamroll anyone. Ryan Tannehill was reborn, Derrick Henry had found his groove, and Mike Vrabel had decided to start doing push-ups as part of his pre-game routine. All was rosy.
That Tennessee team was one with an identity. If that is what they were building towards, and what they plan to keep doing in 2020 and beyond, then they will cause problems for a lot of teams. It is not always pretty, but it worked and the old guard of the NFL can certainly appreciate that run-first approach.
Their season did not always look promising. Up until Tannehill came in for Mariota, the Titans looked dead on their feet with talk of Vrabel being on the chopping board. Fast forward to the playoffs, and it felt like an entirely galvanised team. At their best, they followed a simple strategy: Give the ball to Henry, and occasionally throw in some play-action.
Tannehill worked perfectly for this. He managed a 70.3% completion rate, throwing for 2,742 yards, 22 touchdowns and just six interceptions. That efficiency enabled them to play their game with a safe pair of hands, with Henry doing the lion's share. It seems simplistic, and maybe it is, but that was also the beauty of Tennessee's 2019 run. Granted, they lost in the AFC Championship, but their wins in New England and Baltimore will be remembered for years.
Going into free agency, those two players are the focus points. Rumour has it that Tennessee will franchise tag Henry, meaning Tannehill could very well hit the open market. If they do manage to bring both players back, then the Titans will look to emulate that memorable stretch and go one better. What happens in free agency and the draft is predicated on those two though.
While the run game was strong, their defense was not. They gave up 25 touchdowns in the air – only four teams fared worse than that. Finding help in the pass rush department could aid this concern, so do not be surprised to see them look into that department.
So how does 2020 look for Tennessee? Well, much like the rest of the AFC South, it is hard to see them eclipsing 11-5 at their best. If they do bring back Henry and Tannehill, then teams will know what is coming. If they do not, then they have lost their identity. They are an intriguing team to watch this year. A lot rides on two positions.
Ceiling: 11-5 Floor: 5-11
Download the brand new OffTheBall App in the Play Store & App Store right now! We've got you covered!
Subscribe to OffTheBall's YouTube channel for more videos, like us on Facebook or follow us on Twitter for the latest sporting news and content.