As part of the OTB Gold series, Off The Ball is bringing you selected articles from classic interviews of ours. This week, Alex Owumi tells us his incredible story...

Owumi played for a basketball team funded by the Gaddafi family. Unaware of the political situation in Libya, Alex joined the team at a dreadful time.

After bouncing between numerous teams across Europe, Owumi joined Al Nasr just before the Arab Spring (the series of uprisings in Africa that led to Colonel Gaddafi's death) and ended up trapped in a war zone for weeks.

After releasing his book, 'Qaddafi's Point Guard: The Incredible Story of a Professional Basketball Player Trapped in Libya's Civil War'', the Worthing Thunder basketball player joined Joe Molloy on Off The Ball back in 2013, and told us about how he ended up playing in Libya after deciding to leave KK Lirija in Macedonia: "I was in a situation with a team where it was an uncomfortable situation," Owumi said.

"Me and four of my other American team-mates were basically racially abused during games, physically abused, [there were] things thrown at us throughout games", explained Owumi.

"It was something that we weren't really used to, and the situation just got really bad, and it would have gotten bad for all parties, so I basically needed an outlet," he continued.

Playing for Gaddafi's team
Owumi was offered and agreed on a lucrative deal with Al Nasr, who were heavily funded by the dictator in charge at the time, Muammar Gaddafi. Owumi had no idea about political issues in Libya at the time, saying: "When I got to Libya, right after Christmas, that's when the Arab Spring began in Tunisia.

"I was not following anything going on as far as the Arab Spring. Nobody would have thought that it got as big as it did, but I wasn't really paying attention to anything," Owumi said.

"As far as [the] political aspect in Libya, when I was growing up in Nigeria, Muammar Gaddafi was a guy that helped the African nations, so as a kid I was not paying attention to the bad that he did. I just focused on the good," Owumi revealed.

"When I got to Libya, that's all I remembered, [it] was the good he was doing for the African nations. Him and other people like Nelson Mandela. So when I got there I was pretty comfortable and I was happy to have gotten out of my situation in Macedonia. I was playing the game that I loved, I was getting paid for it… there weren't any red flags," Owumi told Off The Ball.

Finding out who he was playing for

Owumi then realised he was playing for the basketball team that was heavily funded and keenly followed by the country's dictator, Colonel Gaddafi: "I didn't find out it was Muammar Gaddafi's team until I got to my flat, and I got into this house and saw all of these family pictures and portraits and all of the expensive furniture and expensive china."

"That's when I actually questioned, 'who lived here before me?', and they told me it was Mutassim Gaddafi's [house]. That's when I figured out that I was playing for the family's team," Owumi told Joe.
"This team was kind of like Gaddafi's baby. They got the extra funding, so they got to pay players a lot more money," said Owumi.
Although he never met Muammar Gaddafi, he did meet his son Saadi Gaddafi, and told Off The Ball that it was "huge", and that "it was like meeting the vice-president".
The treatment of his new Libyan team-mates was not dissimilar to his former team-mates in Macedonia: "They're paying these guys this money, the best facilities, [they were] flying on private jets to games, and they happened to lose three straight games, and when you do that the organisation is kind of like, 'this never happens to us'.
"There were a lot of frustrations, some players were verbally abused, a lot of local players were physically abused," Owumi described.
"That's when I had to question what was actually going on. When we started winning, things got back right, they were getting paid, the whole atmosphere of the team changed," said Owumi.

Realising he was in danger

Despite concerns about the treatment of players on his team, Owumi decided to stay in Libya. A far more serious issue was on the horizon, Owumi explained: "I knew when the protestors got in groups of like 50 to 100 people, I knew that's when it got serious. I was sort of like, 'oh I get it now, there's going to be protests going on for weeks', but I never knew that people would be getting murdered".

"I never knew that I would wake up one morning and be on my rooftop with a bottle of water, and witness hundreds of people murdered in front of my own face. I knew I wanted out," stated the former BBL champion.

This proved difficult for Owumi, he explained: "I thought it would be easy for me to get out, I thought everything would have stopped in two or three days, maybe even a week, but I never knew it would be prolonged out for weeks, months…"

"When I witnessed people getting murdered, getting beaten, getting burnt alive like that, that's when I knew things were getting serious," Off The Ball was told by the former French NM1 MVP.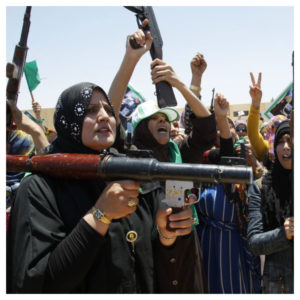 Source: Sputniknews

Suddenly, Owumi was trapped in a war zone, he told Joe: "I stayed downtown, which is where all the chaos was, so it was hard for me to get out."
"The way they tried to disperse the crowd was firing bullets at the crowd. It's something I think about until this day. It's something that I can't get out of my memory," described Owumi.

"I ran down to my apartment, and to make a long story short, it ends up being sixteen days. The first couple of days, I did have a little bit of food, but most of the food I had I gave away to another family next door. I gave away this food thinking that I was going to be ok in two or three days...but that turned into 16 days," revealed the Basketball player turned author.

Owumi had to stay in his apartment while the chaos ensued:  "[I had] No food, no water, no electricity, I can't even talk to my family. My family was probably watching all of this...they probably thought I was dead."

"You've got to imagine what was going through my mother's mind, my father's mind, my brother's. It ended up being 16 long days," said Owumi.

Owumi was forced into survival mode, and had to take drastic measures to stay alive: "The things I had to resort to [like] drinking out of a toilet, eating insects, things that I look at now and I talk to you about them, and they kind of make me sad when I'm doing this interview, but I know it's for the better of me to be here telling this story."

"I'm kind of still in a sad state when I talk about the story, but if I didn't do those things I wouldn't be here talking to you about the story," stated Owumi.
Escaping Libya

Owumi was eventually rescued, as he left to try to get to Egypt: "Along the way, I had many guardian angels. My team president hired his driver, the guy didn't speak a lick of English, to drive us to the Egyptian border."

Surrounded by chaos and violence, Owumi made it to the Egyptian border: "It was scary, I, any minute within that journey, any hour within that journey, I thought [that] I was going to lose my life."

Owumi was arrested in Egypt as he did not have the necessary immigration papers, and was held in a refugee camp for three days. He was then offered a deal with El-Olympi, and decided to stay and play with them to recover physically and mentally from the shocking experiences he had faced.

The Nigerian-American then returned to the United States from Egypt having played basketball there, winning the Egyptian league, and being named the most valuable player of the postseason.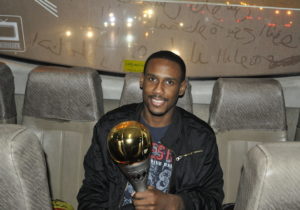 Source: Vice

Aftermath

It was not plain sailing for Owumi, as he suffered from PTSD from the horrific events he experienced. "When I finally got back to the States, I thought I was going to be able to live a normal life, and that's when things actually got worse," said Owumi.

"I would be in the house with the blinds closed for 12 hours, not showering, not eating. I'm never going to fully recover. I've learned to deal with it. I had to learn how to deal with it," explained Owumi.

He moved to England to play basketball in 2012 and has been there ever since. He has also gone on to release fiction novels in more recent years. Back in 2013, he told us about the importance of basketball in his life since these traumatic events: "I look at basketball as an art form now. I look at my body and the way I play as an inspiration to people now."
"[To] not let people hear what I went through would have been an injustice to the world. Little kids can see me…[if] they knew that at one stage they couldn't get out of a situation, but could read my story, and say 'if he went through it, I know I can go through it, he survived for me'."
You can check out Alex Owumi's full interview with Off The Ball below, or by tuning in to OTB Sports Radio on Offtheball.com:
Featured image source: BBL & Thedailybeast

Subscribe to Off The Ball's YouTube channel for more videos, like us on Facebook or follow us on Twitter for the latest sporting news and content.