Carlow was up this morning in our quest to choose the sporting Mount Rushmore of every county in Ireland, with four names ultimately agreed on.
Brendan Hennessy of KCLR Radio and Patrick Mullins, one of the top amateur jockeys of all-time, made the selections on OTB AM, with a final pitch from former senior county football boss Turlough O'Brien.
There were some serious contenders for the Carlow mountain, but here were the final four chosen:
===
RUGBY - Seán O'Brien
The 'Tullow Tank' has represented Leinster, Ireland, and the Lions with distinction for years. Patrick Mullins spoke about O'Brien being an all-round nice guy and how his "feet never left the ground".
O'Brien was a huge miss at the Rugby World Cup in Japan last year, but he can rest assured that his place on the Carlow Mount Rushmore is secure.
===
ATHLETICS - Thomas 'T.J.' Kearns
Kearns represented Ireland at Seoul '88, Barcelona '92 and Atlanta '96, and Brendan Hennessy said his place on the mountain was richly deserved.
"He went on to have a fantastic career in athletics. T.J. represented Ireland in three Olympic Games, three world championships, he was a 110-metre hurdler, and he had very respectable times.
"For a chap to come from a rural area in Rathvilly in County Carlow, and to run in three Olympics and three world championships... he had remarkable times.
"We mustn't forget the great things he has done."
===
GAELIC GAMES - Paddy Quirke
A dual star and Railway Cup winner with Leinster in 1979, Brendan Hennessy selected Quirke as his GAA presence on the mountain.
"Paddy Quirke would be right up there with the best of them - if he was living in Kilkenny he'd have been on the Kilkenny team, if he was living in Kerry he'd be on the Kerry football team.
"While there's rivalry with clubs and counties, when Éire Óg made progress in the 1980s and made five Leinster finals and two All-Ireland finals, a bus left Carlow Town to go to Croke Park for their first All-Ireland final back in 1993,
"Paddy Quirke arrived to travel on that bus in an Éire Óg jersey. There's not too many fellas from other clubs would do something like that. That will show you the calibre of man that he was."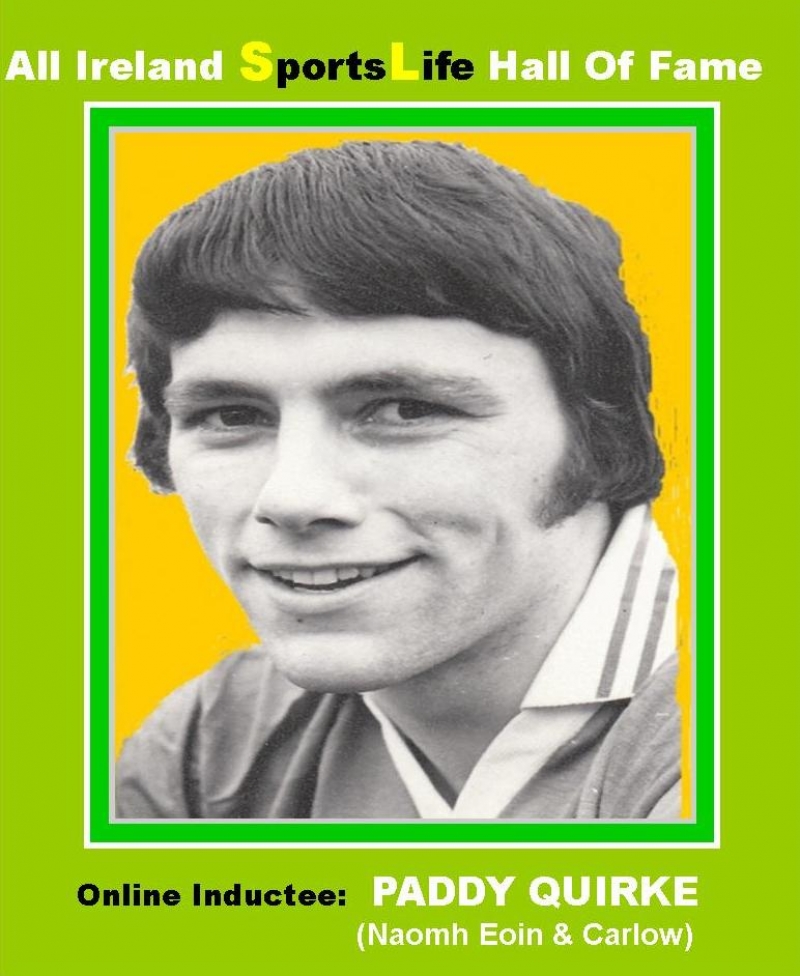 ===
HORSE RACING - Paddy 'Darkie' Prendergast
Prendergast won 17 Irish classics and made a major impact on British flat racing. Patrick Mullins took himself off the mountain to put Prendergast on, a first for our Mount Rushmore series!
'Darkie' was British champion trainer for three successive seasons, and trained the first Irish winners of the 2000 Guineas and The Oaks.
===
Missed any of our Mount Rushmore county-by-county series? Watch back all episodes here! 
Here is Nathan Murphy's selection of Mayo
Here is Colm Boohig's selection of Cork
Here is Will O'Callaghan and Paul Rouse's selection of Offaly
Here is Shane Hannon and Gráinne McElwain's selection of Monaghan
Here is Diarmuid Lyng and Liam Griffin's selection of Wexford
Here is Neil Treacy and Jack Anderson's selection of Limerick
Here is Enda Coll and Kieran Cunningham's selection of Donegal
Here is Máire-Treasa Nic-Cheallaigh and Michael Lyster's selection of Galway
Here is Adrian Barry and Conor Moore's selection of Westmeath
Here is Ronan Mullen and Dan McDonnell's selection of Louth
Here is Alan Quinlan and Michael Quinlivan's selection of Tipperary
Here is Tommy Rooney and Hector Ó'hEochagáin's selection of Meath
Here is Conor Deegan and Donal O'Neill's selection of Down
Here is Ger Gilroy and Joe Molloy's selection of Kildare
Here is Thom Malone and Paul Howard's selection of Wicklow
Here is Dave McIntyre and Paul Fitzpatrick's selection of Cavan
Here is Arthur O'Dea and Alan Cawley's selection of Sligo
Here is Eoin Sheahan and Kieran Donaghy's selection of Kerry
Here is Cliona Foley and Shane Keegan's selection of Laois
Here is Enda McGinley and Orla Bannon's selection of Tyrone
Here is Oisin Langan and Jessie Barr's selection of Waterford
Here is Enda McEvoy and Gary Halpin's selection of Kilkenny
Here is Cahair O'Kane and Chrissy McKaigue's selection of Derry
Here is Declan Bogue and Colm Bradley's selection of Fermanagh
Here is Jamesie O'Connor and Syl O'Connor's selection of Clare
Here is Tommy Conlon and Sean McGoldrick's selection of Leitrim
Here is Aaron Kernan and Niall McCoy's selection of Armagh
Download the brand new OffTheBall App in the Play Store & App Store right now! We've got you covered!
Subscribe to OffTheBall's YouTube channel for more videos, like us on Facebook or follow us on Twitter for the latest sporting news and content.