Dave Clark joined Off The Ball on Tuesday to speak about recently calling time on his Sky Sports career due to illness.
Clark continues to live with Parkinson's Syndrome and has raised over £500,000 for Parkinson's research.
After 22 years at the helm, the voice and face of Sky Sports darts said one particular incident forced him to think about calling time on his career.
"It was 6:45 pm and I was due on air at 7 pm," recalled Clark. "My meds weren't working. I take this medicine called levodopa, a dopamine substitute.
"It kids your brain into thinking it's got dopamine, the bit of my brain that's dying. an area called subtantia nigra that affects movement and speech.
"My speech was slurred, it gave the impression I was drunk before I walked on stage. Luckily, they kicked in five minutes before I went on.
"It was frightening, really frightening, that I could be on live TV in front of half a million people and walking out on stage in front of 10,000 people. It was too close for comfort.
"I didn't want that to happen, to fail on air would be the worst thing so now was the time to go."
Dave Clark: 'I didn't want to fail on air'
"To fail on air would be the worst thing, so now was the time to go."

Presenter @DaveClarkTV chatted to OTB about his decision to call time on his broadcasting career

PODCAST:https://t.co/XvXFEUr82Y

— Off The Ball (@offtheball) August 18, 2020
The coronavirus lockdown afforded Clark time to reflect on whether he could continue, given his future outloook, like all Parkinson's sufferers is not bright.
"Lockdown allowed my time to reflect," said Clark, "because of my Parkinson's, my days of presenting were always going to be limited.
"After a couple of close shaves, I thought this could happen more regularly. I didn't want to fail on air, I wanted to go out with my dignity intact.
"Very few people in this industry get to call the shots and go out at a time that suits them. I didn't want to embarrass myself.
"I just wanted to go out when I could still do the job, still able to perform, and now is the perfect time.
"No crowds at the darts influenced me because I need that to get my adrenaline going and get the buzz. So lockdown meant no crowds - they did nine days in Milton Keynes brilliantly but it wasn't the same.
"I bowed out, my last gig was in front of 7,000 people in Liverpool, great crowd, amazing reception and that's how I'd like to end the darts."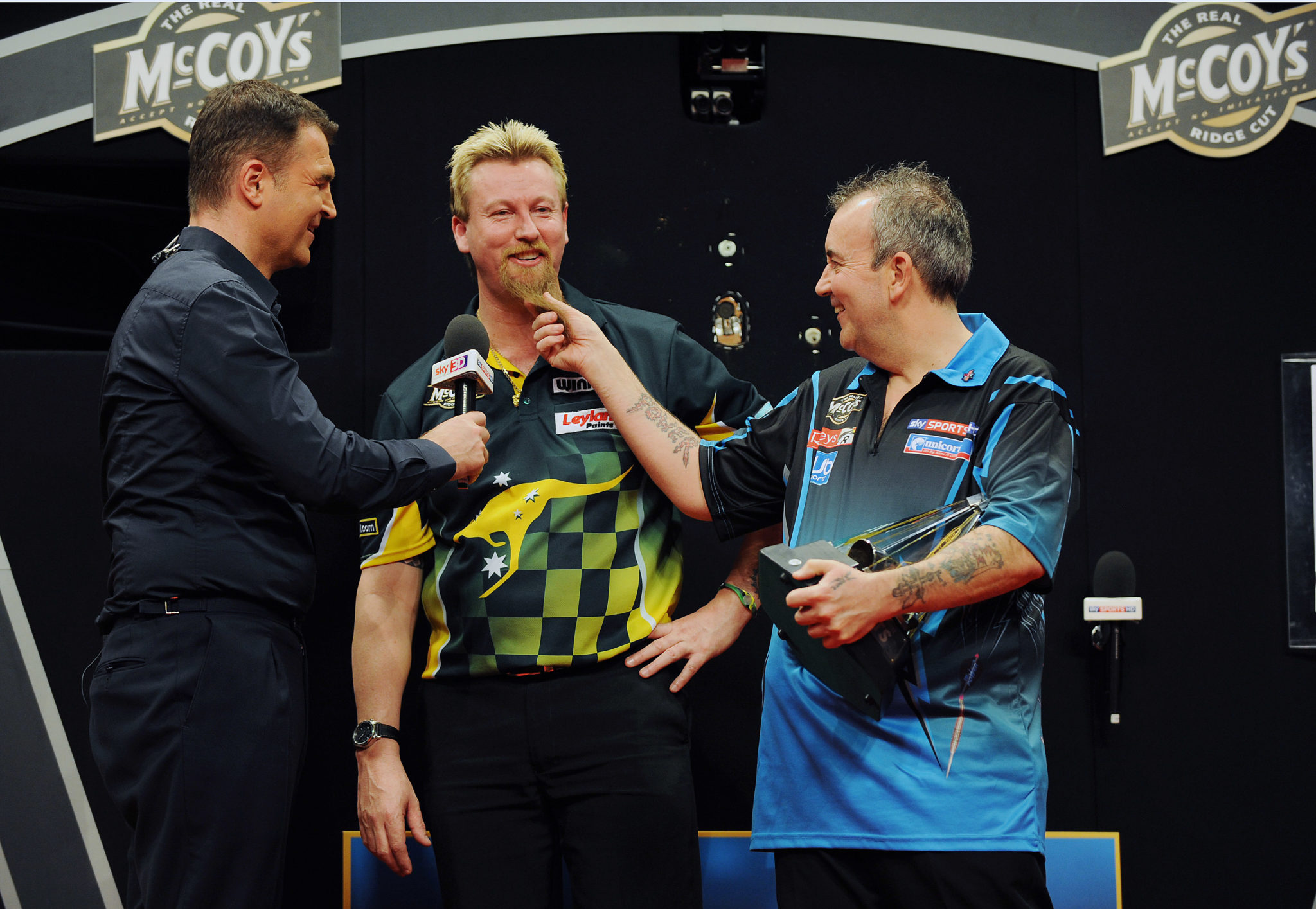 Bloodymindedness
The buzz of live presenting in front of a manic audience became a crucial part of Clark's battle with his body.
"When I walked out on stage in front of all those people the Parkinsons' symptoms seemed to disappear. I think it was sheer bloody-mindedness.
"The adrenaline was incredible, the Parkinson's symptoms just seemed to vanish. Without a crowd, I think it would be a struggle for me.
"Another reason was I watched a Muhammed Ali documentary, he was fighting Larry Holmes in 1980. He'd obviously got Parkinson's then but didn't know it.
"He was taking a hell of a beating, he was only a shadow of the man he was before. I watched that and thought 'I don't want that to be me.'
"His trainer Angelo Dundee threw in the towel after ten rounds. Holmes was frightened to hit him anymore, he was giving him such a beating.
"I don't want that to be me, I don't want someone to tap me on the shoulder and say 'now is the time to go.'"