Donegal goalkeeper and newly-qualified Garda Shaun Patton is one of Ireland's frontline workers during the Covid 19 pandemic - he joined Off The Ball on Thursday and spoke about this unprecedented time.
Patton has only qualified from Templemore in the last couple of months so it has been quite the introduction to his professional life
"My first two weeks was a baptism of fire, the place was fairly hectic and busy. nobody had a lot of time to give you much advice.
"Although the unit that I am working with, they are all fantastic people and I've grown quite close to them over the last number of weeks.
"It's something you have to do because you're working 12 hour days at this stage and they're doing whatever they can to help you on top of the workload they are balancing."
"I thought I'd just get out there and get stuck in straight away but I needed a bit of help and I got that from the unit I am with."
The focus in the job during the pandemic is fairly singular, says Patton.
"The main thing we're looking for is for people to adhere to the guidelines that have been given out."
The Donegal keeper is proud of own his role and feels the public has responded well in obviously difficult times.
"We've probably handled it one of the best out of most of the countries and a lot of people are actually taking on the advice and the work is absolutely amazing.
"You look at the people who are really coming into contact with it in the HSE. They're working in it day in, day out and it's frightening
"On our side of things it's crazy to have to stop somebody, especially in this weather - somebody that wants to go to the beach or go for a walk with their kids somewhere unnecessary.
"Advising them not to and telling them to go somewhere within two kilometres of their house. It is something I didn't think would be part of the job.
"Unfortunately, with the situation we are in, it's one of the most important things we're going to have to do for the next number of months. 90% of the people if not more, have been extremely compliant.
"They do listen and anyone you come across is genuine," according to Patton who seems almost surprised at the public's overall reaction to restrictions.
"It's been quite refreshing to see just how many people have realised just how important it is."
Formal Friday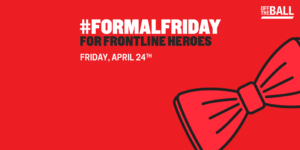 Every day thousands of people put on their uniforms to help us. So this Friday, April 24, we are asking everyone to dress up to support them.
There is just one rule - if you dress up, you donate!
On #FormalFriday you can work-from-home in your old debs dress, tackle the housework in your wedding suit or exercise out the back in your fanciest going-out look.
Head to offtheball.com/donate to give what you can and show your appreciation for our frontline heroes.
All money raised will go directly towards supporting those working on the Covid-19 frontline through charities and funds including;
Mater Foundation: supporting frontline staff in the fight against Covid-19
Beaumont Heroes Appeal
Together With Our Heroes: Temple Street and CMRF Crumlin
Mercy Hospital Foundation, Cork
University Hospital Limerick
St James's Hospital Foundation
Cork University Hospital Charity
Feed The Heroes
Download the brand new OffTheBall App in the Play Store & App Store right now! We've got you covered!
Subscribe to OffTheBall's YouTube channel for more videos, like us on Facebook or follow us on Twitter for the latest sporting news and content.