Paul Rouse made his usual Tuesday virtual visit to Off The Ball for his history of sport series, this week he was chatting about how hurling became a part of the GAA.
While Rouse spoke about how football was possibly conceived as a game to be a rival to rugby and soccer, such was the similarity to their rules.
The DCU academic was putting right the notion that hurling was revived from the ashes solely by Michael Cusack, having seemed to have all but disappear after the famine.
"Hurling had not disappeared from a number of places," according to Rouse. "Northern Tipperary for example. If you read the Nenagh Guardian from the 1850s and 1860s you can see the number of hurling matches.
"If you look at east Galway, hurling is still be played there. in North Kerry as late as 1882, you see entries in landlords books you see entries being made of hurling being played on the land.
"Cork City, there were also pockets of hurling in Laois and Offaly, in Westmeath, then up the north in West Donegal and in East Antrim.
"There were various versions of 'stick and ball' games, so it hadn't disappeared, what it hadn't done was modernise," asserted Rouse.
Trinity Hurley Club
It was put to Rouse, that where the pockets of games existed in the 1870s are similar to where hurling continues to thrive today.
"A question that must be asked of the GAA," responded Rouse, "if hurling is such a great game, why is it not played in more places?"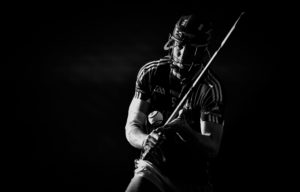 There were clues to some modernisation, there was a "Hurley" club in Trinity College from 1870 into the 1880's. The sport bore more of a resemblance to hockey.
That Trinity Club was invited to join the hurling club at the Royal College of Surgeons by Michael Cusack, this club never materialised with the divisions between the two sides too great to bridge.
With Cusack believing the Trinity team were too soft and Cusack deemed a savage by the Trinity Hurley club.
"It fell apart in mutual loathing," as Rouse put it.
Instead, from October 1883 Cusack brought the hurls/hurleys [delete to regional liking] to the Phoenix Park and began to organise meet ups. Here Cusack and others would have a puck-about, publicised through Cusack's newspaper articles.
This grew gradually, "He then changes and uses school," says Rouse, "he set up the Cusack's academy hurling club, and then founded the Metropolitan Hurling Club out of people who were coming together in the Phoenix Park on a Saturday.
"Cusack later wrote that it was out of these Metropolitan hurlers that the game of hurling and GAA was formed."
Hurling: old and new
That account from Cusack is missing a crucial detail form the history of the sport asserted Rouse.
"There was another element to the story that matters," according to Rouse, 'it happened on Easter Monday 1884.
"People in Killimor Co.Galway had seen what Michael Cusack had done in Dublin and they had written to Cusack and challenged him to a match, on the Fairgreen in Ballinasloe on Easter Monday 1884.
"So Cusack named his team in the paper, took the train down from Dublin, was met at the station on Easter Monday morning by a whole load of the hurlers from Killimor.
"They were marched down from the train station to the Fairgreen, behind the brass band. Then the two teams line up, 21 a side, waiting for the ball to be thrown in.
"The Killimor men took complete control for the first few minutes, just drove the ball into Cusack's end of the field, scored a goal, and ran around celebrating.
At this point, Cusack stopped the game and instead offered the hosts a demonstration by the Metropolitan team. Killimor watched then offered a demonstration of their own.
According to Rouse: "Cusack understood immediately his team was not on a winner here, so he did what any sensible manager would do and took his team home.
"He took them straight off the pitch, back to the train station and back to Dublin. Meanwhile, the Killimor men went out on horse-drawn carriages to Killimor where bonfires blazed and drank long into the night."
The game had a major effect on the future of hurling for two reasons.
"It matters because it's the old and the new coming together, says Rouse, but also; "there were letters to newspapers about this grand old game we must revive it.
"We cannot let this die, this is centuries of our tradition. We have to put this in with an organisation and Cusack hit on this idea of putting hurling in beside athletics into his establishment of the Gaelic Athletic Association."
Subscribe to Off The Ball's YouTube channel for more videos, like us on Facebook or follow us on Twitter for the latest sporting news and content.