Jordi Murphy joined Wednesday Night Rugby on Off the Ball for a chat about the lockdown, like everyone else, he watched 'The Last Dance'.
The behaviour of Michael Jordan, his 'list' and will to win at all costs, regardless of what Chicago Bulls insiders or outsiders felt has been polarising those that watch.
This attitude has led to much debate on leadership in sport and what is acceptable behaviour in the office or at least not elite level sport.
"Is that the only way this group of lads could have been led?"

This week's #TheLastDance went deep on Jordan's intimidation tactics in training - #OffTheBull reacts, including Kieran on a Kerry player channeling MJ energy

Full episode: https://t.co/AzKZpZxalU pic.twitter.com/muJuUecMqV

— Off The Ball (@offtheball) May 12, 2020
Murphy says he has been pondering who he has come across in professional rugby who could be like Jordan.
"I tried to think about someone that I could probably compare it," recalled the Ulster flanker, "to someone with that kind of drive and everything he puts into it and the level of performance he was able to bring out anytime he played.
"The only person I could think about, and while I have had some incredible teammates, but someone that really sticks in my mind is Paul O'Connell. He was captain when I first went into Ireland.
"Just to see his level of dedication, the fact he would never leave anything to chance, was always doing extras to keep his body in check, always doing extra video.
"Anytime he said something you listened, any piece of advice he gave you, you made sure to take that on board.
"The guy is a Lions test series captain, he's played for Ireland over 100 times. He's an incredible athlete, an incredible competitor."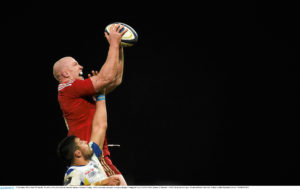 There is one key difference between Jordan and the former Munster captain, according to Murphy.
"But then why I tried to compare him to Michael Jordan, I could actually get on with Paulie, people could get on with him.
"He's an incredibly humble guy, an incredibly nice guy, funny and then I couldn't really compare it.
"You saw Michael Jordan, yeah he took people to new heights but he did belittle people around him and just didn't seem like the nicest guy in the world."
If this had been an episode of the 'The Last Dance', Jordi Murphy would have just found himself on the list.
Everyone's in the Team Of Us.
Vodafone. The Official Sponsor of the Irish Rugby Team.