Packie Bonner was a very special guest on Sunday's Off The Ball as he spoke to Joe Molloy about various moments in his career including the World Cup, Italia '90.
The big man from Donegal was the key player as the nation held its breath - however, Bonner says the work for Timofte's penalty began long before the Romanian started his run-up.
At the end of the Scottish season, the cup final had gone to penalties - losing 9-8 in the shootout - and Bonner admitted he only went the right way for one of the spot-kicks.
"I just couldn't read them at all," says Bonner of the penalties. A rethink was required.
"I had to learn from that," admitted Bonner, "so I sat down with Gerry Peyton, my great comrade, and friend, a great goalkeeper. We sat down and Gerry had watched it - we worked out that maybe we needed a new tactic, a new way, a new plan.
"So that's what we put together for the big moment, not thinking that maybe it was going to come around in a World Cup. It did, and I was ready for it."
Italia '90
So what was the tactic Packie Bonner and Gerry Peyton had devised? Bonner says it was as much about how he was felling on the day as the homework.
"Yeah, we kind of read the situation a bit better," says Bonner. "I was on a high going into the penalty shootout because I had played quite well in the game. Even though it was 0-0, I had a few saves, and I just felt really good and sharp.
"It was one of those days, some days you just wake up and your legs are a bit heavy and you're not quite at it - other days you could take on the world. That was one of those days, I felt really strong mentally and physically.
"Then, I had prepared properly when I went into it. It was just the way they walked up, the position that they took, we had this idea that if they stood straight on they were going to either blast it or side-foot it.
"If they were standing at an acute angle, they were going to put it back to the side they were standing on.
"That's exactly what happened more or less. I was a bit frustrated in some of the earlier penalties in that I touched them and never made the save. I thought it (the match) was going to run away from us.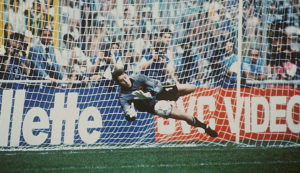 "When Daniel Timofte walked up, you could see the nerves in him. You could see him walking up to it very slowly. He came on as a sub during the game so maybe he hadn't been up to speed. The angle that he stood at, it was almost telepathic that I was going to go there.
"It wasn't a great penalty, it was about a yard off the ground, the perfect penalty to save. When you go the right way and it's not really in the corner and it's not a really hard shot, then you have a chance to save it and that's what happened."
Packie Bonner on bringing families together
The penalty might not have been great, but the significance of the moment is not lost on Packie Bonner.
"It was a moment that changed my life," says the Ireland legend. "It was a moment that people remember to this day and the emotion around it, but what a lovely journey it was in that period. It's 30 years ago now and people still remember it.
"Some people came to me years later and said 'thank you for allowing me to connect with my own family.' People had their barbecues, their parties, their kids who were six or seven years old out with their families.
"They remember who they were with and they remember the penalty shootout. They can describe it as if it was yesterday, and likewise, I feel the same."
Download the brand new OffTheBall App in the Play Store & App Store right now! We've got you covered!
Subscribe to OffTheBall's YouTube channel for more videos, like us on Facebook or follow us on Twitter for the latest sporting news and content.