Packie Bonner joined Off The Ball on Monday, paying tribute to the great times under the late Jack Charlton and remembered the last time he saw Big Jack.
The former Ireland goalkeeper had plenty of fond memories of Charlton even when he was delivering criticism.
"He had a brilliant ability to get his message across without knocking you down in front of the guys. He built me up first to nail it [criticism].
"That's what I loved with him as a manager. He was a clever, clever man in how he dealt with us guys. we were all experienced guys and he knew how to deal with us."
Charlton was suffering from dementia when Packie Bonner last saw him at a reunion of the 1990 team.
"We had a reunion in the K Club a year ago, which was great," recalled the Donegal man. "He came over with Pat, a great wife, 62 years married. She was such a soldier alongside him, and John, his son, came over.
"He was a bit vacant. What I did like, I didn't get there until late on the first night and they had already arrived and there was a barbeque on. Each person when they came into the room was introduced by the compere.
"When I walked in and they mentioned my name, Jack stood up for some reason. He must have always recognised my name. He stood up and he clapped, I was so humbled by that, in the state he was in, with his memory. He remembered who I was and it was lovely.
"Then he was out on the golf course going around in a buggy and he would give you the thumbs up if you hit a good shot, and a thumb down if you hit a bad one.
"So even at that stage, he was still giving us criticism. It was nice, it was just lovely to see him. lovely to be with his family and see him coming in.
"The ovation that he got when he left the room on the night of the dinner was amazing. I think most of us who were there realised we might never see him again at that point, and that's what actually happened.
"That was the last time I saw him."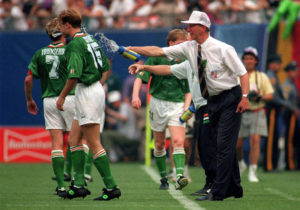 Jack Charlton
The bond between that Ireland team and their manager was unique.
"We can tell so many funny stories against Jack and for Jack, all of us," says Bonner, "but if there were other people slagging him off we would stand up for him. We loved the man with a passion.
"Let's face it we would never have gotten to where we got to without somebody of that personality and character. He was a leader. He gave us responsibility and we stood up to it.
"He blended us into an unbelievable team, we had great players, we were were unlucky to lose the likes of Liam Brady and Mark Lawrenson early on in the European Championships, and then for us to continue to go on and get success under him.
"It was quite incredible. I think it was the way he treated us, he treated us as men. He treated us with respect, it was a great union between the players and him.
"I keep saying it, success doe help in that way. I've seen it in other dressing rooms where you lose it if you don't have a bit of success, but the way he created an environment to allow us to enjoy the experience for ten years was quite incredible."
Download the brand new OffTheBall App in the Play Store & App Store right now! We've got you covered!
Subscribe to OffTheBall's YouTube channel for more videos, like us on Facebook or follow us on Twitter for the latest sporting news and content.