There is a serious amount of sporting talent in County Down - and this morning the final pieces of the county's Mount Rushmore were put in place.
Conor Deegan and Donal O'Neill had the tough task of putting the list together - with sleepless nights and mind changes the order of the day.
Some were hugely unlucky to miss out on the final cut - the likes of Ciara Mageean, Mickey Linden, Richard Dunwoody, and others who excelled in their respective sports.
Colin Murray joined us earlier in the show and opted for three-time Champion Jockey Dunwoody as his final choice.
But in the end the decisions were made, and four made their way onto the Mourne Mount Rushmore:
===
GOLF - Rory McIlroy
There was absolutely no question at all about the world number one's inclusion. Four Major titles and likely more to come - Conor Deegan spoke glowingly about the Holywood man.
"Is he loved? Not like Harrington would be loved in Dublin. [But] this kid grew up in front of us, he's 31 so he's not a kid [anymore], he's a man.
"He did all his growing in front of us, he was a superstar from early on. No matter what he said it was going to be scrutinised, and it was.
"His talent is unquestioned, I would know his coach really well and everything about them is down to Earth and basic. I think he actually wants to just be an ordinary punter, an ordinary guy."
===
GAELIC FOOTBALL - Seán O'Neill
The Down legend is one of only four Mourne men to have won three All-Ireland senior football titles. He made the GAA's Team of the Century and Team of the Millennium and is widely considered the greatest footballer to ever represent the county.
Former Down footballer Conor Deegan explains why he is the man to represent gaelic football on the mountain.
"His longevity, the class with which he played [and] carried himself, the passion... it's only when you start listening to what he achieved...
"Three All-Ireland's, six All Stars, well two as we know them and four Cú Chulainn awards previously, four McKenna Cups, five Lagan Cups, eight Ulster titles, and he played in 15 finals, which I just find mind-blowing. Thee National Leagues, Texaco Footballer of the Year...
"As a player I think he scored 85 goals and 500 plus points in his career, I just think from a playing point of view it's unparalleled, certainly in this part of the woods.
"As a man, his passion for his county, for his people - absolutely phenomenal."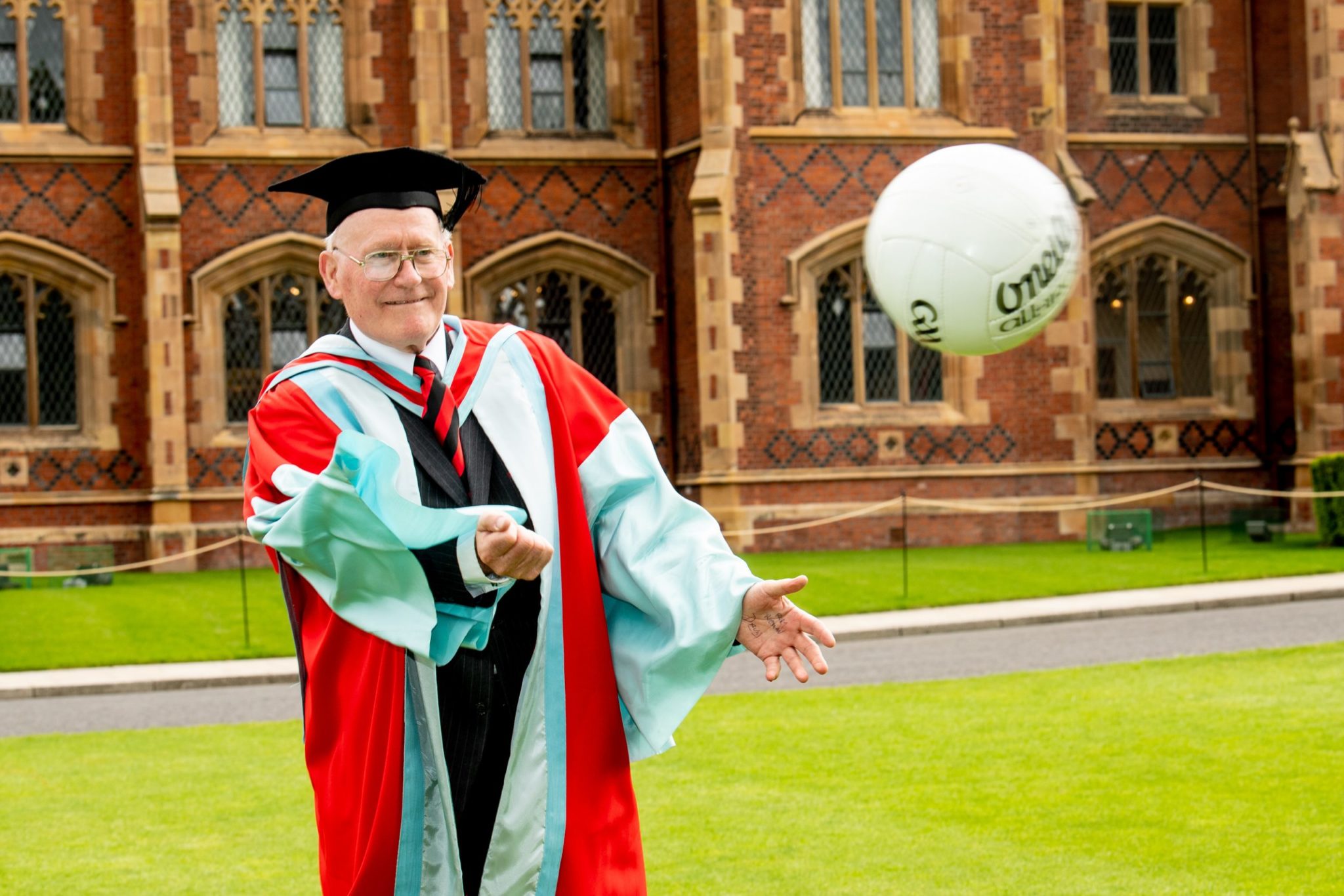 ===
SOCCER - Pat Jennings
Just the 119 caps for Northern Ireland for Jennings between 1964 and 1986. The Newry-born goalkeeper, an Arsenal and Spurs legend, was a popular pick, and Donal O'Neill explained why.
"I remember going to meet Pat Jennings, who is a great friend of my uncles, and I actually hid under a mattress in the garden, I was literally shaking in my boots at the prospect of meeting this giant of a man.
"There's no argument that Pat is a remarkable person, a phenomenal sportsman."
===
SOCCER - George Best
There was a bit of geographical confusion over the Manchester United and Northern Ireland legend - but as he was born and raised in Cregagh in east Belfast, he falls into the jurisdiction of County Down and not Antrim.
Once that was cleared up, Donal said there wasn't much to be said to argue over his inclusion.
"I remember watching a show where they put Kevin Keegan up against George Best, and the vote came down 10 to one in Keegan's favour because he was 'a team player and he was this and that'.
"But I'm sorry, if Pelé says he's number one, he's number one. Anything else is a waste of breath."
===
Missed any of our Mount Rushmore county-by-county series? Get all episodes so far here! 
Here is Nathan Murphy's selection of Mayo's Mount Rushmore from Episode One!
Here is Colm Boohig's selection of Cork's Mount Rushmore from Episode Two!
Here is Will O'Callaghan and Paul Rouse's selection of Offaly's Mount Rushmore from Episode Three!
Here is Shane Hannon and Gráinne McElwain's selection of Monaghan's Mount Rushmore from Episode Four!
Here is Diarmuid Lyng and Liam Griffin's selection of Wexford's Mount Rushmore from Episode Five!
Here is Neil Treacy and Jack Anderson's selection of Limerick's Mount Rushmore from Episode Six!
Here is Enda Coll and Kieran Cunningham's selection of Donegal's Mount Rushmore from Episode Seven!
Here is Máire-Treasa Nic-Cheallaigh and Michael Lyster's selection of Galway's Mount Rushmore from Episode Eight!
Here is Adrian Barry and Conor Moore's selection of Westmeath's Mount Rushmore from Episode Nine!
Here is Ronan Mullen and Dan McDonnell's selection of Louth's Mount Rushmore from Episode Ten!
Here is Alan Quinlan and Michael Quinlivan's selection of Tipperary's Mount Rushmore from Episode Eleven!
Here is Tommy Rooney and Hector Ó'hEochagáin's selection of Meath's Mount Rushmore from Episode Twelve!
Download the brand new OffTheBall App in the Play Store & App Store right now! We've got you covered!
Subscribe to OffTheBall's YouTube channel for more videos, like us on Facebook or follow us on Twitter for the latest sporting news and content.