Tommy Walsh joined Off The Ball on Thursday where he spoke to Nathan Murphy about the Darkness Into Light 'Sunrise' appeal for Pieta House.
As an ambassador for the mental health charity, Walsh has been reflecting on how life has changed in lockdown and looking at how a slower pace of life can benefit us all.
"They have spent less time on their iPads and tablets since this thing has started," says Walsh of his kids, who admitted the weather has helped.
"You probably realise how busy you are, maybe life is going too fast. I always felt we're in the digital age and there are so many advantages to technology but there's still nothing as great as the outdoor life.
"Just that slower pace to life, where you can appreciate what you are doing. You're not going outside and saying 'right, I have ten minutes here before I have to rush off to training or I have to do this or do that.'
"It's grand, I have three hours here, so you can spend an hour playing with the kids or do your own thing.
"I see all the gardens around Tullaroan and the garages they've never looked as clean or as well. I think people are getting into gardening that were never into it.
"There are advantages and I think people will realise there is a lot more to life, time is one of our greatest things and we should not be rushing around so much."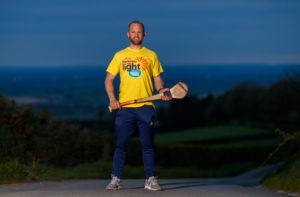 On May 9th, it was expected that over 250,000 people would come together on every continent to walk together, highlighting the fight against suicide and self-harm.
Darkness Into Light, proudly supported by Electric Ireland, is the main annual source of funding for Pieta.
However, due to the ongoing global pandemic, COVID-19, Pieta together with Electric Ireland have had to revise how the public can support it.
Tommy Walsh on Pieta House Darkness into Light
As the walks cannot take place as planned in May, a Darkness Into Light 'Sunrise' appeal is taking place on May 9th.
With less than three days to go to the appeal, Former Kilkenny hurler and Darkness Into Light Ambassador, Tommy Walsh is encouraging people to donate what they can and come together while remaining apart by getting up at 5:30am to watch the sunrise.
Recent research revealed that 1 in 5 Irish people are suffering from depression. The need for Pieta's lifesaving services has never been greater as COVID-19 impacts not only on the nation's physical health but its mental health too.
Prior to the outbreak of COVID-19 the public need for Pieta House services was on the increase, with calls to Pieta's helpline up 49% year on year while text messages to Pieta had increased by 46%.
The funds raised from Darkness into Light help to keep Pieta centres open, offering free therapy, the 24/7 Helpline line, and education and bereavement counselling for people in need of support.
In 2018, over 8,000 clients were supported with face to face therapy by Pieta experts.  Since 2006, over 40,000 people received support from intervention and bereavement counselling services.
Subscribe to Off The Ball's YouTube channel for more videos, like us on Facebook or follow us on Twitter for the latest sporting news and content.