UEFA may have acted too quickly in deciding to resume the Denmark and Finland match on Saturday after what happened to Christian Eriksen, according to former Republic of Ireland internationals John Aldridge and Tony Cascarino.
Denmark's opening game of Euro 2020 was paused on Saturday, after the talismanic Eriksen collapsed shortly before half time of what was later confirmed as a cardiac arrest.
It was also confirmed that he was 'gone' on the pitch, and was resuscitated through CPR, before being rushed to hospital, although he was awake when he was taken off the pitch.
The match was later resumed on Saturday evening, with all of the players clearly showing signs that they were still affected by what had happened a few hours earlier.
Speaking on OTB Sports' Euro 2020 Show with Paddy Power on Monday, the former Irish internationals Aldridge and Cascarino were in agreement that the decision to play on may not have been the correct call.
"I actually think it was unfair to ask the Denmark players to play on," Aldridge said. "After seeing the emotions that they showed afterwards.
"To go and have a break and a rest, and then get themselves back on the pitch; I think that was pretty tough."
Aldridge felt that the match itself should have been called off, with both teams sharing the points of a nil-all draw.
"I thought it was going to be a nil-nil draw," Aldridge said. "After all that, to go and get beat; I think they should have called it a draw, I really do.
"It is a difficult decision for UEFA to take, I know that, but I just think that wasn't right personally.
"You imagine the emotions that you would feel; how does his teammates feel to have to go back on the pitch?"
Aldridge hopes that the incident, and the loss thereafter, will not hang over the side for the rest of the tournament.
"I think it will affect them in the next two games," Aldridge said. "I hope not, I'd love them to go and get six points after what they've gone through, but we will have to wait and see."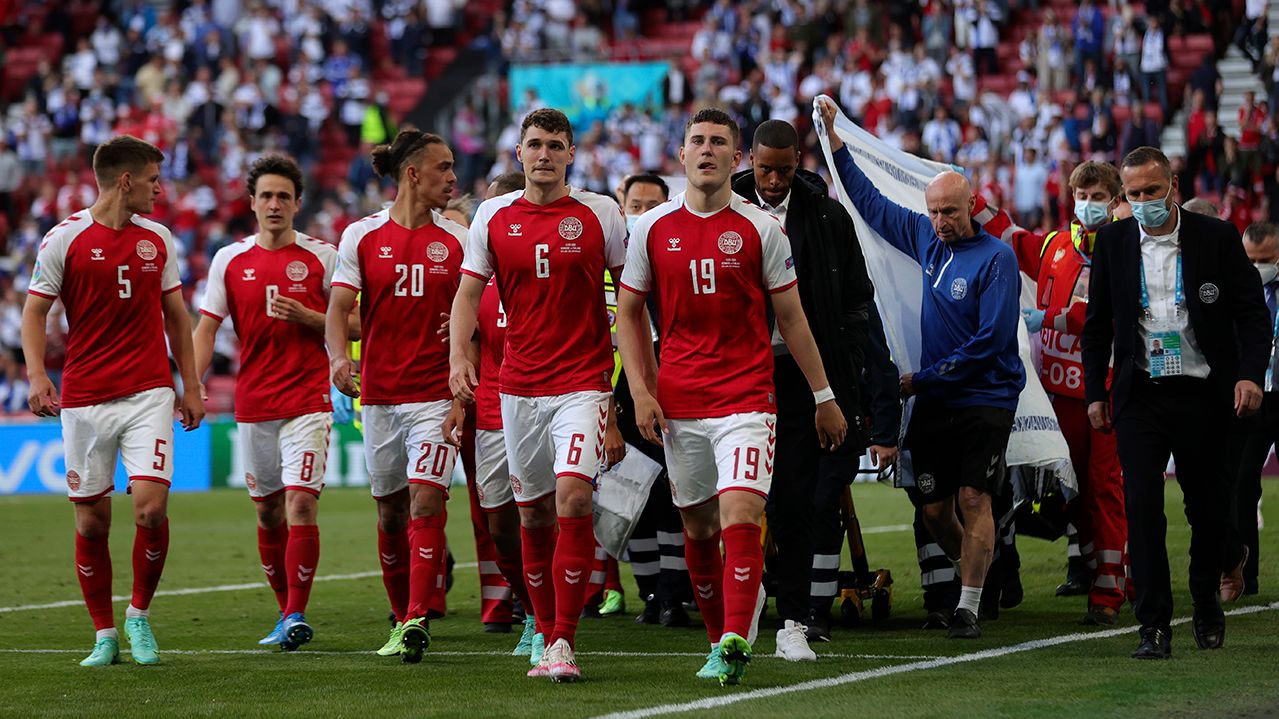 'The Denmark players were clearly affected'
While he agreed that it may not have been the correct decision to play on so soon after the incident, Cascarino did understand the difficult position that UEFA were in to do right by both Denmark and Finland.
"It is very difficult when this is the first time this has ever happened," Cascarino said. "I think UEFA have had to make a quick decision.
"I think in some ways it would have been worse to play the game the next day. Maybe you could add that being made to make a decision so quickly was the wrong thing from UEFA.
"I don't really know how you settle this."
Cascarino could scarcely imagine the effect that witnessing Eriksen being resuscitated on the pitch would have had on his Denmark teammates, as well as their Finnish opposition.
"There's not really a right answer to this," Cascarino said. "The Denmark players were clearly affected, and also you could say obviously the Finland players likewise.
"It just didn't feel right that they were out on the football pitch so close [to it happening].
"I don't know how I would have felt, going out to play football with the Republic of Ireland and seeing one of my teammates who I am close with, who I have shared great times with on and off the football pitch, and then I have suddenly got to go out and play.
"My mind would be thinking about them. I can't imagine it. Even though they got the okay of him sitting up in hospital; he probably spoke to one or two of them via FaceTime or whatever.
"Maybe he said, 'look lads, go play', I don't know, but it is very difficult. There is no real right answer to this, but I just feel UEFA could have given it a little bit more time."
Football on Off The Ball, with Paddy Power's SaveOurGame, Donating 10k to Irish football for every goal England score at the Euros.
Download the brand new OffTheBall App in the Play Store & App Store right now! We've got you covered!
Subscribe to OffTheBall's YouTube channel for more videos, like us on Facebook or follow us on Twitter for the latest sporting news and content.