Modern medical care in football has greatly improved compared to where it was a number of years ago, according to Republic of Ireland legend John Giles.
Giles was speaking on Thursday's Off The Ball, in response to Denmark's Christian Eriksen suffering a cardiac arrest in his side's Euro 2020 opener against Finland on Saturday.
Eriksen collapsed on the pitch shortly before half time and had to be resuscitated while his teammates gathered around him.
The 29-year-old, who has received an outpouring of love from the sporting world, is recovering in hospital and says he is 'fine under the circumstances', and will be fitted with a heart starting device.
While he praised the medical care that Eriksen received on Saturday, Giles was recalled that if a similar event had happened in his day, the outcome may not have been as positive.
"Like everybody else, I watched it and it looked like he was gone," Giles said. "The medical people did a great job.
"It is great to see that nowadays. If I go back to my own time, this is up to '69, we didn't even have a doctor travelling with us.
"We wouldn't be the only country that would be doing that, that was a big deal.
"We had a meeting with the FAI at that time… and we brought it up that we don't have a doctor travelling with us.
"The medical situations have improved and improved and improved, and if it hadn't been for those improvements, this lad wouldn't have got through; Christian Eriksen wouldn't have got through the other day."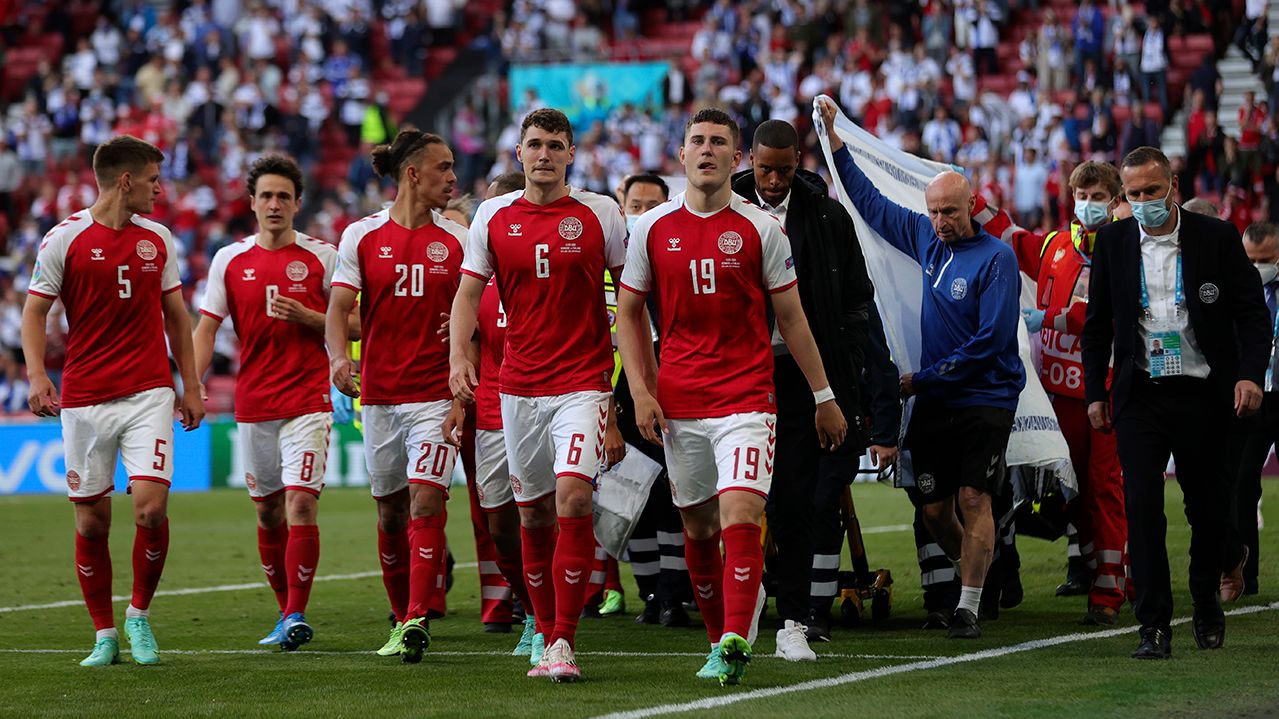 'It was a disgrace' to resume the match
After Eriksen's condition had stabilised, and he had spoken with some of his teammates via a FaceTime call, the match was resumed later on Saturday evening.
This was done after consultation with both sets of players, after they were given the option of either playing that evening, or on Sunday at 12 noon.
Giles believes that, regardless of their consultation with the players, UEFA should not have resumed the match over the weekend at all.
"I think UEFA came out of it very badly," Giles said. "It was a disgrace what they did; they were still thinking about the tournament.
"A player almost dying, and more or less forcing the Danish players to come out and play. How could you play properly having gone through what they went through and behaved brilliantly while Eriksen was getting the treatment that he did?
"I thought it was absolutely outrageous. What did the tournament matter at that particular stage?
"Why didn't they give them a point each and call it a day? Who cared about the tournament at that particular time, as far as the Danish players were concerned?"
Download the brand new OffTheBall App in the Play Store & App Store right now! We've got you covered!
Subscribe to OffTheBall's YouTube channel for more videos, like us on Facebook or follow us on Twitter for the latest sporting news and content.