In a new Off The Ball series called 'How does it feel...', Arthur James O'Dea asked the nine-time All-Ireland winning Cork footballer Angela Walsh, 'How does it feel to defend against Cora Staunton?' 
A few years on from the wild excitement of Beatlemania, John Lennon neatly surmised the influence one man had had on a genre that the Beatles would later take to greater extremes of superstardom.
"If you were to try and give rock and roll another name," he ventured on an American chat show in the early 1970s, "you might call it Chuck Berry. In the 1950s, a whole generation worshiped his music and when you see him perform the past and present all come together."
The honorific preamble to an intriguing performance by the pair, Lennon, one strand of a rock band that had defined the 1960s, was visibly awed as he played alongside an artist who had kicked the door open for the Beatles and their like to follow through a decade earlier.
Admiration unveiled only in the presence of lasting greatness; Cora Staunton undoubtedly possessed a similar ability to momentarily transfix opponents through her presence alone.
The Chuck Berry, Elvis Presley, Buddy Holly and Little Richard of Ladies Gaelic football all rolled into one, Cora Staunton did for her sport what Lennon credited Berry with doing for rock & roll.
"Everyone that knew anything about Ladies football knew about Cora," recalls former Cork footballer Angela Walsh in conversation with Off The Ball. "When you think of that Mayo team winning All-Irelands, you think of Cora Staunton.
"Cora was Mayo. Like, I'm from Killeagh in Cork, and everyone who thinks of Killeagh thinks of Joe Deane. That is what the place is synonymous with. When it comes to Mayo, it's Cora and Mayo."
In the aftermath of Mayo's era of great success at the turn of millennium, however, it was Cork who demonstrated the most emphatic hold over the sport's landscape: 11 times they lifted the Brendan Martin Cup across 12 championships (2005-16).
If Cora Staunton was the sport's great pioneer then, Angela Walsh, along with the likes of Rena Buckley, Briege Corkery, Valerie Mulcahy, Juliet Murphy and Brid Stack, were Ladies football's own answer to The Beatles.
In the less murky waters of such comparisons, Walsh, six times an All-Star full-back, can readily recall the threat posed by Cora Staunton, eleven times an All-Star winning forward, with an assured clarity.
"It was her strength," explains the Cork defender, "she just had serious strength, but serious skill too, obviously. She would be putting the ball over from out on the '45 and with a left and right leg, you'd never know where she was going to go.
"She would do this thing too where she'd be bent over with her hands on her knees as if winded or something, but sure there was never anything wrong and then she would be gone like a flash when the ball appeared.
"Cora was always the toughest opponent we had, and she would just never give up. Seriously like, no matter what the score was, and there were times when we would be comfortable ahead, but she would just keep going to the end."
With those comfortable leads and her 9 All-Ireland medals as a Cork footballer in mind, however, the intensity of Walsh's defensive battles with for Cora Staunton did not always materialise itself in wider battles between Cork and Mayo.
Although as a club footballer with Inch Rovers Walsh found herself on the wrong side of Staunton's Carnacon in two of the three All-Ireland finals where they met, after losing her first clash against Mayo in 2004, the Cork full-back went on to win her remaining five championship games against Mayo across the following 10 years.
We swarmed her because she took on that sole responsibility for a lot of Mayo's scores. Someone would mark her, but we'd all be gathering around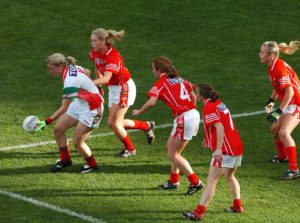 So, how did Cork nullify the game's outstanding attacking talent?
"Mayo had been our nemesis and when we beat them then in the '05 All-Ireland semi-final, we knew we could beat them again," she acknowledges now, "because really, if you could stop Cora, you could stop Mayo.
"When we played Mayo then there would never be just one person giving the responsibility of marking her. With a player of her calibre, it was obviously incredibly difficult to stop her, but we just tried to reduce the threat as best we could.
"I mean, she was obviously going to score, but if you could at least keep her to scoring points instead of goals, that was vitally important."
Lacking the severity of the Detroit Pistons' plan for Michael Jordan as has been recently revisited in The Last Dance, perhaps, Cork nevertheless had their own version of 'The Cora rules'.
"We knew to just swarm her," admits Walsh, "because she would often take on that sole responsibility for a lot of Mayo's scores. Someone would be nominally marking her, like Bríd (Stack) did in the '07 All-Ireland final, but we'd all be gathering around trying to stop her.
"Ideally, the way to stop Cora would be to deprive her of the ball, but once she did get the ball, we had to try and make it as hard as possible for her. She would still score goals and point, but I like to think we kept it to a minimum as much as we could.
"That being said, you could think you have her covered and the next thing she would score."
Far from being the execution of a well-drilled plan, however, Cork's approach to dealing with Cora Staunton manifested itself organically.
"We didn't have one tactic going out on the field," she claims of Cork's preparation, "Eamonn (Ryan) would just tell us to go out and perform. There were never, ever any rehearsed plays or anything like that. It was all about natural instinct and that is what I enjoyed most about playing with Cork.
"Eamonn would never have a big spiel about Cora or any player before games either, it was all about us, our team. I mean, we all knew who he was talking about if he mentioned the Mayo forwards or something but going out to play against her it was vital to be focused on your own game.
"'Backs win games, but forwards decide by how much', was one of his phrases and he had that idea ingrained in us. We knew Cora Staunton would score no matter what like, but if we could limit that then we could win."
More often than not, that is exactly what happened.
*****
As John Lennon and the Beatles harnessed what they had learned from rock & roll acts of the 1950s and made the 1960s thoroughly their own, only a small handful of those pioneering figures successfully navigated the transition.
Be it the untimely deaths, nefarious behaviour or limited ability of those involved, while the hits continued to sporadically come for the likes of Elvis Presley, even he quickly lacked the urgency of his breakthrough.
To take this comparison to its logical conclusion then, it is an even greater testament to Cora Staunton's capabilities that as Cork overwhelmingly took control of Ladies football, she remained as dangerous a threat and determined as ever before.
"Cora used to get frustrated," recalls Walsh of those games against Staunton when Mayo's best efforts couldn't match Cork's. "She was desperate to win, and everyone knew that. But that is just totally natural.
"Over the years we got to know her on All-Stars trips and she's a really lovely, lovely person. I remember too that she would have had such great time for Eamonn Ryan. He came on one of those trips actually and she was just mad to chat with him, looking for ways that she could improve.
"Cora Staunton like, asking how she can improve her game."
Download the brand new OffTheBall App in the Play Store & App Store right now! We've got you covered!
Subscribe to OffTheBall's YouTube channel for more videos, like us on Facebook or follow us on Twitter for the latest sporting news and content.