Before Dublin took nationwide control of men's senior Gaelic football, Pillar Caffrey was tasked with reclaiming some kind of stranglehold on the Leinster Championship. 
Appointed manager of Dublin's footballers ahead of the 2005 season, it is barely conceivable now that Pillar Caffrey took charge of a county that had won just the solitary provincial title in nine years.
Where Meath, Kildare, Offaly, Laois and Westmeath all experienced success on Leinster final day throughout that period, Dublin were simply one team in a highly competitive province.
"When I took over the job and sat down [with my backroom team]," he recalled at a SuperValu GAA Roadshow with OTB Sports, "we decided not to talk about winning All-Irelands. We talked about dominating Leinster.
"Until we could do that year in and year out, we wouldn't have a platform to go and be good enough to win an All-Ireland. It was a struggle and in our first Leinster final (2005) we barely got over the line against Laois with a last minute '45 from Mossy Quinn.
"That's how tight it was and it is just a different world now when you see Dublin steamrolling Meath by 21 points. You just shake your head - Leinster has faded so poorly."
With that most recent demolition of Meath in the provincial decider, Dublin have now won 15 of the last 16 Leinster championships.
A demonstration of provincial dominance even Caffrey would not have foreseen when sitting down with his coaches in 2005, he recounted how his team turned the tide before Dublin really got on their way.
Since the county's All-Ireland final breakthrough in 1995, Dublin had failed to capitalise upon what appeared to be a panel of impressive young players. Captured in Neil Cotter's Dublin: The Chaos Years, Caffrey's arrival coincided with a concerted attempt to bring the county's GAA community back onside first and foremost.
Where antipathy may have developed between fans and a team that continually underperformed in their eyes, Caffrey's era was largely successful in resurrecting the passion.
"One of the head stewards in Croke Park came to me after I'd finished," he recalled, detailing the appeal that his Dublin team had had for fans.
"He presented me with a list and I think we had played something like 20 games in Croke Park during my time there. The average attendance for those games had been 72,000. Even in Leinster quarter-finals we would get 60,000 plus coming to games.
"I remember we played Offaly in the 2006 Leinster final and 82,000 were there, a sell-out. Last year's Leinster final, I'm not sure the crowd that was there, but they have certainly dropped (Dublin vs Meath, 47,027). So, we did feel there was huge support and there was a bond with the fans."
*****
Related Reads:
"We gave Dublin one of their toughest games in the last 10 years" | Turlough O'Brien
Dubs funding debate | 'The money tap should be turned off if there's a drought elsewhere'
'Dublin are bigger than Leinster' | Mickey Quinn on Dublin dominance
*****
One of those who had been there in 1995 and continued throughout Caffrey's tenure was Jason Sherlock.
"When Pillar took over," he outlined, "Dublin were at a low ebb in terms of their connectivity with the crowd. From an emotional point of view, we felt that we had to get that bond back. There's no question that we thrived when the energy was good, but it did perhaps stifle us when things went wrong."
Ultimately, it is an outlook Caffrey shared.
"Looking back in hindsight," he suggested, did it get a little bit too emotive at times? There's nobody in Hill 16 that's going to stick a ball over the bar in the dying moments of a game. It was part of our journey at that time though and the players felt like they were getting something out of it."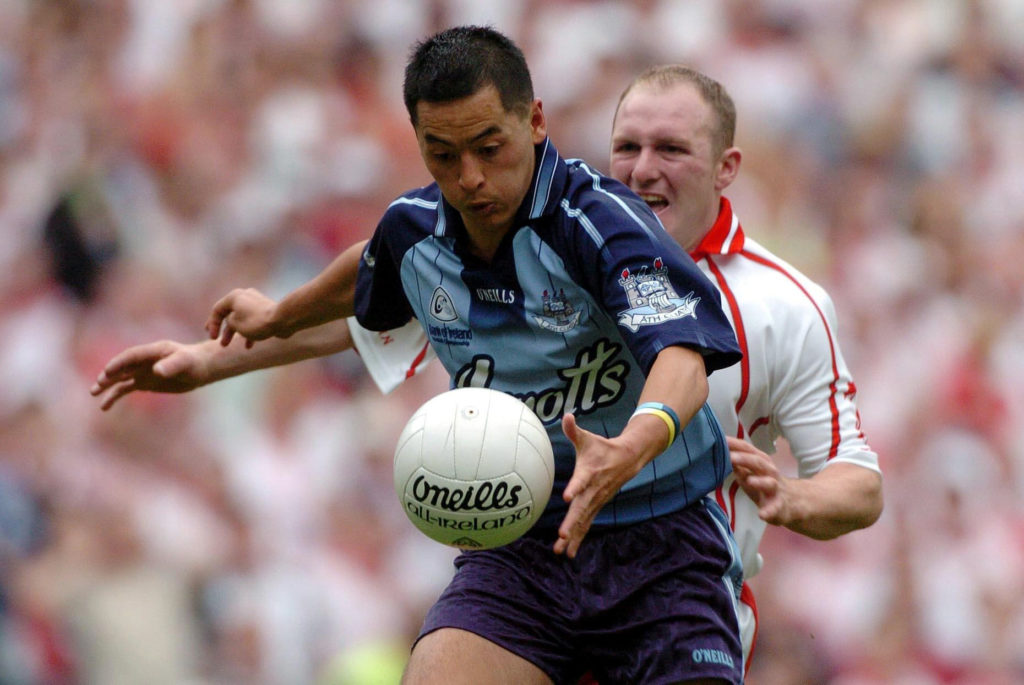 Internally, however, Caffrey and some of his more experienced players were also looking for innovative ways to seek out any available advantages.
Although he appreciates that the team's inability to achieve what they set out to do in terms of All-Ireland success left him open to criticism, 'The Blue Book' gives him no cause for regret.
"It was a standard diary that we just got customised to have what we wanted put into it," he recalled of what was issued to players ahead of the 2008 season. "On every page was, 'Dublin - 2008 All-Ireland champions', because that's what we wanted players to see themselves as all year round.
"Players were then to fill different things in on a daily basis. Training days became very important and there would be a quote there for every week that was meant to match up with whatever game was coming up next.
"It was player led and player driven and it was the players who came up with the finished article that we just signed off on. I accept now that when you try new things and end up with egg on your face that you can look very foolish.
"To this day though, I'm very comfortable about it. I still have a copy of it at home and I would take it out the odd time and smirk to myself at what could have been."
One of the senior players in question, Sherlock bought wholesale into the concept and shared his memories of how it played into one's role as a Dublin footballer.
"Winners write history and I think in Clive Woodward's (Rugby World Cup winning England head coach) autobiography he mentioned a black book that the English rugby team had," recalled Sherlock. "We might have watched a documentary on [that team during] a training camp and that's where the idea came from. We were looking to winners and thinking, 'Well, if it works for them, why not?'
"I would have used it and found it useful. Someone like Alan Brogan though - and he's a great guy who I am still very friendly with - he was the kind of guy who would go out and play an 8, 9 or 10/10 every time. As a senior, narky player myself though, I wanted to challenge him.
"In terms of Alan focusing on himself and delivering that high performance, how can he make the rest of us play to that level in every match? I remember one day I showed him my blue book and, put it this way, I'd put a lot more into mine than he had with his own."
After bowing out at the quarter-final stage to eventual All-Ireland winners Tyrone in 2008, Caffrey decided that four years in the role were enough and he made way as manager.
While he regrets Dublin's inability to win the Sam Maguire Cup during his time, what his team did achieve in Leinster secured the foundations for what would follow under Pat Gilroy and Jim Gavin.
Turning the tables on what had been a truly competitive provincial competition, little did Caffrey know when taking over in late 2004 that his team would spark a spell of dominance that has all but rendered it an annual procession for the indomitable Dubs.
Keep an eye across all of OTB Sports' social channels in the coming days for more great interviews as we build up to the All-Ireland semi-finals on our SuperValu GAA Roadshow
Download the brand new OffTheBall App in the Play Store & App Store right now! We've got you covered!
Subscribe to OffTheBall's YouTube channel for more videos, like us on Facebook or follow us on Twitter for the latest sporting news and content.