As Peter Keane's tenure as Kerry manager looks to be under threat, Eoin Sheahan and Ger Gilroy of OTB AM considered the front-running candidates to replace him. 
While Keane seemingly remains in contention for the position, other candidates have been put forward to step unto the breach, including the likes of Jack O'Connor. 
The sub-committee charged with finding the next manager is comprised of county chairman Tim Murphy, vice-chairman Eamonn Whelan, secretary Peter Twiss, Munster Council delegate John O'Leary and county games manager Donal Daly.
As the Kerry GAA executive deliberate over who should take charge ahead of next season, here is a brief overview of the frontrunners for the role.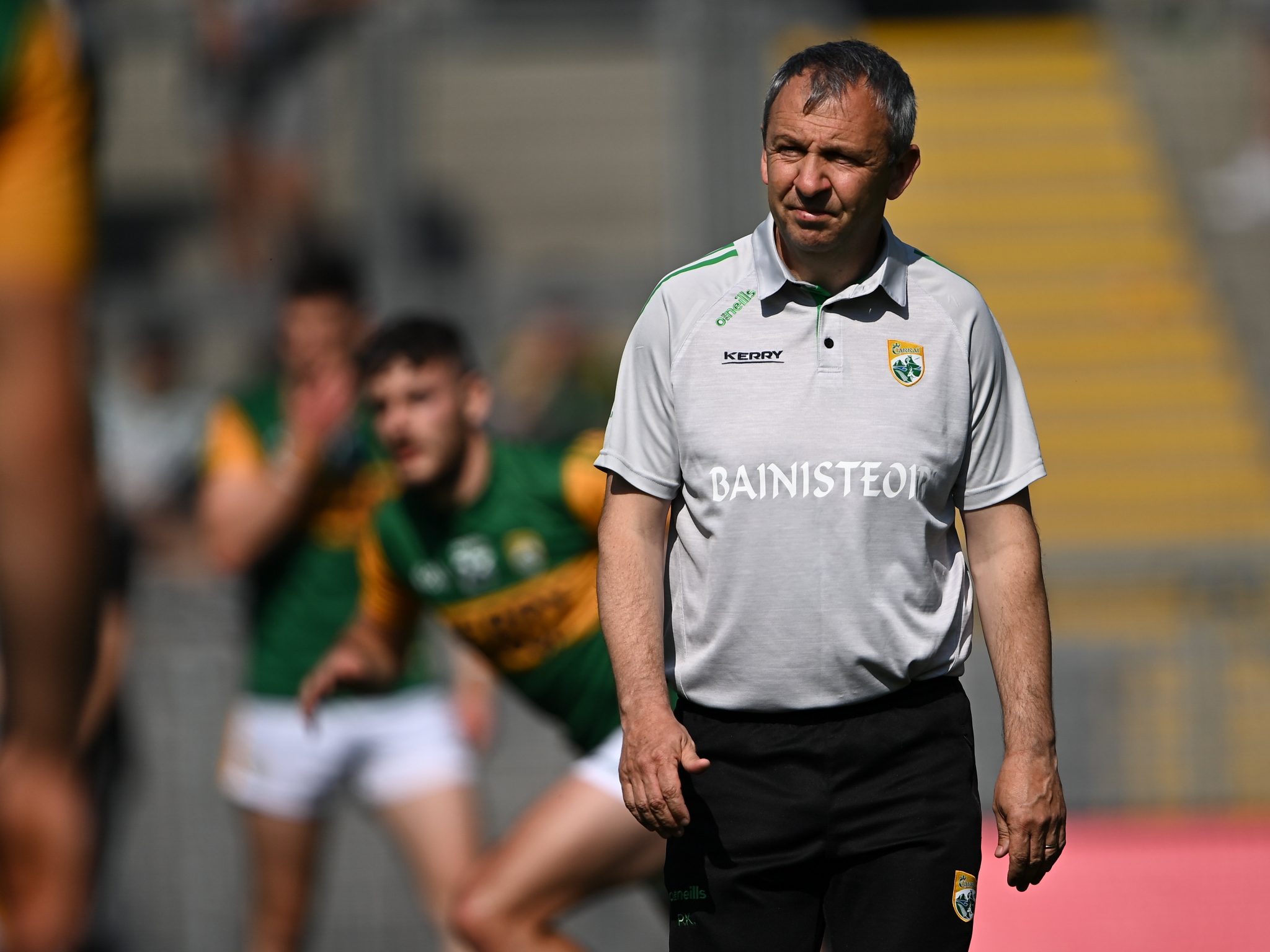 Next Kerry Manager?
Peter Keane:
The man who first took charge of Kerry's senior football team heading into the 2019 season, the county board's carefully worded statement did not necessarily rule Keane out from being the next Kerry manager.
Without any gratitude put forth for the work he has done, there remains some chance that he could still be in charge heading into 2022.
"Is Peter Keane the Kerry manager now? Is he the frontrunner? Is he done? I don't know," Eoin conceded on Tuesday's OTB AM. 
"He is hanging in limbo in a public sense."
"I feel very sorry for Peter Keane on a human level," Ger explained, "and if he does win reelection off the back of this, fair play to him.
"But if [the county board] don't want him to win, they should say that."
Jack O'Connor:
An All-Ireland winning manager with Kerry in the past, Jack O'Connor suddenly exited Kildare in acrimonious circumstances a few weeks ago.
It would appear that O'Connor is certainly among the front-runners for this position of next Kerry manager now.
"I think Jack O'Connor is the front-runner right now," Eoin suggested, "I think this all seems very protracted after O'Connor's decision to walk away [from Kildare].
"We know he is [interested in the job] and I'd say the delaying tactics that we're seeing here from Kerry GAA would suggest that he is very much the front-runner."
Identified as a potential new Kerry manager also, Ger considered the backroom team that O'Connor could put together.
"Are O'Connor and Declan O'Sullivan wedded at the hip," he queried, "do we see them as some sort of old and new?"
Eamonn Fitzmaurice: 
The man in charge before Peter Keane took over, Fitzmaurice has won All-Ireland medals on and off the field of play with Kerry.
Champions in 2014 when Kerry overcame Donegal in the All-Ireland final, Fitzmaurice has kept himself visible with media work since leaving the role as Kerry boss in 2018.
Fitzmaurice has stated previously on OTB AM that he is hoping for an eventual return to management and maybe this is the perfect opportunity for him.
Other feasible candidates:
"There's a list as long as my arm of people who could come in," suggested Eoin, "but if you've got an All-Ireland winners medal you're in the running for this job.
"The amount of names being thrown out there that seem like relatively good suggestions: Declan O'Sullivan, Seamus Moynihan, Diarmuid Murphy, Maurice Fitzgerald, Kieran Donaghy, Tommy Griffin, Paul Galvin, Mike Quirke, Aidan O'Mahony, Pat O'Shea, Liam Hassett and Declan O'Keeffe.
"I accept that if you're going through all those names as somebody involved in the sub-committee, that's a very complicated process."
Download the brand new OffTheBall App in the Play Store & App Store right now! We've got you covered!
Subscribe to OffTheBall's YouTube channel for more videos, like us on Facebook or follow us on Twitter for the latest sporting news and content.