After much speculation surrounding the Kerry management job, there seems to be three clear options for The Kingdom, according to Radio Kerry's Jerry O'Sullivan.
Peter Keane's current role as Kerry manager has been called into question after his side lost to eventual All-Ireland winners Tyrone in their semi-final.
Adding to the speculation that Kerry might be in the hunt for a new manager was the fact that Jack O'Connor stepped down as Kildare manager in the week following his Irish Examiner podcast appearance, in which he suggested that he would love to manage Kerry again.
Speaking on Off The Ball on Friday, Radio Kerry's Jerry O'Sullivan discussed the leading three possibilities for the future of Kerry football.
"It is such a huge call, and it could go any way of three ways if you look at the candidates," O'Sullivan said.
"You've got Peter Keane, who is reportedly, again we've heard nothing, reportedly interested in the job.
"If that statement about him being aware the statement was coming out is true, then he obviously wants another crack at it, perhaps maybe for two more years.
"Then you have the situation of Jack O'Connor, and everything that has played out there with his, let's call it an intervention on the Irish Examiner podcast where he talked about the Manchester United of football.
"Then his dramatic departure days later from Kildare and the tone of the statement from Kildare saying that he was well down the road of his planning and now he has said that he can no longer commit to the job.
"The other side of it, Seamus Moynihan, a former Kerry great himself involved in club management here.
"He was involved in the backroom team of the U21s a few years ago with Darragh O Sê at the time, and Donie Buckley's name comes into it then."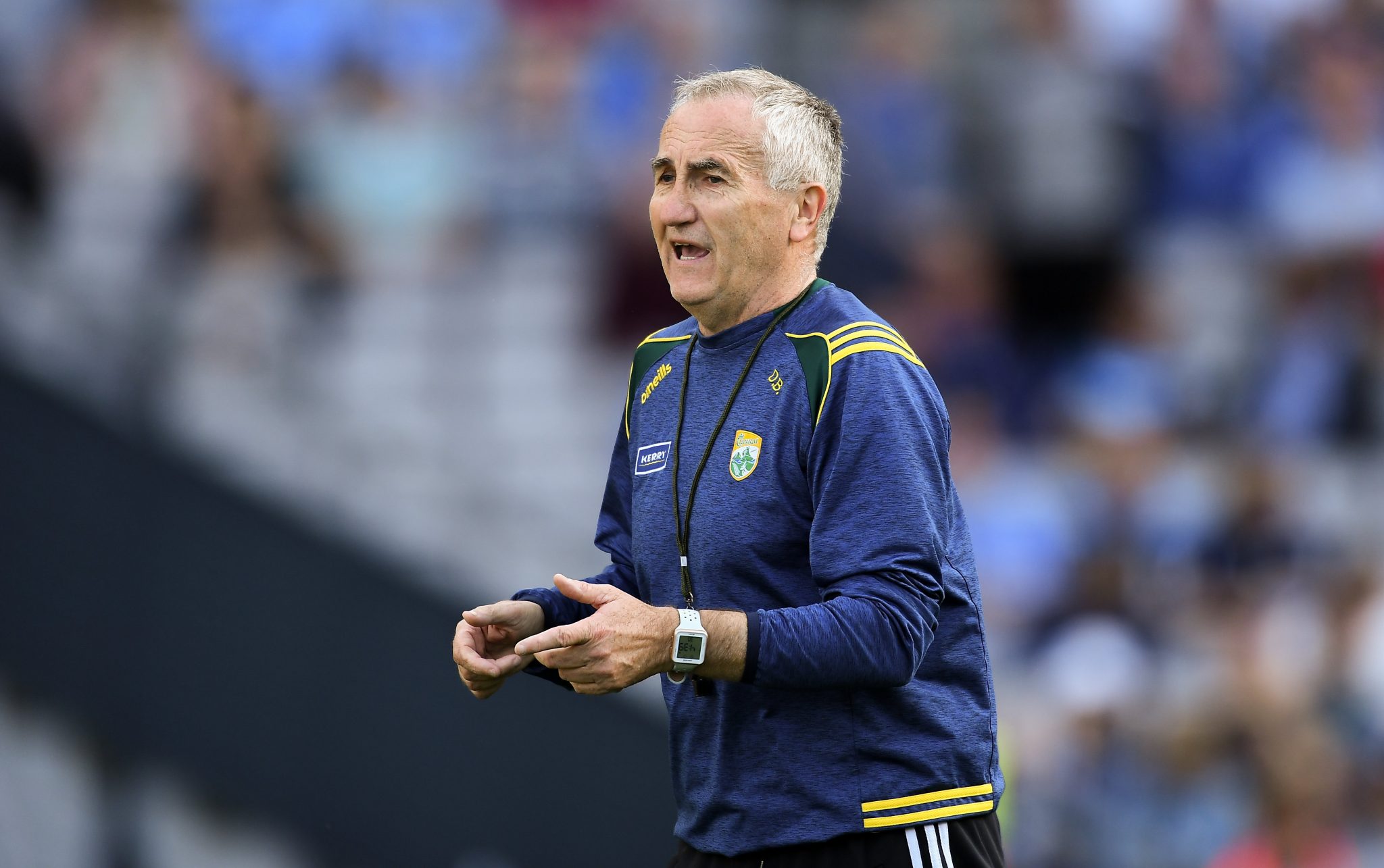 Potential Kerry management Dream Team
The introduction of Buckley, though, adds a spanner in the works, according to O'Sullivan, as he believes that there is a unique opportunity for a Kerry Dream Team on the horizon.
"He is an interesting figure in the middle of all of this, because he is a highly regarded coach, he was coaching Mayo and was credited with their progress over the last couple of years," O'Sullivan said.
"He has returned several times, he was involved under jack O'Connor, parted ways with him somewhat acrimoniously, and then he also was involved in [Peter Keane's] backroom team.
"The suggestion at the time was the Donie Buckley was the pick of the county boards, not Peter Keane's choice.
"It is a question now of if there are two or three possibilities here. You've got Peter Keane and his management team, you have got Jack O'Connor, and then you have got Seamus Moynihan and the suggestion would be Moynihan and Donie Buckley as a package.
"Buckley would be as a coach on the field, with Seamus Moynihan as the manager, but there is also another possibility that the management team that could be picked could be Jack O'Connor, Seamus Moynihan and Donie Buckley."
O'Sullivan believes that the trio of O'Connor, Moynihan and Buckley together is the most likely scenario if Peter Keane is to be ousted from his current position.
He explained why he feels that Moynihan and Buckley are not yet ready to go it alone, and why a joint-manager setup akin to Tyrone might be best for the Kingdom too.
"The reason why I think it would be a risk to go with Seamus Moynihan and Donie Buckley on their own is because, if it doesn't work, what will be said?" O'Sullivan said.
"Jack O'Connor has a proven track record. Every time he has taken over and come back, he has wone All-Irelands straight away.
"He also has an innate ability to spot good players coming through and he is a good player and man manager.
"It just may be too tempting an offer for them to pass up."
They will want to decide sooner rather than later
With all of the speculation raging on, O'Sullivan believes that Kerry will want to announce their decision sooner rather than later, with a final decision potentially looming before the end of the month.
"That brings us on to what kind of a process we will have?" O'Sullivan said. "Will it be just a committee meeting and assessing, or will interviews be involved here and then they will pick following the interviews?
"I am hearing that it will be sooner rather than later. The longer it goes on, the more of a vacuum, the more of a chance for controversy.
"I'd be saying a week to ten days, but I could be wrong."
Download the brand new OffTheBall App in the Play Store & App Store right now! We've got you covered!
Subscribe to OffTheBall's YouTube channel for more videos, like us on Facebook or follow us on Twitter for the latest sporting news and content.