If there was an argument about football in a pub in Kerry and a fella with one all-Ireland medal tried to get involved, they wouldn't even listen to him. There would be lads with three or four in there.
- Pat Spillane, The Late Late Show, 2015
From a media point of view, or from the perspective of people outside the county, it's more about medals. I know you'll think of a Kerry footballer and say he has three medals, four medals or whatever, but it doesn't seem to matter within the county. You wear the jersey and if you're lucky enough to win a medal, that's great. 
- Kieran Culhane, former Kerry footballer
Between them, Pat Spillane and Kieran Culhane have won eight All-Ireland winners medals.
Problematically, and it is perhaps for this reason that some clarification of Culhane's place in Kerry's footballing past is required above, the entirety of those medals belong to Spillane.
Kieran Culhane, despite certain assumptions regarding footballers from the Kingdom, concluded his inter-county career with no Celtic Cross.
"Look, when you start wearing the jersey and you ask yourself what you want to do," Culhane explains, "you want to win an All-Ireland for Kerry."
"Each year that it doesn't happen, there is huge disappointment."
Although a hierarchy that equates the worth of one's opinion to the medals they possess suits the unsurpassed Spillane, Kieran Culhane inhabits an alternative realm.
"If you brought the Kerry players together from 1975 to the mid-1990s," Culhane suggests, "the majority of them would have a bucket of medals."
"Then there are the lean years where I was involved and there's no medals.
"Now, those players wouldn't be divided in the one room in terms of medals, you know what I'm saying? It's just not a big deal within the county among past players.
Pausing his train of thought, Culhane wonders aloud: "I might just think that way because I never won one," he says with a laugh.
Something of an inter-county every-man surrounded by wildly successful Kerry-men, Kieran Culhane is forced to draw different terms of engagement than his vaunted colleague Spillane.
You wear the jersey and if you're lucky enough to win a medal that's great, but you haven't tried any less hard than lads who went before you or since.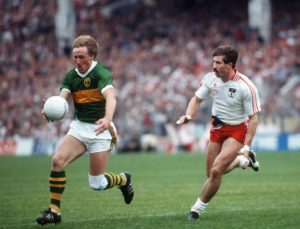 "I had a photograph of the four-in-a-row team on my bedroom wall," Culhane admits with a laugh as he recalls breaking into the Kerry senior panel in 1984.
"Here I am, 18-years-old, coming off minors and I find myself within the dressing-room sitting beside them."
Emerging in an era where Kerry dominated all-comers, the astounding pedigree of Mick O'Dwyer's team made few allowances for young prospects.
"I was a minor in 1983 and Cork beat us in the first round of the Munster Championship down in Kilmallock on the 18th of May," Culhane recalls with startling precision.
"There was a feeling out there that Cork were coming good and had some good young footballers, [but] I would say that if we played them again, and again and again, there'd be nothing between those teams."
With time, however, the "good young footballers" of Cork would be afforded opportunities denied to Culhane and his teammates.
"That Cork team went on to win the senior All-Ireland in '89 and '90," Culhane states, "and I would say that over half that minor team were playing."
"You had Barry Coffey, the McCarthys, Paul McGrath, Michael Slocum ... the bulk of that team.
"Now, at the same in 1983 the Kerry seniors were coming off the four-in-a-row and a couple of them were maybe at the end of their careers, but going nowhere.
"So, there was a bunch of players around those years at my age who couldn't see any sign of progressing in football terms because they weren't being asked into the senior panel.
"We were kind of stopped in our tracks, and I think that was the reason we had the poor years later on - we brought nobody through to any great degree."
Although Kerry's eventual shortcomings on the national stage scarcely appear lean in the general understanding of the term, the precarious rise of Cork as Kerry slept hindered the likes of Culhane.
"Some of the older lads on the panel at that time were obviously legends," the Ballylongford man appreciates, "but I remember a comment made by one of them after training one night: 'It's harder to get off the team then on it.'"
"He said it jokingly like, but it struck a chord with me.
"Funnily enough, I'm great, great friends now with the guy who said it, but it was very, very true.
"You really, really had to go out of your way to get off the team when you were one of those guys who'd won the four-in-a-row."
Opting for temporary respite by way of a spell in America, numerous false starts throughout the National League meant Culhane would wait until 1990 for his Munster Championship breakthrough; seven years on from his exploits at minor level, seven years behind his Cork counterparts.
It was said in Kerry that Cork were the third-best team in the country, and the second-best were the lads who couldn't make the Kerry team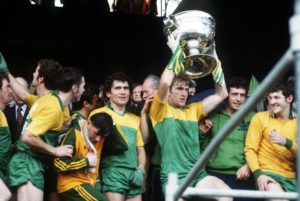 Beginning at senior where it had left off for Culhane at minor, it was Cork who would carry on their summer beyond the Munster Championship of 1990.
Coming into '91, Kerry's failure to reach an All-Ireland final since 1986 signaled an absence from the national decider unknown to the Kingdom since Mayo's hey-day in the early 1950s.
Yet, as Culhane recalls, expectations persisted.
"During that time, I met a gentleman who was a native of Kerry but had emigrated and was now back on his holiday," Culhane remembers.
"I happened to meet him on the beach in Ballyheigue and we got chatting away about football.
"'Ah, sure ye'll win it this year and if ye don't win it this year ye'll win it next year,' he said to me. 'I'd love to have your confidence,' I told him.
"'I'm not a gambling man,' he said to me, 'but I've made one bet every year that Kerry will win an All-Ireland in the next three years, and it's a bet that's paid off handsomely.'
********************
We played Cork in February that year in the National League and it turned into a mass brawl. I think we made the headline on the six-o-clock news, but that was the beginning of winning that Munster medal. There was a feeling that a message needed to be sent out and we did it that day.
- Culhane on Kerry's 1991 league defeat of Cork
One wouldn't need look as far as Pat Spillane and his thirteen provincial winners medals to realise that the Munster Championship has suffered something of a devaluation in the currency of Kerry football.
Yet, for Kieran Culhane, Kerry's first provincial win since 1986 delivered a degree of satisfaction he continues to savour.
"What does that medal mean to me," Culhane questions before pausing.
"Ya, I suppose at the time it meant a huge deal. I won that medal in '91, and since 1983 I had been trying to beat Cork.
"They had been beating us at minors, U-21s and seniors while I was involved in all those teams."
Although only the prospect of beating Cork in the Munster final itself may have made the result sweeter still, that it took Culhane a few moments to remember it was Limerick they had overcome in the deciding match hinted at what had been achieved.
"They came to Killarney as raging hot favourites, the All-Ireland champions," Culhane recalls of a team chasing three-in-a-row.
"That medal is a symbol of those years trying to beat Cork.
"It's a Munster medal but that doesn't really resonate with me as much, it's more about toppling Cork at last.
"Even if I didn't have the medal, I could still say we beat Cork - box ticked."
An unfamiliar high-point in the career of a Kerry footballer, perhaps, it is a memory Kieran Culhane cherishes. Not long thereafter, as the emergence of a new, talented generation appeared ready to compliment a player making up for lost time, misfortune struck Culhane once more.
Plagued by injuries, the Ballylongford man would not make it past 1993 with Kerry.
"When Páidí Ó Sé took over in '95 he got onto me and I arranged to meet him in Dingle," Culhane explains.
"I had bowed out the year before, but he asked me to give it another year.
"I'd gotten married a couple of years before, we'd bought a house, started a family and things changed.
"One day you're this young, easy-going individual who lives and dies for football, then, all of a sudden, it's not the big deal that it was."
Still shy of his 30th birthday, Culhane doesn't trouble himself thinking whether or not he could have held on until order was restored in 1997.
In his own mind (and crucially, his body), that time had passed.
It just seemed like another road to be travelled, but I'd already travelled enough roads at that stage.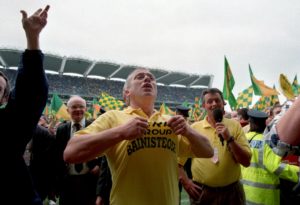 "1994 and '95 are a complete blur," Culhane admits as he recalls navigating an interest in football through the malaise of his departure from the Kerry set-up.
"I didn't even go to games. People couldn't understand it, but when you're at it so long and trying so hard and you haven't succeeded as such, it's the last thing you want to do.
"I didn't see Kerry playing for a couple of years like, and it wasn't that I didn't have the interest, I just didn't have the energy.
"It just seemed like another road to be travelled, but I'd already travelled enough roads at that stage."
Yet, no more than a fan when Kerry last lifted the Sam Maguire, such was his happy lot as Páidí Ó Sé's side put fat back on the bone in '97.
"At that time you could run onto the pitch at Croke Park," Culhane remembers, "and I was one of the first out there to meet the lads."
"I'd made my choice, told Páidí no - Sin é. But I wouldn't swap '97 and that day on the pitch with the lads for nothing."
********************
Culhane, I went home to the sitting-room, put the cup on the coffee table at five-o-clock in the morning and stared at it until 8-o-clock.
- James Doherty, Ballylongford captain (2000)
In reality, few regrets are forthcoming in Kieran Culhane's recollections of time spent playing inter-county football with Kerry.
"When you look at your own career it comes down to whether you wore the jersey," Culhane states assertively.
Throughout a period of plenty for Kerry, it is both difficult and ultimately unnecessary to share much sympathy for one like Culhane who found himself in the right place at the wrong time.
Furthermore, you'd scarcely think he'd welcome such platitudes.
Thankful for the opportunity of representing the country's most feted county, it has provided Culhane with friendships that stretch across the country.
Similarly, one gets the impression that although no All-Ireland was won, he knows himself to have been a suitably talented footballer to reap greater rewards had fate been a little kinder.
Sharing in a sense of unfulfilled promise that most surely irk the vast array of inter-county players past and present who never achieve that ultimate goal, in other ways he has found tremendous satisfaction through football.
"We had won a couple of championships," Culhane recalls of his spell playing club football with Ballylongford, "but a very, very good friend of mine had been away and missed them."
"He was older than I was, but in 2000 he became club captain and we put a huge effort in to win the North Kerry Championship - his holy grail.
Where he had waited seven years for his breakthrough from minor to senior with Kerry, the conclusion of that chapter in 1993 preceded a further seven-year wait.
"We won it," Culhane proclaims proudly.
"There's a picture of himself and myself somewhere, and we're coming off the pitch after the final.
"I said to him, 'I'm crossing the white line now for the last time, Sin é.'
"That was it, good luck and thanks."
Download the brand new OffTheBall App in the Play Store & App Store right now! We've got you covered!
Subscribe to OffTheBall's YouTube channel for more videos, like us on Facebook or follow us on Twitter for the latest sporting news and content.