Kieran Donaghy joined OTB Sports to name his All-Stars from the year in Gaelic football. 
As Dublin claimed their sixth successive All-Ireland win, it is no surprise that Dessie Farrell's team dominate the Kerryman's selections.
Nevertheless, the record-breaking Dubs did lose out on a few positions as Donaghy went about naming his #1 to #15.
Kieran Donaghy's Football All-Stars
Goalkeeper - Raymond Galligan (Cavan)
The player who captained Cavan to a long-awaited Ulster Championship win, Raymond Galligan is Donaghy's choice in goal. "It is harsh on Stephen Cluxton," Donaghy allowed, the Dublin 'keeper captaining his side to yet another All-Ireland triumph in 2020. "He has gone the season without conceding a goal. But some of the saves Galligan pulled off against Monaghan and Donegal in the Ulster Final were outstanding. How he led that Cavan team was huge."
Right corner-back - Oisin Mullin (Mayo)
One of the newer faces on the Mayo panel, Mullin was part of a team that ultimately came up short against Dublin the All-Ireland Final. "He had an unbelievable year," Donaghy stated. "He is a future massive leader in this Mayo team and his agenda now will be making the #3 jersey his own and become Mayo's rock."
Full-back - Michael Fitzsimons (Dublin)
A Dublin defender who has been present throughout the eight All-Ireland wins since 2011, Fitzsimons has only won two All-Stars in that time. "He is so good on his feet, so good at doubling the ball," Donaghy noted. "He is so good at sniffing out danger and is a massive leader for Dublin."
Left corner-back - Eoin Murchan (Dublin)
The scorer of a decisive goal in the 2019 All-Ireland Final replay, Donaghy has been impressed with Murchan's performances in 2020. "He has been unbelievable," the Kerry native noted. "Like any of Dublin's back six, he can play in any position really. He goes about his business in the right manner and he would be a nightmare for any corner-forward."
Right half-back - James McCarthy (Dublin)
Another long-serving member of this golden era for Dublin football, McCarthy was a certainty in Donaghy's mind. "When they pick a team of these 100 years," he asserted, outlining McCarthy's importance to Dublin, "he will be the #5."
Centre half-back - John Small (Dublin)
In alongside McCarthy in the half-back line John Small was selected at #6. "He's tight, aggressive, nasty, smart and he's literally everything you want in a centre-back," Donaghy explained. "He's strong, physical and has been outstanding in making that #6 jersey his for a long time to come."
Left half-back - Ciarán Brady (Cavan)
Denying Dublin and Robbie McDaid complete dominance over the half-back line, Ciarán Brady was the second selection from a Cavan team that were defeated by the Dubs in an All-Ireland semi-final. "He couldn't shift John Small out of #6," Donaghy explained, "but I think he was outstanding in the Ulster Championship - a brilliant leader for them who deserves his spot."
Midfield - Thomas Galligan (Cavan)
Man-of-the-match as Cavan defeated Donegal to claim the Ulster Championship, he was a lock in this All-Stars selection. "He absolutely deserves it," Donaghy asserted, "and what he did in that Ulster Final will go down in Cavan folklore for many more years. In 20, 30 years time they'll still be talking about Galligan's display."
Midfield - Brian Fenton (Dublin)
"There's no more than can be said about him," Donaghy conceded, the Dublin midfielder a player who is in the running to win Footballer of the Year.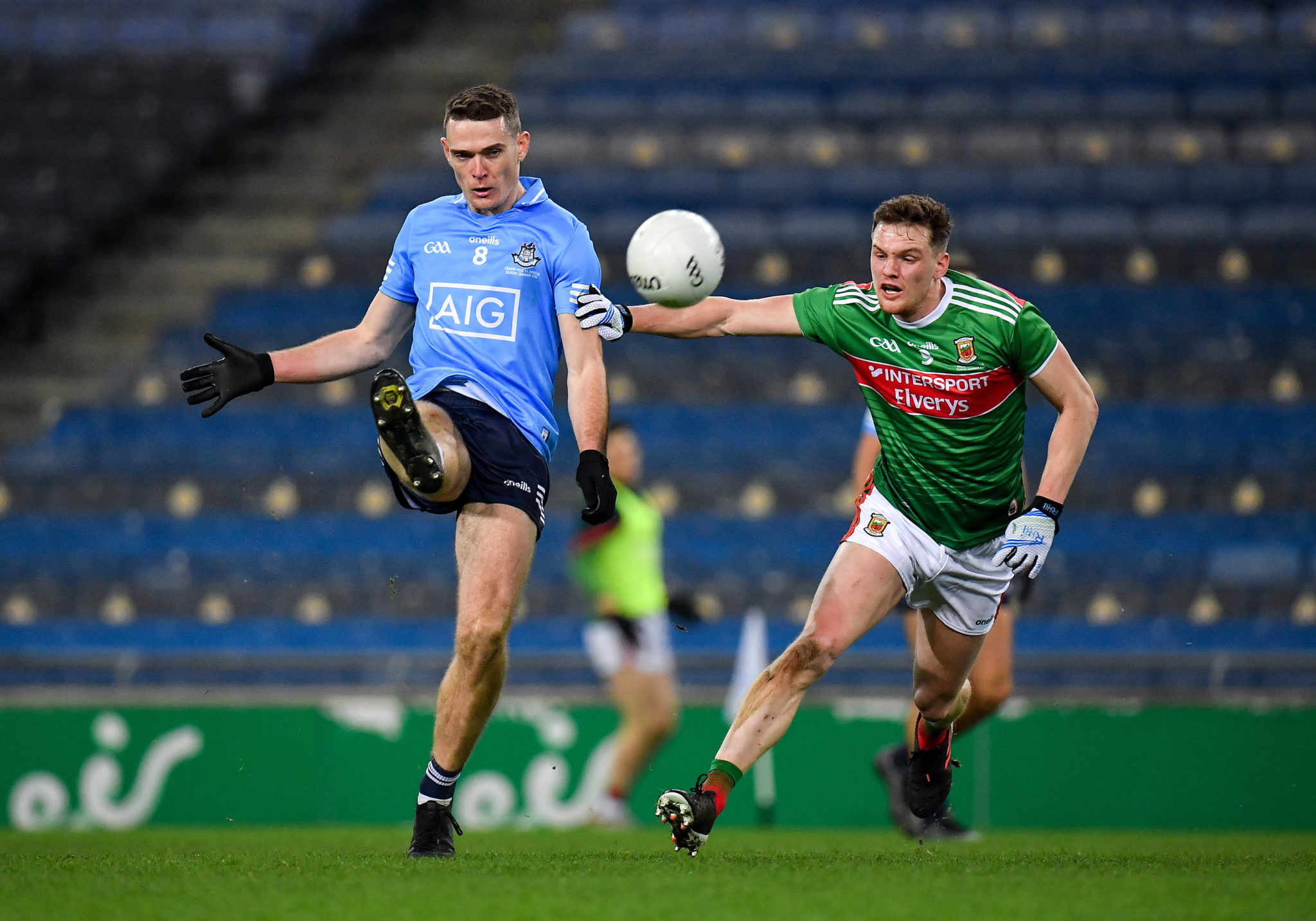 Right half-forward - Niall Scully (Dublin)
The first of a few Dubliners among the forwards, Niall Scully made a serious impression throughout 2020. "He was just unbelievable," Donaghy said, outlining the specifics of what sets Scully apart within Dublin's collective efforts. "He is super smart and unselfish - a guy who is almost now in that Paul Flynn mould."
Centre half-forward - Con O'Callaghan (Dublin)
Another serious contender for Footballer of the Year, O'Callaghan was instrumental in Dublin's defeat of Mayo in the All-Ireland Final. "He has been amazing at #11," Donaghy noted of the Cuala club man who has usually been deployed further up the field by Dublin. "Catching kick-outs, kicking scores, if you played him at #5 he would still probably be winning All-Stars. Could he be the second midfielder with Fenton? Yeah, he could. Could he play any of the forward positions? Absolutely."
Left half-forward - Martin Reilly (Cavan)
A fourth Cavan representative on Donaghy's All-Stars, he explained why the 34-year-old former Irish underage soccer international disturbed what could have been an all-Dublin half-forward line. "Look, he's their spiritual leader," Donaghy concluded. "I would say he is probably their smartest guy on the pitch too and that left leg is special. He thoroughly deserves this."
Right corner-forward - Conor Sweeney (Tipperary)
The one Tipperary player selected in Donaghy's All-Stars, Sweeney was well-deserving of his spot. "That point against Limerick in the Gaelic Grounds will be remember for a long time," Donaghy suggested. "It was an amazing kick and he followed it up with 1-9 against a very good Mayo side [in the All-Ireland semi-final]. He was majestic in the Munster Final too and led Tipperary to an enormous win there."
Full-forward - Ciarán Kilkenny (Dublin)
At 27, Ciarán Kilkenny is going for his fourth appearance at the All-Stars and is also vying for the ultimate individual award in 2020. "The best centre-forward of the last five years who just runs the show," Donaghy remarked, Kilkenny the subject of a positional switch by Dessie Farrell this year. "He is the best hand-passer in the game too. Players know a Kilkenny pass will find them."
Left corner-forward - Cillian O'Connor (Mayo)
The key man for Mayo as they overcame Tipperary in the All-Ireland semi-final, this was another easy choice for Donaghy. "What Cillian did there you can't really say much more about," he asserted. "It was spectacular. I think these Mayo boys will shake this one off and come back again next year."
Despite there were some strong contenders, Ciarán Kilkenny was Donaghy's Footballer of the Year.
"Look, to score 1-20 from play," Donaghy remarked of the Castleknock club man's year in blue. "Even when Mayo got that equaliser around the 50th minute [in the All-Ireland Final], Kilkenny just sort of went, 'No, not today lads.'
"He always does what is right for the team."
Download the brand new OffTheBall App in the Play Store & App Store right now! We've got you covered!
Subscribe to OffTheBall's YouTube channel for more videos, like us on Facebook or follow us on Twitter for the latest sporting news and content.