Kieran Donaghy has taken exception with Sean Cavanagh's suggestion that a sign of Kerry's respect for Mickey Harte was in fact an attempt to belittle Tyrone. 
Announcing himself with a new column in the Irish Daily Star, former Tyrone star Sean Cavanagh shared a memory of Killarney ahead of Mayo's journey south to face Kerry in this weekend's Super 8s clash.
"Paidí Ó Sé was right," he wrote, "[Kerry fans] are absolute animals whenever the game is on."
Watching "the worst Tyrone team" he played in from the stands in a 2012 All-Ireland qualifier, Cavanagh claims to have been blown away by the intensity of the local fans as Tyrone themselves were blown away by Kerry.
Recalling the team's departure from the changing rooms in Killarney that afternoon, it was with mixed feelings that Cavanagh remembers hoards of Kerry fans clapping the Tyrone players from the ground.
"They were back slapping us, 'ah youse are great lads,' and all that," the Moy club-man recalled, "to me, it seemed a wee bit patronising."
Proof for Cavanagh that Kerry no longer considered Tyrone a dangerous opponent, Kieran Donaghy, who played the entirety of that game for Kerry and was among the crowd that clapped Tyrone from the game, presented an alternative view of what had occurred.
"That is very much the opposite way of how I remember it," said Donaghy on Thursday's OTB AM, "the last thing it was was patronising.
"I think the Kerry people were amazed by Mickey Harte at how he had been able to function as Tyrone manager and do a good job with them.
"I was there when it was going on, and if you're calling it patronising then you can say Paul Galvin and Mickey Harte's hug afterwards was patronising.
"The Kerry fans couldn't go and hug Mickey on the pitch like Paul got to, so they clapped the team onto the bus.
Ten-days prior to the clash in Killarney, a not-guilty verdict had been returned in the case against two hotel workers accused of murdering Harte's daughter Michaela while she honeymooned with her husband on the island of Mauritius.
"There might have been one or two mad fellas there giving fists up to the bus and maybe Sean saw one of those guys, but I remember it as a sign of respect for Mickey Harte in doing the job in such circumstances."
A tragic story that had touched many beyond the intimate world of the GAA, Donaghy is certain that a "huge amount of respect" for Harte and his Tyrone team had inspired this outpouring on the fans' behalf.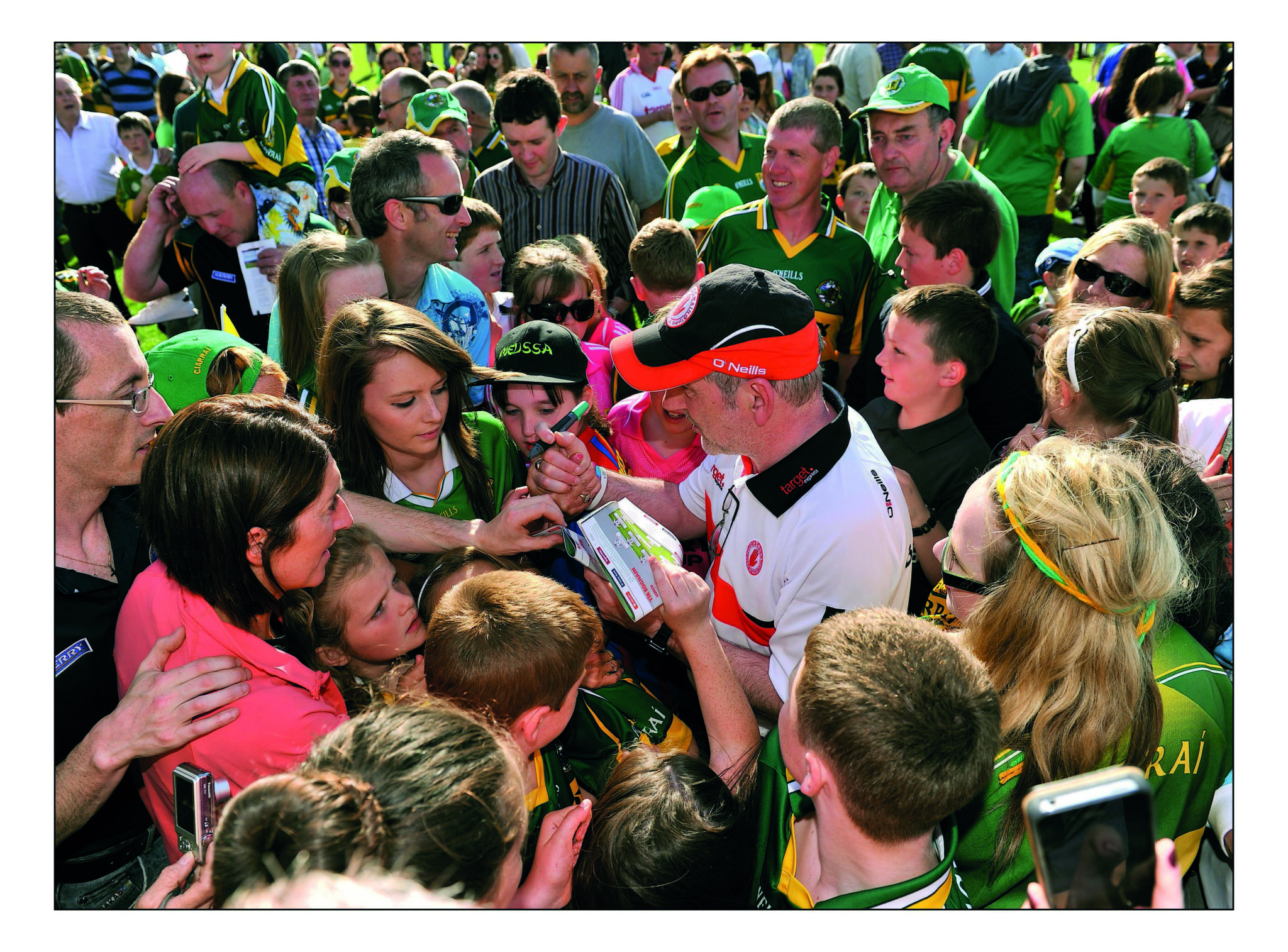 Regarding the issue Sean Cavanagh raised about the behaviour of Kerry's fans toward Tyrone's players during the match, Kieran Donaghy was equally unimpressed.
"I've heard plenty of stuff off Tyrone fans and half my family are from Tyrone," he said by way of highlighting the commonality of such remarks, "I've heard stuff from Mayo fans, awful stuff from Dublin fans, and that's just what fans do.
"Whatever they said, Sean is very precious anyway if he's going to be worried about what fans are saying to him.
"If you're going to talk about everyone who gives out to you in the crowd, we're going to be in for a long day."
Watch back the entirety of Kieran Donaghy's Shot Clock on #OTBAM here. 
Subscribe to Off The Ball's YouTube channel for more videos, like us on Facebook or follow us on Twitter for the latest sporting news and content.