As the Ladies Gaelic Football Association oversees a period of immense growth for the sport in Ireland, four elite players shared with Off the Ball their frustrated experiences of a lingering inequality rooted in the game's rules. 
"My body is an argument I did not start"
- Morgan Parker, "And Cold Sunset"
It is not immediately clear why the Ladies Gaelic Football Association believe it necessary to specify that "Shouldering is not allowed".
After all, the preceding directive in the 16 'Playing Rules' would appear to assure as much: "There shall be no deliberate bodily contact."
What is a shoulder-to-shoulder challenge if not deliberate bodily contact?
Enacted in 1974 along with the formation of the association itself, this superfluous rule succinctly demonstrated the LGFA's determination to establish itself as something apart from its venerated precursor.
Leaning heavily upon a template of the "fine manly game" Maurice Davin envisioned for their fresh alternative, where physical exchanges between men have been encouraged, it has been the prerogative of women to keep to themselves on the football field.
This was never designed to be Gaelic football as the GAA understood it.
An All-Ireland winner with Dublin in 2010, it was with some confusion that Lindsay Peat came by Ladies Gaelic football unaware of the distinction.
"In my very first match I hadn't got a clue of the rules," recalled Peat with a laugh.
"I remember the ball being turned over and I shouldered one of their defenders. It was a good, fair shoulder-to-shoulder, but Jesus, there was uproar because I nearly sent her into next week."
Compelled to act against a natural inclination to tackle, Peat's frustration with the game's physical limitations scarcely wavered; irrespective of eventual success.
"I found at times that if I was bigger than a defender, they'd get the benefit of the doubt against me. I wasn't able to use my physicality.
"Even my goal against Cork in the All-Ireland final [in 2014], people were saying I'd handed-off Briege Corkery. There were arguments about whether it was a good hand-off, or I should have had a foul given against me.
"Why? She was tackling me. Ali Miller said it to me after: 'When I saw you hand off Briege Corkery, I knew rugby was for you.'"
Opting to depart Ladies Gaelic football for rugby union shortly after the 2014 final, Peat made the international breakthrough with Ireland in the following year.
Although she now contemplates Ladies Gaelic football from afar, her disgruntlement with the non-contact rule and what it represents has not abated.
"The rule always suggested to me that women aren't physically able for contact, but if you have women playing against women then I don't understand why there needs to be a restriction.
"My last inter-county game was 2014, and I found sometimes if I was up against the likes of Brid Stack or Angela Walsh or bigger players who I matched physically, then the referees were a bit more lenient.
"Yet, they still didn't let us play really, and you just have to let the athletes express themselves."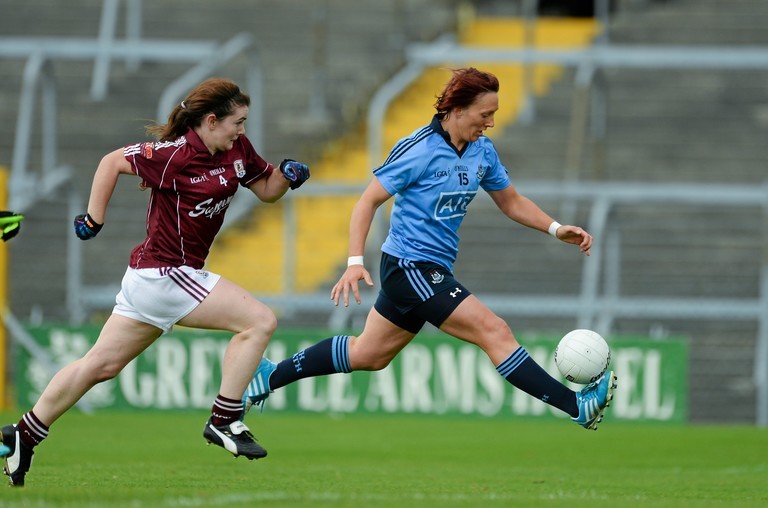 Although Lindsay Peat's time playing inter-county Ladies Gaelic football was brief, her's is far from a solitary voice confounded by these limitations.
"I think the shoulder-to-shoulder tackle could definitely be brought into the game," explained Mayo's Sarah Rowe bluntly, "there's no harm in that.
"It should be the same rules as the men's game."
Her Clare counterpart Ailish Considine shares a similar outlook, reiterating Peat's suspicion of a latent sexism at play.
"I think it's just down to that old idea that women shouldn't really be playing sports and we'd have had plenty of people with that outlook.
"We are well able for physicality, and it's not as if we are going out to play against men, we're playing other women.
"I just can't see why there'd be a ruling against putting in a shoulder challenge."
With over 20 years' experience to her name, Cora Staunton is another renowned inter-county player baffled by legislation which is growing increasingly unfit for purpose.
"I don't believe Ladies Gaelic football is non-contact, so I don't understand why there's a non-contact rule and I certainly think it needs to be changed.
"If you look back to the [2018] All-Ireland final between Cork and Dublin, it was probably one of the most physical finals that I've either played in or watched.
"You can see that the level of physicality is getting higher and higher, so I'd definitely be an advocate of the game becoming a contact sport."
Within the hierarchical structure of the LGFA, however, no such interest in redressing the current state of affairs is forthcoming.
"Counties are free to make proposals regarding rule changes to our annual congress," LGFA President Marie Hickey explained to Off The Ball, "[and] I do not recall any proposals in recent times to change these rules.
"So, I presume that counties are therefore happy with it."
While there is indeed much to be happy with regarding Ladies Gaelic football and its growth in recent years, Hickey's summation is too simplistic.
Where the necessity for change may not be forthcoming at a congressional level, Rowe, Considine and Staunton, three elite Ladies Gaelic footballers who have since sampled a sporting landscape less concerned with physically restricting their participants, tell a different story.
Although each retains a passion for Ladies Gaelic football, experiences elsewhere have highlighted the antiquated nature of the non-contact rules, and illuminated greater inequalities at play within Ireland's native sport.
"Technically it's a non-contact sport, but the game is actually quite physical when you're playing it," explained Considine.
"This leaves it open to different decisions depending on the referee, and you don't really know where you stand when you go into a game.
"It's a very blurry line for players."
Rules no longer fit for purpose, where the players lead the Association must surely follow.
********************
"The game has moved on so much over the last 10 years," acknowledged Cora Staunton of Ladies Gaelic football, "girls are now so much stronger and fitter."
For the 27-year-old Ailish Considine, this modern understanding is all she has known. Realistically, such circumstances made her an ideal candidate for the burgeoning Australian Football League women's game.
A national champion with the Adelaide Crows only a matter of months after moving to Australia, the experience has proved eye-opening for Considine.
"We're treated as equals. Everyone is part of the same team and it doesn't matter if you're playing for the men's or women's team.
"It's so nice to come into an environment like that where everyone is treated equally and respected. It's exactly what you would want your men's and women's set-ups to be like in Ireland."
An environment carefully cultivated and fought for in Australian sport, Considine's years playing football and camogie with Clare have rarely proved so inclusive.
"I've only played maybe three times in Cusack Park with Clare, and that's from maybe one hundred games between both codes.
"Like, there's even been a training ground built for Clare GAA, and we'd have requested to train there with the guys because there's a gym, floodlit pitches and just everything you'd need in one place, but we were refused point blank for no reason other than the fact that we're a women's team.
"I remember 2016 was the most frustrating because we'd gotten to an All-Ireland final that year and every training pitch we'd been using had been taken over by the Fleadh in Ennis.
"So, we requested to use the county grounds and I think the chairman was rung up and the response was along the lines of, 'We can't be letting ye in there.'
"That's what you're coming up against."
Although Considine is careful not to necessarily blame the GAA for the actions of pernicious local gatekeepers, Cora Staunton, an Irish trailblazer in the AFLW, was similarly struck by an Australian welcome that overshadowed her treatment at home.
"We're very integrated in [the Greater Western Sydney Giants] and we train in the same facilities as the AFL men's team.
"From the point of view of equality and fairness, the men get paid a helluva lot more than the women, but they've been playing AFL for well one one-hundred years and it's a rich, rich business here.
"With time, the women's game will become a fully professional sport too, but I can still walk up to our best-paid man now and have a chat with him in the morning.
"I don't feel that's the case at home in the GAA. Over here, when our men play all the women are given tickets to go and see the match, but you certainly won't be given tickets to go and see Mayo's men play."
Much like their male counterparts, AFLW possesses no reservations regarding the physicality of its players.
While Collingwood's Sarah Rowe admitted to being a little shook by her first clean-out in a tackle, each of the three players spoken to had little issue making the adjustment.
"You're going to have women who are stronger than others," noted Considine, "but that's all part of it.
"With the strides that have been made in terms of strength and conditioning, even at home in an amateur sport, girls are well able for hits.
"Over the last couple of years playing Ladies football, we'd be training to take hits even though it is technically a non-contact sport."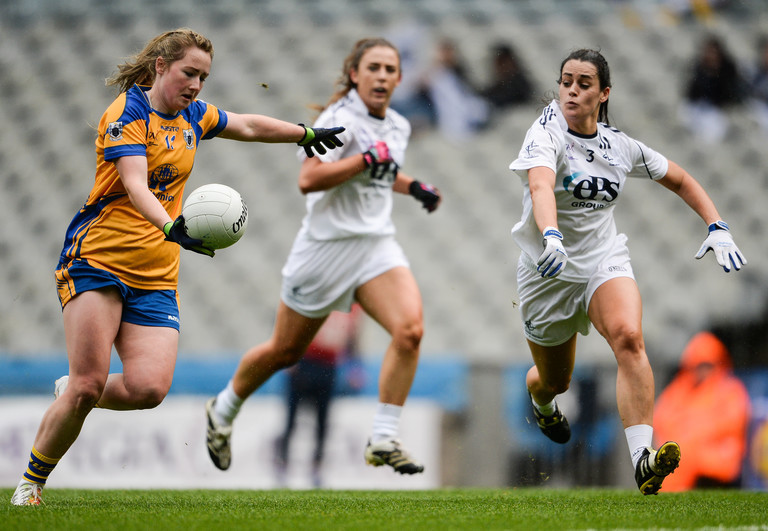 A playing environment beyond the means of an amateur association in Ireland, Australia's prevailing ethos toward ensuring equality isn't so readily explained away by the disparity in funds, however.
"I think Australian sport is probably a whole decade ahead of Ireland with regard to equality between men and women," suggested Staunton, "they hold their female sportspeople in high regard."
Speaking to Madeline Penny, AFL Women's growth & development manager, the introduction of the AFLW in 2017 bore traces of the national characteristics Staunton experienced.
"One of our key objectives was to deliver equal opportunity to play football at the elite level," explained Penny to Off the Ball, "and for us, this meant providing the same provisions, with the exception of payment, wherever feasible.
"In the early days there were teething challenges in execution, and there are always individuals who have issues with these things, but in the main everyone accepted the position.
"There is definitely the feeling among some that the women's game is of secondary importance and I think it will remain until the season lengths are the same and players are paid the same amounts.
"But, we work hard to provide AFLW with the attention it deserves."
As is demonstrated by Penny, the AFLW was designed to appear as the natural extension of a sport that had hitherto been disproportionately dominated by men.
Citing research carried out by Commonwealth Bank, the long-time sponsor of Australia's national women's cricket team, a well-managed Australian Football League for female athletes was primed to take advantage of the country's desire for a greater representation of women's sport.
"[There has been] a 48% increase in interest in women's sport from last year, with 53% of Australians now watching broadcasts or attending live women's sporting events," a 2019 Guardian report reads.
"More young girls than ever before are being encouraged to play, thanks to greater exposure and the rise of high-profile athletes, such as football star Sam Kerr, AFLW players Brianna Davey and Moana Hope, and champion cricketers like Alyssa Healy and Ellyse Perry."
It may well be the case, as Staunton suspects, that Australia has simply demonstrated greater concern over a longer period of time toward equality-driven initiatives the like of which the 20x20 campaign is working tirelessly toward in Ireland.
To what extent Ireland can hope to replicate the strides made elsewhere remains to be seen, however.
********************
"If I was back in my day again as a 14 or 15-year-old, I would certainly be pursuing the option of trying to play professionally in some sport," admitted Cora Staunton.
"You can see across the water that soccer is becoming more and more professional, and if the IRFU were to get their shit together ... I'd certainly be looking at a sport that could offer me a future, a life and a career.
"You'll have girls now coming into their teenage years or into adulthood who will have to decide."
The record-breaking attendances, books and documentaries concerning key players and teams, and the immeasurable advantage of a committed sponsor in Lidl Ireland have elevated Ladies Gaelic football into the national consciousness like never before.
Subsequently, the association that has overseen such growth must now contend with the responsibility of building upon it.
As Lindsay Peat, Sarah Rowe, Ailish Considine and Cora Staunton have demonstrated, however, crucial issues within the very foundation of this 45-year-old overnight success must be addressed.
Within this small pool of prominent Irish sportspeople, there remains an understanding that their efforts as Ladies Gaelic footballers will go underappreciated.
"Why isn't Ladies Gaelic football integrated into the GAA," queried Staunton by way of a possible solution, "why aren't we all known as the GAA, and all funding given to the GAA is spread out equally?
"That's the one thing I really can't understand."
Established in spite of the GAA, though many may share Staunton's outlook, it is doubtful that such a merger would come without numerous complications.
A possibility, nevertheless, it is reasonable to suggest that the eradication of the LGFA's rules 9 and 10 would, for the time being at least, constitute a move in the best interests of Ladies Gaelic football and its participants.
While the association has proved crucial in furthering the case for greater equality in Irish sport, there is only so much longer Ladies Gaelic footballers can persevere as if of secondary importance to their male counterparts.
Download the brand new OffTheBall App in the Play Store & App Store right now! We've got you covered!
Subscribe to OffTheBall's YouTube channel for more videos, like us on Facebook or follow us on Twitter for the latest sporting news and content.