In a wide-ranging interview on The Bernard Brogan Podcast, Shane Lowry reveals how he struggled in practice ahead of his win at The Open Championship, why he can't compete with Rory McIlroy and Dustin Johnson's A-game, and what it was like to play with Tiger Woods at this year's Masters. 
Despite contending at a major before – finishing second at the 2016 US Open – victory at the 2019 Open Championship was a watershed moment for Shane Lowry's career.
Speaking on episode three of The Bernard Brogan Podcast, Lowry explained how his defining weekend wasn't something he had foreseen prior to arriving at the tournament
"I went up to Portrush with not a whole lot of expectation," Lowry revealed.
"I knew that it was going to be the Rory show that week and everyone would be talking about Rory, and that was all it was going to be about."
With all eyes on McIlroy teeing off for a major at a course he grew up playing on, Lowry explained how he aimed to "come in under the radar" and sneak his way into a good position by Saturday.
However, despite knowing the Royal Portrush course well himself, things just didn't feel right for the Offaly native in practice.
"On Wednesday afternoon I went out to play a few holes with G-Mac (Graeme McDowell) and I felt like I was playing awful.
"We call it a 'Major Meltdown'. You always go through it the week of a major and you have a bit of a moan to your coach but it's also kind of good to have that.
"On the other hand, I almost dislike when I'm feeling really good about my game because then my expectation [increases].
"I get into that kind of complacent mode where I'm going out expecting to shoot a good score, but when I am a bit anxious is when I am at my best because it kind of focuses me on my targets and what my job is."
Taking the lead on the Friday at Portrush, Lowry never looked back, eventually finishing six shots clear of second-placed Tommy Fleetwood on Sunday.
Although he didn't feel right in practice, looking back the 33-year-old admitted with hindsight that he was on top of his game: "When I look back at it and the three months beforehand I was probably playing the golf of my life but I just hadn't had the perfect results.
"I was just very fortunate the perfect result happened that weekend."
Competing with Johnson and McIlroy
Now a major champion, Lowry is already a member of an elite group of golfers who have won at the sport's top-level.
However, adding to that major tally is always the aim. A difficult challenge, he explained, considering the capabilities of his opponents like world number one Dustin Johnson and McIlroy.
"These guys try to peak their games for majors but I don't think personally I can do that.
"I just think I just need to go out there and be the best I can be on any given day and I just have to be fortunate when it happens, you know.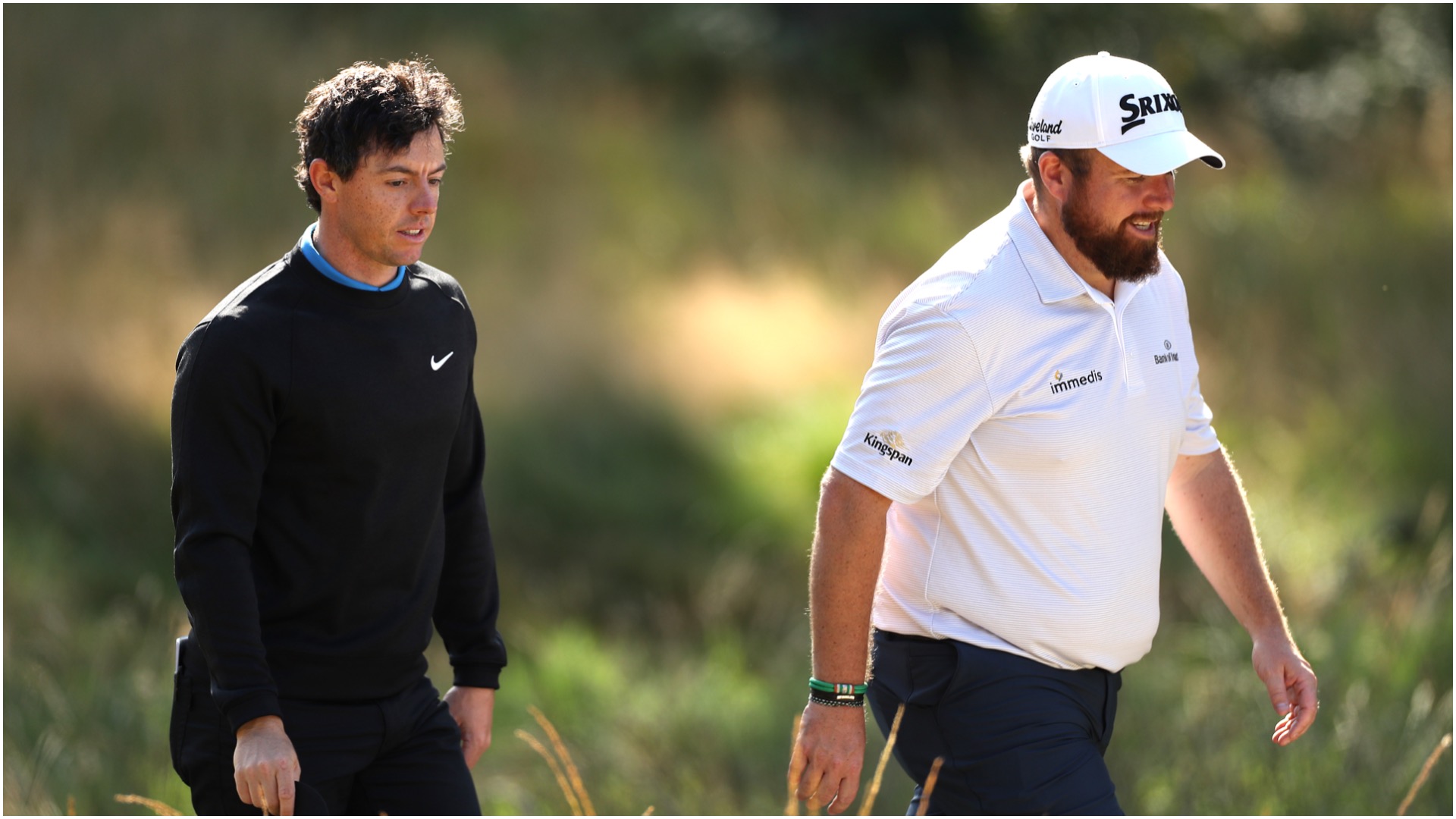 "I said this after the Masters, you look at Dustin Johnson shooting 20-under, winning by loads – and I have no bother saying this – if I went out there and brought my A-game and played the best I could, got every break I could, I couldn't have beaten Dustin Johnson that week.
"That's just the way it is, he's a better golfer than me, he's the world number one. I'm not saying that when I get put on the back nine on a Sunday against him and we are tied for the lead I can't beat him – I know I can.
"But the fact he brings his A-game I don't think the top two or three – him and Rory I would put there, maybe a couple of others – when they bring their A-game, they can't be beaten.
"Everything went right for me at Portrush. I rocked up, had my A-game, played the best I could. It was the perfect week."
Winning another major will be difficult but Lowry will have plenty of support in his corner as he goes searching for the next "perfect week".
You can listen to the full podcast with Shane Lowry on OTB Sports here. Or, if you prefer to listen on Spotify, here.
SuperValu – proud sponsors of the GAA Football All-Ireland Senior Championships – see YouTube.com/SuperValuIreland for more details
Download the brand new OffTheBall App in the Play Store & App Store right now! We've got you covered!
Subscribe to OffTheBall's YouTube channel for more videos, like us on Facebook or follow us on Twitter for the latest sporting news and content.