Former Kerry footballer Kieran Donaghy felt that Mayo could have managed their time with an extra man against Dublin better than they did in the All-Ireland final on Saturday.
Dublin were down a man for the first 10 minutes of the second half after Robert McDaid was black carded in his side's All-Ireland Senior Football Championship final victory over Mayo.
While McDaid was off, Mayo manager James Horan brought on Michael Plunkett to act as a sweeper for his side.
Speaking on OTB AM on Monday, Donaghy disagreed with this tactic, suggesting that the Westerners should have attacked the Dublin defence with the extra man.
"When Michael Plunkett went in and sat as a sweeper for the throw in, I turned to Jim McGuinness and I was instantly worried about what I was looking at," Donaghy said.
"Dublin aren't a junior B team; they are not going to kick the ball down your sweeper's throat.
"They are not going to really force the issue when they are down a man and they are leading the game. You have to know what they are thinking as well.
"They played so much on their terms in those first 10 minutes of that second half; Mayo never got energy, they never got goal chances, they never got anything. They chased the ball like shadows."
Dublin were only successful in retaining five out of their 10 kickouts, with most of the disruption from Mayo coming in the first half.
Dongahy suggested that Mayo should have looked to continue this tactic with the extra man in the first portion of the second half.
"That is where they needed the extra man up in the forwards, to take Cluxton on, go up in Cluxton's zone, man-to-man, and be as brave as you were in the first half," Donaghy said.
"If you get a turnover with an extra forward up there, you can then maybe look to pounce and try get a goal and kill the ball and put a full press on Cluxton's kickouts like you were so successful at in the first half.
"Keep doing that and keep doing that and see if you could get a run in those 10 minutes where you could get a goal and two points, a goal and three points.
"Could you be a few points up when McDaid comes back on to see can you hold on from there."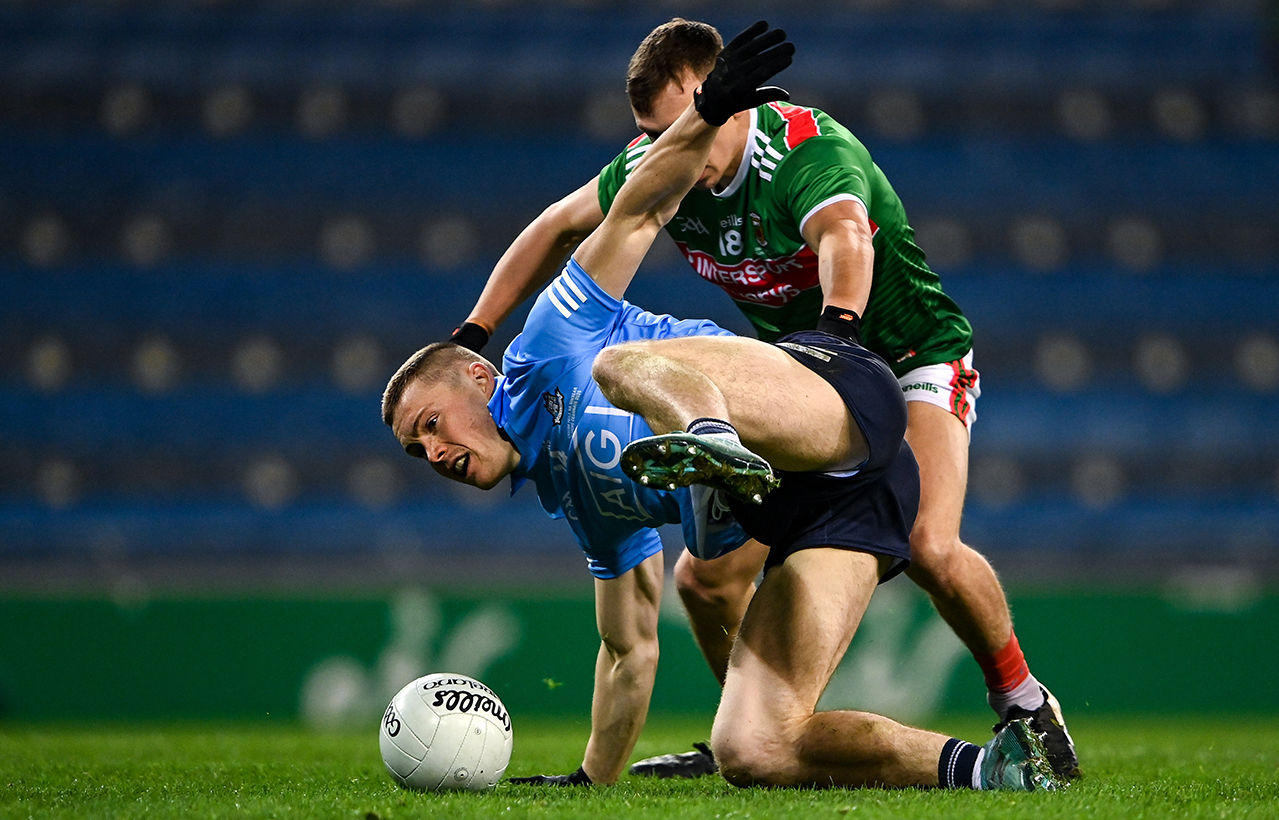 Would Higgins have saved Mayo?
While he acknowledged that Horan would be the best person to understand the team, Donaghy suggested that he would have brought on Keith Higgins instead of Plunkett for those crucial minutes.
This would have given the Yew county a better opportunity to gain some sort of lead, which they might have been able to hold until the final whistle.
"Higgins, for me, would have been a better guy, who is a danger, who is experienced, who is still quick, who can take guys on and is also defensive minded," Donaghy said.
"I think he would have been possibly a better fit to go in and push up on the ball and use his defending 90 or 100 yards further up the pitch.
"You could get a turnover up there, a quick transition, maybe a goal, and that was huge for me."
Download the brand new OffTheBall App in the Play Store & App Store right now! We've got you covered!
Subscribe to OffTheBall's YouTube channel for more videos, like us on Facebook or follow us on Twitter for the latest sporting news and content.