This article was originally published in advance of Meath's Mount Rushmore debate on OTB AM in May 2020. We decided to get the messing out of the way. Meath only had room for three decisions, Seán Boylan was the first head carved into greatness.

The undisputed High King of the Royal County, and a man who commands respect and adoration across the country - what was it that made Seán Boylan, such an iconic figure?
"Will you put your shyness in your arse pocket?"
– Padraig Lyons, one summer night in the Boylan household, 1985.
Mark Robins is often referred to as the man who saved Alex Ferguson at Manchester United. His late Cup goal against Forest in 1990 kept his manager in a job. For Meath Football, that sliding doors moment arrived a little differently.
Hammered out the gate by Laois in the 1985 Leinster semi-final, there were many questions being asked about the quality of an ageing Meath team – and especially about the 'hurling man' at the helm.
One night, about five weeks after that defeat, Seán Boylan arrived home to find Mick Lyons, Joe Cassells, Liam Hayes, Padraig Lyons and Colm O'Rourke all sitting around his Mam's kitchen table, with tea and brown bread.
In what sounds like a scene from a Mafia film; the lads (all big men!) had landed up to Dunboyne, to convince Boylan to stay in charge. As Seán told us on OTB, "we were at a crossroads, and it was to see where we were going to go."
Padraig Lyons told Boylan where to put his shyness, and the rest, as they say, is history.
The first of eight Leinster titles would arrive in 1986. All-Ireland titles followed in 1987 and 1988, with a team good at football and better at fighting. After defeats to Cork and Down in the 1990 and 1991 All-Ireland finals, Boylan would ruthlessly wield the axe. He brought through a new group of superstars. Sam Maguire would arrive back to Meath in 1996 and 1999. Same manager, different players; with a team who were good at fighting, but better at football.
These were two completely different All-Ireland winning squads; "we were boys when we won," as Darren Fay told OTB about '96 and '99 which a tinge of regret that they never added more. Boylan's first squad though were mostly men in the latter stages of their playing days, before he guided them to four out of five All-Ireland finals from 1987 to 1991.
Untangling the reasons as to how and why Seán Boylan was such an incredible manager is a difficult one – just how did he do it? How does such a likeable character with an innately kind manner with people, form groups of men with such a hateful, unshakeable streak of belligerence - the greatest Footballers the county has ever seen.
When it came to Boylan's Meath teams, both in the 80s and the 90s - the ferocity was always matched by the class. They possessed the perfect balance; an ability to smash teams with their physicality, before burying them with their football – and that's something which came straight from the man himself.
The swagger and the arrogance was always backed-up by a hardiness, and a healthy dose of ignorance, a trait which saw those Meath teams never give up.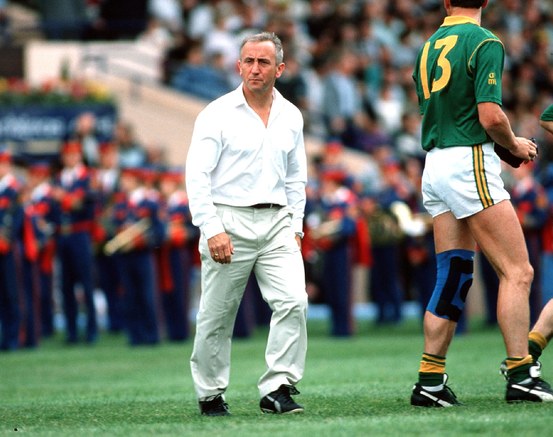 You'd only have to listen to our 2015 Saturday Panel on the 'Heyday of Meath GAA' with Tommy Dowd, Darren Fay and Bernard Flynn to understand the impact that Seán Boylan had on those men.
He fostered an incredible togetherness and spirit amongst his teams – and they had an air of invincibility about them. He allowed them to express themselves, but at the same time, kept their feet rooted firmly in the soil of the county they were representing.
Seán Boylan understands people and he understands nature, combine that with his intrinsic knowledge of our heritage and history, well then, perhaps we're on the road to understanding his greatness.
Gentleman, is often the first word that comes to mind when you think of Seán Boylan – and while that is so true, it would also be doing him a complete disservice. Boylan was an incredible coach – years ahead of his time, and someone who seemed to find the perfect balance between old-school training, and new-age thinking. He was a master of man-management, and an incredibly ruthless trainer.
Dowd, Fay and Flynn spoke to OTB on that 2015 Saturday Panel about the 'savage' training under Boylan. Tommy Dowd says he always had something up his sleeve, recalling a training trip to Spain; "he had us climbing up the dunes on our hands and knees, I'll never forget PJ Gillic turning to me and saying, 'jaysus, he's definitely lost it now.' – but Seán always had some agenda and maybe that's why in the last ten minutes that's how we always came good."
Flynn then recounts a story about a night he tried to cut corners at training, which perfectly illustrates how tough Boylan could be.
"Some of the stuff, up and down the Hill of Tara, and the dunes. I remember as a young lad, it was my first or second night, over in the dunes in Bettystown, in the middle of winter. Darren's right, he used to make us strip off and go in and swim and everything - hypothermia, it was pure madness, lunacy, you know. It was so bad, we were running and I was vomiting down my front and getting sick but I had to keep going. I thought I was going to die, I literally seen death in front of me – and I stopped. I buried my head in one of the dunes and waited for the boys to come around the lap again. But, what I didn't realise was that Seán was watching me. He brought everyone over to me. I was a young lad, looking up, vomit coming down my mouth - and he absolutely tore strips of me. He devoured me. It was the best lesson though, he ripped me apart and rightly so. Darren's right, that's why we never gave up."
Character forming stuff – and that was one thing Seán Boylan knew how to do.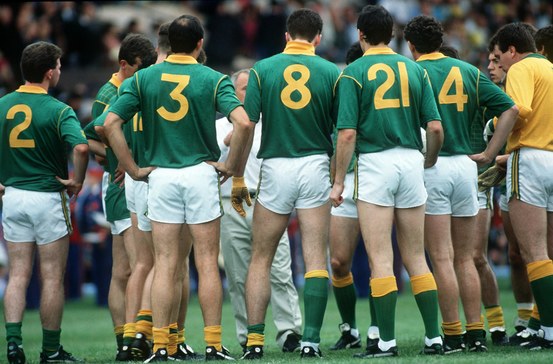 He'd train the team on the sacred grounds of Dalgan Park, retaining the connection to the first great Meath teams; who succeeded under the tutelage of Fr. Patrick Tully. Seán often spoke about the importance of energy and visualisation – before that became the trendy thing to do.
He had the lads rowing boats down the Canal, there were runs by candlelight, and then recovery in the sea. The 'poisons' as Gerry McEntee christened Boylan's herbal remedies are another story altogether. Then there's the night he stopped a row in training between Flynn and the current manager Andy McEntee, by shoving them both in the chest, and threatening to take the two boys on himself.
Make no mistake about it, Seán Boylan is a fierce man. The Godfather of Meath football who moulded the toughest of characters. Even the men who thought they were tough to begin with, were sculpted by the Dunboyne man. As we mentioned earlier; that ferocity was always matched by class - a humbleness and a sincerity that always allowed him to connect with people.
Later on in that Saturday Panel Flynn fondly recounts the fun they'd have; "Seán would always allow his teams to enjoy it and have fun. We had great craic. He'd do off the wall stuff, but he knew when to have fun and to be serious."
The manner in which Boylan speaks so fondly about his players, and how they still speak of him, tells you all you need to know about that relationship.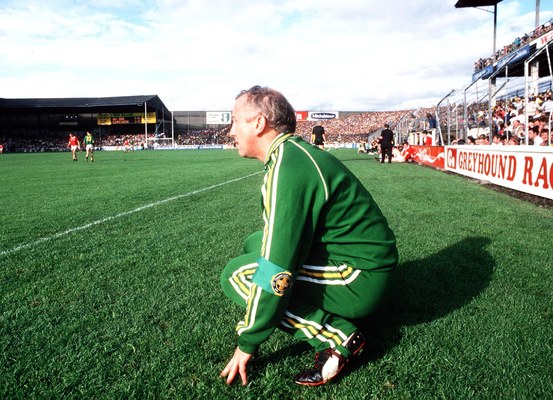 When Seán Boylan speaks, you listen; just take a moment to do a bit of your own visualisation. Imagine sitting in a dressing room, with that iconic green and gold jersey on your back. Kepak plastered across the front and Seán Boylan telling you what to do, when you hit the pitch. Is it any wonder that Meath team were never, ever truly beaten.
To sum him up, in the moments after the 1996 All-Ireland replay win over Mayo – his new Meath side; a mixture of u21s, and survivors of '91, had scraped over the line by a point. As we all know well, there was an almighty row that afternoon, one that causes plenty of discourse to this day – it's all brilliantly recounted in Brawl, part of The Classic on OTB – so we're not getting into that here!
After the final whistle, an emotional Seán Boylan gathers his side into a huddle in the dressing room. He tells them "remember the lads in that other dressing-room. That could have been us. One point. It could have been us."
How would Meath people view themselves if Seán Boylan hadn't taken charge, when no one else would, "for only three months initially…" back in 1982?
What sort of a conversation would we be having on Monday morning if Seán Boylan hadn't helped the likes of Colm O'Rourke win his first All-Ireland at 31 years of age. What if Seán had called it a day after the 1995 Leinster final defeat to Dublin; we may not have seen the like of Fay, Giles, McDermott, Mark O'Reilly or Geraghty realise their potential.
We look back on the past fifteen years of Meath Football with a touch of regret; the barren years post-Boylan and then a lost decade in many ways, after the infamous 2010 Leinster final win. However, the aspiring sportspeople of Meath will always be blessed by the lessons of Seán Boylan. The good days will one day, return.
Kieran Donaghy told a tale on Off The Ball a few months back and details it in his book also, about his own relationship with Seán Boylan - how he'd call down to him on the morning of All-Ireland finals. When I first heard that, it really stuck with me, I found it remarkable. I had always thought Seán Boylan was just ours, a Meath legend.
Even coming from a county, where All-Ireland medals rattle in the pockets on every street-corner; Donaghy made sure he drove out to Dunboyne on the biggest morning of his year. Just to visit Seán Boylan, for a slice of brown bread and a chat.
Kieran's story is one of many you'll hear from former and current intercounty players across the country. Some got to experience life under Boylan while he managed the International Rules team - but it's more than that too. Boylan's influence extends far beyond the bounds of a Football field. That charisma and generosity, his wisdom and his kindness have impacted people from all over the island.
Seán's work as a herbalist, and the manner in which he has improved the quality of life for so many, is perhaps reason enough to place him on our Mount Rushmore – his fascinating family history is another reason why - journalist Arthur Sullivan details it all brilliantly here.
The impact that he continues to have on the GAA is remarkable too; in 2019, at the age of 76, he was named selector with the Meath u20 hurlers. In 2015, he was an influential figure on the sideline as DCU claimed the Sigerson Cup. His son Ciarán scored a last-minute winning goal for Mayo in the Connacht JFC final two summers ago.
The carving for the rest of Meath's Mount Rushmore begins at 9 am on Monday's #OTBAM.
On the one hand, I'd love to pick Seán Boylan's brains about who he'd choose. Such is the esteem he holds his players in, that I know he'd only make the decision more difficult. We'd need a mountain range to keep him happy.
Hector Ó hEochagáin joins us for the debate and a discussion about who should make it. We'll be digging into the great teams of the 60s, 80s and 90s. We'll be looking at our heritage in horse racing, the Olympians, the Rugby stars and our footballers too.  In truth, it'll be a celebration of all things that are great about sport in Meath. Hopefully, by the end of it, we'll have done the county proud, we'll see you then!
Download the brand new OffTheBall App in the Play Store & App Store right now! We've got you covered!
Subscribe to OffTheBall's YouTube channel for more videos, like us on Facebook or follow us on Twitter for the latest sporting news and content.