In today's Long Read, legendary RTÉ broadcaster Michael Lyster spoke to Off The Ball on his appraisal of The Sunday Game; the GAA's television staple over the last 40 years.
Six months before Declan McBennett took up his role as RTÉ's Head of Sport in June 2018, Michael Lyster, host of The Sunday Game for over 30 years, announced that his tenure would come to an end at the close of that year's GAA business.
Content with a decision that came after a significant health scare for the Galway native, Michael Lyster, speaking on Tuesday's OTB AM, declared his satisfaction with now being able to pursue alternative interests.
"As I've said to people, I did it for 35 years, that's a long time and I've done my stint," Lyster stated.
"It's not like somebody came along and said, 'Thanks for everything, but we've found someone else.' It came to a natural end, and now that I'm not involved ... I've more time to do other things."
Yet, as he recalled his spell working on the show alongside a range of regularly insightful and, as he alluded to, inflammatory panelists, Lyster's ideal of what The Sunday Game ought to be stands some distance apart from what McBennett has determined sports coverage on RTÉ to become.
It might have been controversial the way they said it, but the points they were making were valid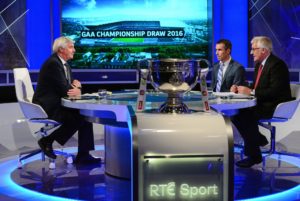 Shortly after news of Declan McBennett's appointment emerged, the Monaghan native granted an informative interview to Gaelic Life during which he commented upon the new terms of engagement RTÉ's sports pundits would be expected to uphold.
"[Pundits] can be critical of formats, structures, tactics and systems but they can not be critical in a personalised way of individuals," McBennett stated.
"I have no time for, nor will I tolerate, personal attacks on individuals."
In a later interview with Kieran Cunningham for Buzz.ie, McBennett clarified these new rules in greater detail.
"Criticism has to be based on informed analysis," McBennett explained.
"You have to be able to back it up, you can't just come out with wild statements that have no grounding in fact simply to grab headlines or to provoke controversy."
Never the cause of such controversy, Michael Lyster routinely possessed a first-row seat when, prior to McBennett's appointment, the broadcaster's GAA pundits took umbrage with a particular issue.
However, with regards to the sizable sporting patch he was involved with at RTÉ, Lyster shared his belief that any perception of editorial lawlessness was misguided.
"There was all that aspect of the "puke football" and various other things through the years that have stuck in people's memory and minds about The Sunday Game," Lyster noted.
"The other thing I would say about it, and this goes back to the Brolly rant about Sean Cavanagh and all that, be it the puke football, Sean Cavanagh rant or other things the lads have caused controversy about, they were actually in principle right about what they were saying.
"It might have been controversial the way they said it, but the points they were making were valid."
We would say to ourselves, 'We're doing a good programme here, the public like it, is there a problem?'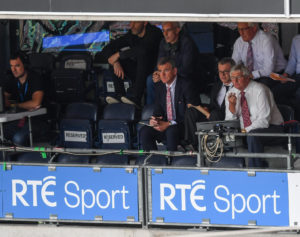 Throughout his discussion with Cunningham, McBennett similarly hinted toward the hands-on approach he brought to the Head of Sport role.
"I came out of MacHale Park last year after the Mayo/Galway game," McBennett explained, "I'd just got the job but it hadn't been announced.
"The Marty Squad was on radio when I got back to the car and they had Cora on. She was asked what she thought of Mayo.
"In 23 seconds, Cora put five points out that were critical of her own county, her own team, the management, people that she knew - and she hadn't done it in a personalised attack.
"I phoned Darren Frehill on the way back and said 'I'm not the boss yet but I think Cora should be on Morning Ireland tomorrow'."
It is a scene that sits in stark contrast to the more lateral hierarchy Lyster recalls whilst working on The Sunday Game. 
"The people who worked on the programme," Lyster began, "be it me or the editor or the producer, we operated to make this programme as good as we could make it, and that was our agenda.
"We pretty much did our stuff and would say to ourselves, 'We're doing a good programme here, the public like it, is there a problem?'
"I always had a sense of responsibility towards The Sunday Game and RTÉ about what I did as the presenter.
"I always wanted to try and keep a balance on things, but let's face it, I knew when the lads were saying controversial things that it was getting the public going.
"Who spoke to whom afterwards, who complained, that didn't bother me. That was somebody else's problem.
"I was never directly told by RTÉ 'don't do this, or don't do that.'"
When the show itself was on air and little could be done to exert influence over the panel's utterances one way or another, Lyster outlined degree of autonomy his outspoken panelists possessed.
"The Sunday Game is an entertainment programme," Lyster expressed, "in terms of the panelists, I never had to drag anything out of anybody.
"The challenge was to shut them up.
"People watching the programme don't realise that you're wearing an ear-piece. Most of the time that [Joe] Brolly or [Pat] Spillane were on a rant, the Director or Editor of the programme was in my ear going, 'Shut him up! Shut him up!'
"Or, they'd start talking to them even though they couldn't hear them. I can hear it though, and I'm there listening to both and so close to bursting out laughing."
Dunphy's gone, Michael Lyster is about to go, there are a number of people who will transition over the next couple of years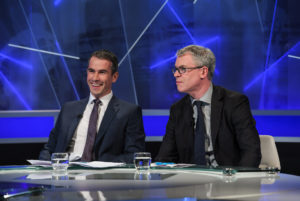 Without once lamenting what ultimately amounted to his own decision to step away from the role as host of The Sunday Game, Michael Lyster's apparent satisfaction with how things used to be certainly deviates from McBennett's vision for the future.
"Since I've taken over the job, Dunphy's gone, Michael Lyster is about to go, there are a number of people who will transition over the next couple of years so it's constantly evolving," McBennett told Cunningham shortly before Lyster's departure.
"So it's a constantly evolving process, and it will continue over the next couple of years."
While he like many others sat down to watch the first Sunday Game of the new Championship season last weekend, Michael Lyster does admit he wasn't enthralled throughout - even if for good reason.
"I watched The Sunday Game," Lyster explained, "and the only dilemma I had was that I wanted to watch the Spanish Grand Prix."
Download the brand new OffTheBall App in the Play Store & App Store right now! We've got you covered!
Subscribe to OffTheBall's YouTube channel for more videos, like us on Facebook or follow us on Twitter for the latest sporting news and content.