The career of a sports person, whether professional or amateur, will often be full of change and uncertainties. At the age of 28, Micheál Schlingermann has had his fair share of ups and downs in both his sporting life and personal life.
Recently, the man from Kiltimagh was part of James Horan's Mayo senior football squad.
This return to Mayo football, having represented his county at minor level ten years previously, came after a lengthy career in the League of Ireland which had taken its course.
Off The Ball met up with Schlingermann recently to talk about his time back in the inter-county setup, his reasons for leaving Sligo Rovers and whether or not a return to soccer is an option.
Schlingermann comes from a town that is very much GAA mad with his early years focusing more so on Gaelic football.
He played soccer for his local schoolboy club Kiltimagh/Knock United but it wasn't until he was 15 that he started to focus more on the game as he was brought in to train with FAI emerging talent programme.
From there the ball started rolling with call ups for international trials, eventually leading to Sligo Rovers bringing him into their underage system.
Between 2008 and 2009 Schlingermann had to juggle the commitments of focusing on Sligo Rovers while also playing for the Mayo minors and his club, Kiltimagh, who reached a Junior All-Ireland final in 2010. 
"I don't think you would be able to do it nowadays with the training, driving, all the strength and conditioning you would be doing for both codes", said Schlingermann when chatting to Off The Ball.
"I was a goalkeeper so maybe it was a bit easier with the training load, I would have been playing minor for Mayo, Sligo Rovers U20's and (an) A-league team".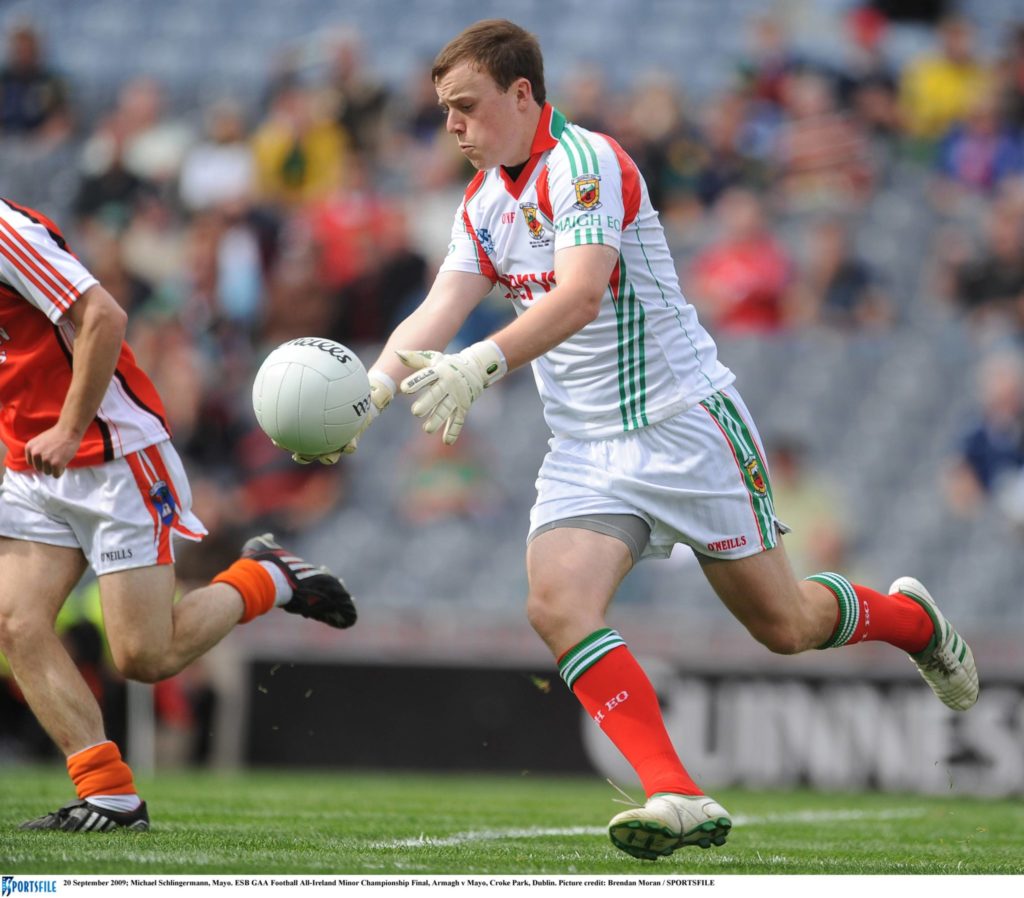 That first professional contract
In the 2009 season, he signed his first professional contract with 'The Bit O'Red' making his debut in Dalymount Park on the October 30th against Bohemians who were crowned league champions that year. He also featured on the bench in the FAI Cup defeat to Sporting Fingal.
"The decision to leave Gaelic football was a massive decision but I sat down with the Sligo manager at the time and key people in my life where we felt I should try and make a career for myself in football".
"It was brilliant to sign that contract and the people closest to me were very excited when I did".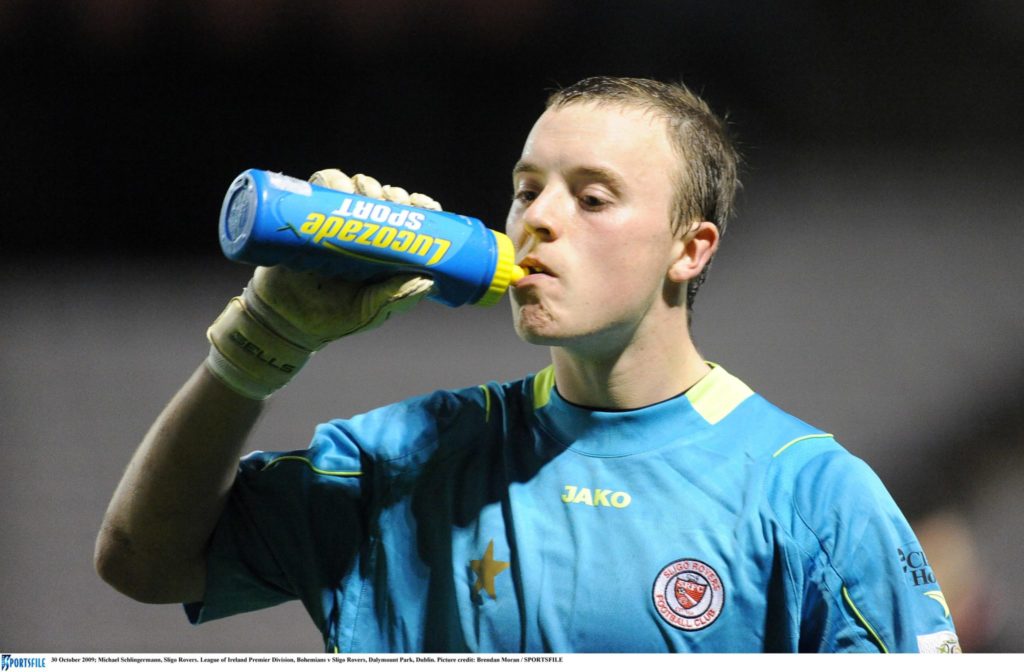 In 2010 Micheál was on the move to Athlone Town to get regular first-team action.
The move proved to be a successful spell over two seasons where he got plenty of game-time.
That was then followed by a move in 2012 to Roddy Collins' Monaghan United. Sadly, the club were facing financial problems which saw them pull out of the league by mid-June leaving the future of the entire squad unclear.
Luckily for Micheál, Drogheda United came calling, where he went on to spend three years.
His first two seasons with the club saw them reach a number of finals and compete well in the league in 2013, where they finished second. However, in 2015, Drogheda were relegated.
It was a hugely disappointing year for the club, but not for Schlingermann. He was honoured for his individual performances by being named in the PFAI (Professional Football Association of Ireland) team of the year. 
"I had options to leave the club going into that year (2015) with one option going back to Sligo but I wanted to play football and start games so I decided going into that year to give it my best shot by staying with Drogheda", said Schlingermann.
"Unfortunately it didn't work out for the team in 2015, we did have a decent start but results started to turn".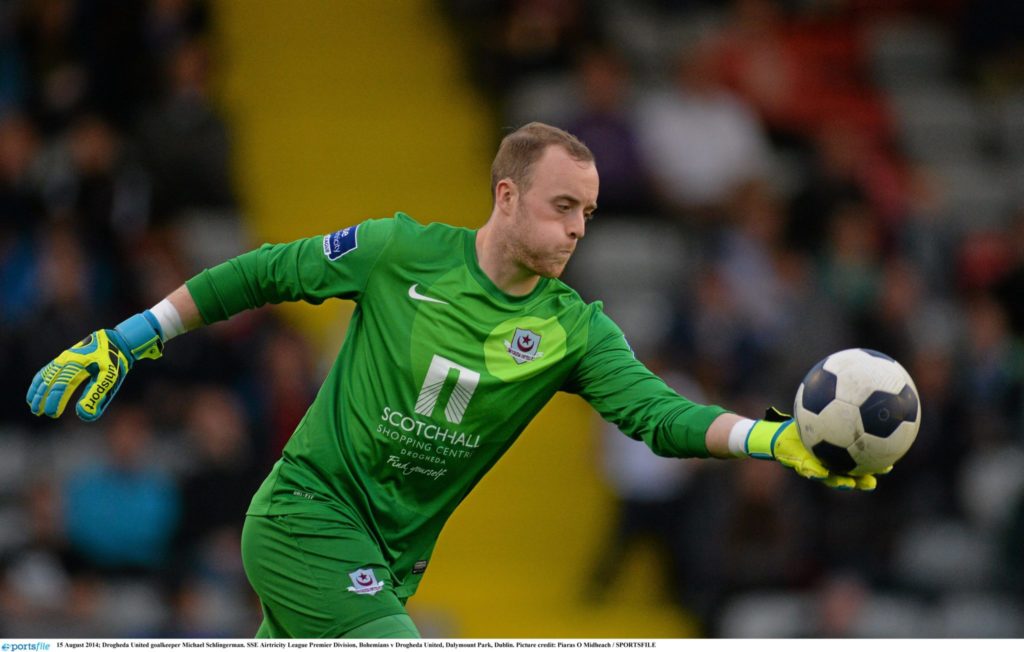 The return west
After Drogheda's relegation, Schlingermann returned to Sligo Rovers, signing a two-and-a-half-year contract with the club; quite a significant deal in respect to the league. 
"When we sat down first it was initially a one year contract but halfway through that year it got extended", said Schlingermann.
"In terms of where the club wanted to go, I know when I spoke to them Europe was the aim and sadly we just missed out on it that first year".
"Sligo is the place where it started for me and it's only down the road from where I grew up so I had that connection".
"When the deal was offered we were in a really good place but come 2017 things just didn't go to plan and we were in a relegation battle".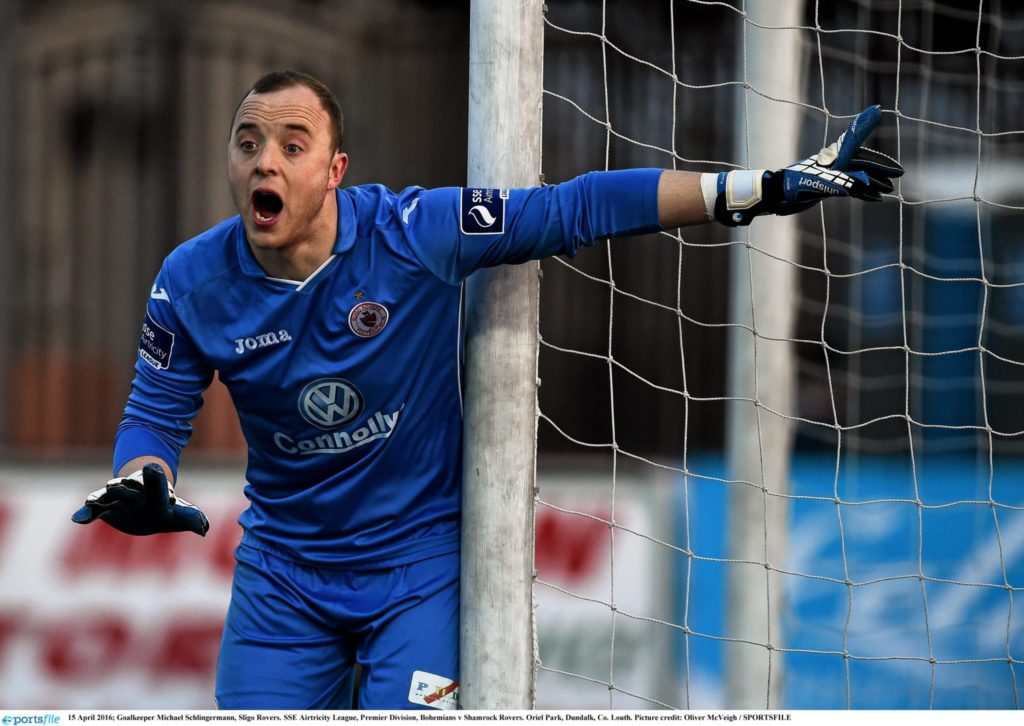 New faces
After a poor start to the 2017 season, Sligo Rovers parted company with manager Dave Robertson leaving the door open for Ger Lyttle to come in and turn things around.
Lyttle kept the club up that year as they faced a relegation battle. Schlingermann missed the final five games of the season with a recurring neck injury sustained in 2016.
"When 2018 came along I was raring to go that season having done all my work to get back fit in the off-season", said Schlingermann.
"I had good conversations with Ger over the off-season as to what I needed to do and what he was looking for from me".
Going into the 2018 season Sligo brought in Mitchell Beeney from Chelsea on loan to compete with Schlingermann for the number one jersey at the club.
"Whenever a club signs a player in your position you start to think to yourself is there something I'm not doing but I don't think that was the case at the time".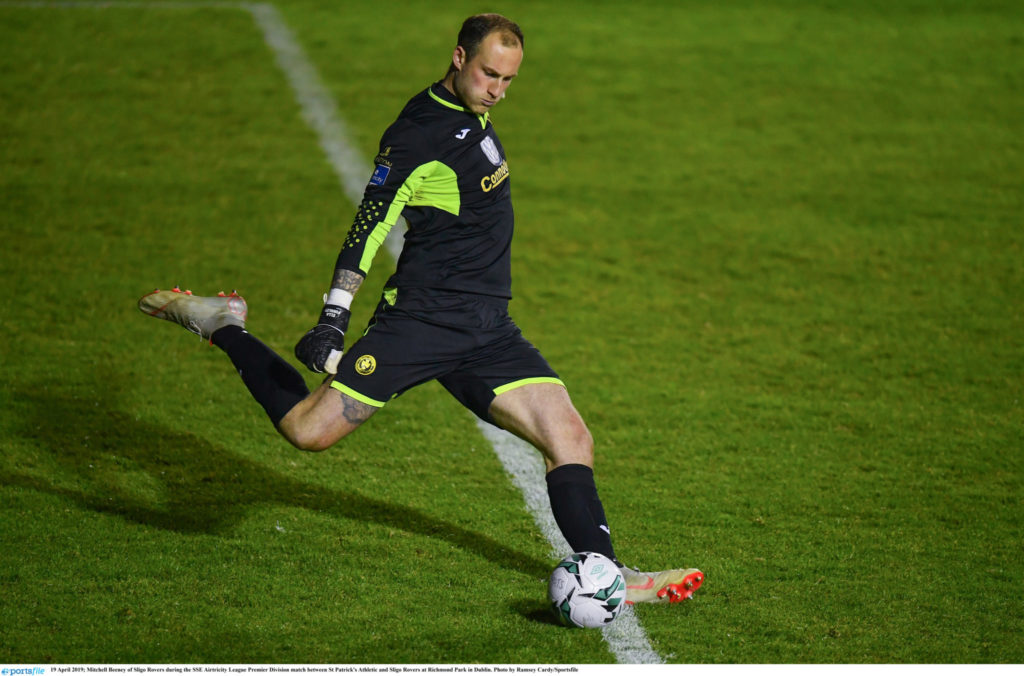 In and Out
The 2018 season began with Micheál starting in goals for the first league game which they lost 1-0 to Limerick. Not the start 'The Bit O'Red' wanted to the new season so for the next game Beeney was picked in goals against Derry. They went on to win that game 2-1.
Schlingermann would find himself looking on from the bench for the next two games.
He would get his chance again, however. Sligo had lost their next two games to Cork City and Waterford which saw the Mayo man back between the posts for the meeting of Bray Wanderers which the men from the west won 2-1.
"I worked hard and got back in the team by putting the head down", said Schlingermann.
However, after one win in five matches with Schlingermann in goal, manager Lyttle decided change was needed again.
"I was naturally disappointed to be dropped the second time even though I had made a mistake but it was a case that it wasn't a mistake that cost us the game".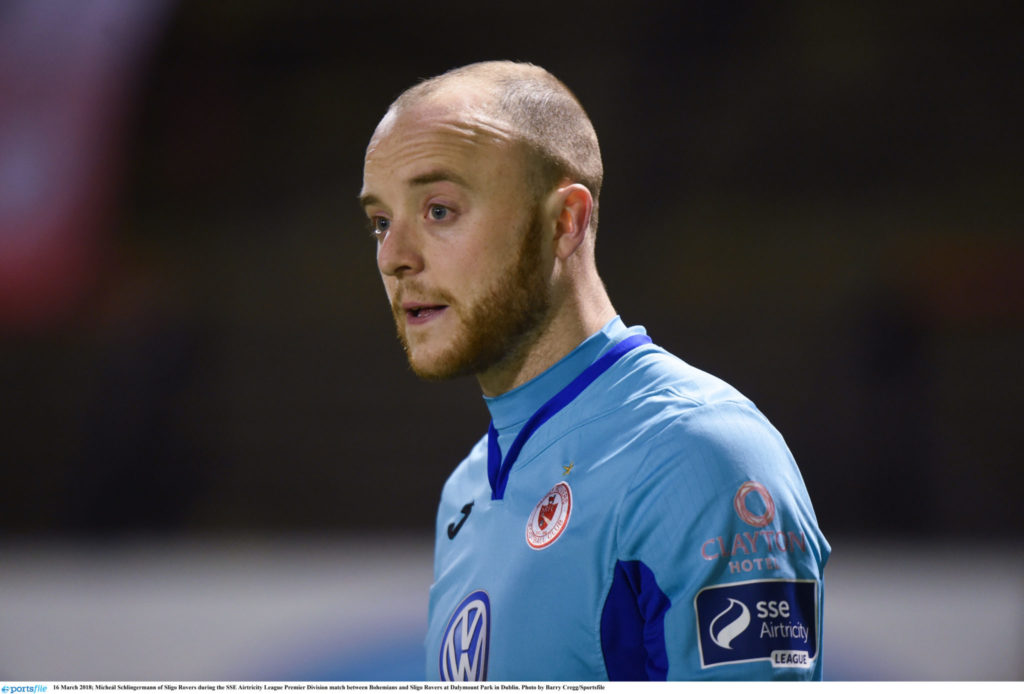 Relationship cracks
"From there the relationship just started to dwindle a small bit", suggested Schlingermann.
"I was very very low on confidence not knowing what I needed to do to get back in".
"I was probably going through a bit of a bad place at the time in terms of how football was affecting me".
"I always got my confidence from playing and obviously when you're not playing it's hard to get that buzz or confidence in yourself".
"I just felt down at the time", admitted Schlingermann.
"Before I left Sligo I moved back home to Mayo two months before I decided to call it a day with the club just to get those home comforts and have family around me".
In June 2018, Schlingermann decided to make the decision to end his time with Sligo Rovers.
"Look, me and the club decided to mutually terminate the contract which was a really sad day for me because what the club meant to me at the time".
"I could see myself playing there for years and hopefully being successful".
With such a big decision to make and with him feeling down, was there ever any help on hand that he could ask for from the League or FAI at the time?
"Being a member of the PFAI I knew that help was there and in fairness, I did ask for it at the time and I did get the help I needed", said Schlingermann.
"There was nothing life-threatening what I was going through but I was really down in myself".
"It was more self-esteem and, to be honest, I probably still struggle with it to certain aspects but I use the help I got off the PFAI to help me even now".
Family support
Throughout the interview, Schlingermann spoke about how important his family was to him during this period with Rovers.
"My mam was great with me during the time".
"She wouldn't really talk about the details of football which was probably a blessing because I didn't have to talk about it at home".
"I have two younger sisters and they're always there for me is well and my girlfriend who tried her best to cheer me up".
"Unfortunately, my dad passed away in the middle of my Drogheda career and it was really hard at the time having lost someone so important to me".
"It was probably when things weren't so good at Sligo that I really started to miss that fatherly support that I probably needed at the time".
"Not having him around at the time was tough but as I said I had great people around me to help".
What next?
After leaving Sligo, Schlingermann was looking for his next step.
"They (Bray Wanderers) got in touch with me and I was a free agent so the idea was I would sign there and play the rest of the season there".
"They had their own problems off the pitch so it ended up that they couldn't sign me and there was a similar situation where another club wanted me to play for them but they were also put under pressure and couldn't sign anyone on professional deals which restricted my movement for the rest of that year".
"I was travelling to Dublin out of my own pocket to just try and get competitive football but it was getting too much for me financially".
Leaving his soccer career on hold one of Schlingermann's friends set him up with a connection to getting a short term job in Mayo.
Back to the GAA roots
"When I returned home and got a job, my GAA club Kiltimagh got on to me asking would I come in and train with them for the rest of the year", said Schlingermann.
"I played a challenge game for them on a midweek night in the midlands and I said to myself, I'm really enjoying this, so this could be the future for me settling down at home and playing for the club with long-term ambitions of playing for Mayo".
In August 2018 it was announced the former League of Ireland 'keeper was called up to the Mayo senior football squad.
"At the time, I wasn't playing much with Kiltimagh as I had coaching commitments and we exited the championship earlier than expected".
"When James [Horan] came in he had these open trials, so the manager from Kiltimagh put my name forward saying that I was back and in a good place to contend for a play in the Mayo panel".
"So I went and played the two trial games and then I got a call from James to say he was happy with what he saw and that he would like to see more".
In his first year back with Mayo, Schlingermann enjoyed success as he was part of the squad that won a national league title for the first time since 2001 as they beat Kerry in the final 3-11 to 2-10.
So, how did it feel to be part of the squad at the time?
"To be honest, I enjoyed every bit of it and being part of the group and that culture which was a high-performance culture", said Schlingermann.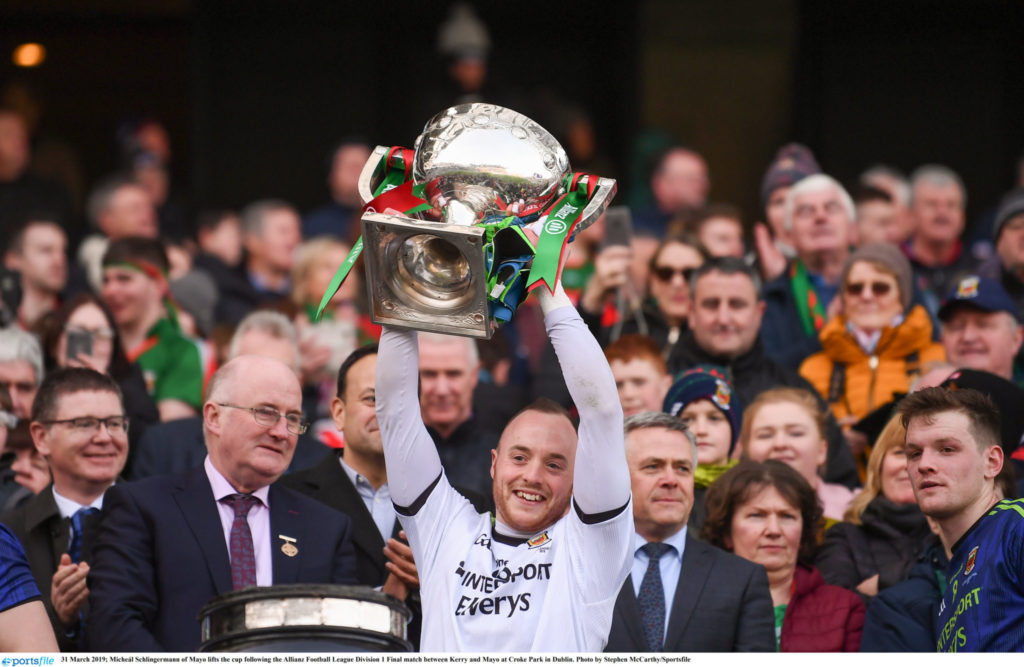 Being let go by Mayo
However, in early November it was announced that he was dropped from the Mayo panel.
Schlingermann had started the win over the Underdogs in MacHale Park back in late October and he was looking forward to showing what he could do in 2020 for the green and red.
"I was looking forward to making a push and playing a game or two in next year's campaign but unfortunately it didn't work out that way for now".
"In terms of how it happened, it's like any sport where you get a phone call and you get your improvement targets and what you did well and what you need to improve on".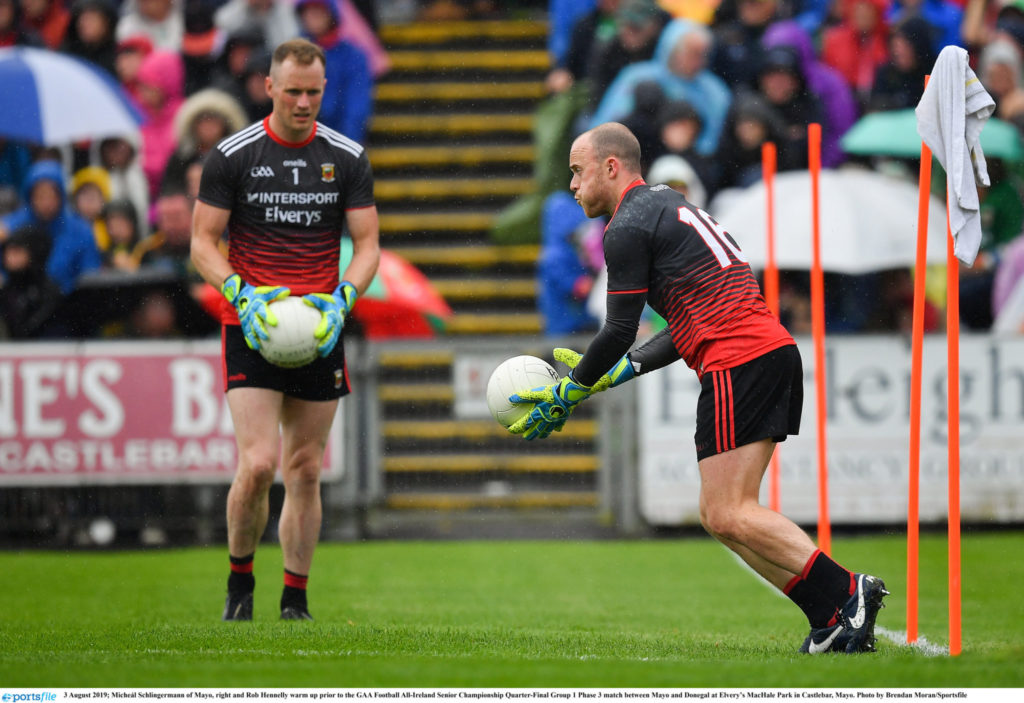 League of Ireland return?
"I'm in a situation now where my options are very much open", said Schlingermann in relation to returning to the League of Ireland.
"As I stand at the minute, I could fight for my place in the Mayo team by playing a lot of Gaelic football for my club and have a good season with them".
"The other option then is my name is in the PFAI transfer list and I've been dealing with a couple of calls relating to that lately".
"At the moment, nothing is decided and I won't rush into any decision for next year".
Speaking to the former Sligo Rovers net-minder it was clear to see he still had an itch to get back playing in the LOI.
"I have missed the LOI having spent eight, nine years playing there where I had success. But, look, I am open to offers but I'll take my time and decide what is best for me".
Different sporting environment
Over the last few years, we have seen a number of players play both in the League of Ireland and at inter-county level of the GAA.
Players like Shane Supple (Dublin and Bohemians), Shaun Patton (Donegal and Sligo Rovers) and, most recently, Gary Boylan (Cork City and Mayo) who played alongside Schlingermann in the game against the Underdogs.
I wanted to get his insight as to what the differences are between the two codes.
"I can only speak from my own experience but the big thing coming from the LOI or professional setup to going into Mayo is the time of training and the lifestyle outside of training".
"So with Sligo, you train in the mornings then go to the gym and then you have time to cook in the evenings so you've got a good bit of recovery time there and you do make the most of that".
"With Mayo, everything is a little bit more rushed and you're working your nine 'til five".
"You might be leaving work early to make training with Mayo on time".
"In terms of the actual game, Gaelic football has evolved where the modern game is about retaining possession from kick-outs".
"The movement of the balls are different with the Gaelic ball being much heavier and you're kicking sometimes off a tee and it took me a while to get used to that because when I came back first to Kiltimagh I was just rolling the ball out and kicking it off the ground".
Schlingermann went on to speak about the culture differences between being in the professional environment of soccer teams to GAA inter-county teams.
"The culture is different, there are some serious professionals in Gaelic football and the attitudes can't really be described, all I can say is they are serious operators in terms of how they live their life and the detail they put in to improve themselves".
"That was something I loved when I joined Mayo".
"It's something I would have done myself, you would see it in some football clubs where it might be a smaller group of lads that have that same mentality.
"Whereas others have a bundle of talent but might not have the same application".
Download the brand new OffTheBall App in the Play Store & App Store right now! We've got you covered!
Subscribe to OffTheBall's YouTube channel for more videos, like us on Facebook or follow us on Twitter for the latest sporting news and content.