Pele - perhaps the greatest footballer this world has ever seen - has died. 
Born Edson Arantes do Nascimento in Três Corações in 1940, he would go on to conquer the football world using a nickname given to him at school - Pele.
The son of Fluminense striker Dodinho, the young Pele witnessed his father crying after Brazil lost the deciding game of the 1950 World Cup on home soil and vowed to personally deliver the Jules Rimet trophy back home.
Barely eight years later, a still teenage Pele did just that.
The 1958 World Cup in Sweden was the Santos forward's great unveiling to the world. The 17-year old scored six goals - two of which came in the final - to secure Brazil's first ever World Cup.
"Five feet eight inches tall," Brian Glanvile wrote of the newly minted icon, "weighing some ten and a half stone, superbly muscled.
"He was at this stage a goal-scorer par excellence, gymnastically agile and resilient, a tantalising juggler of the ball, a fine right footed shot with the ability to climb and head like a [Tommy] Lawton.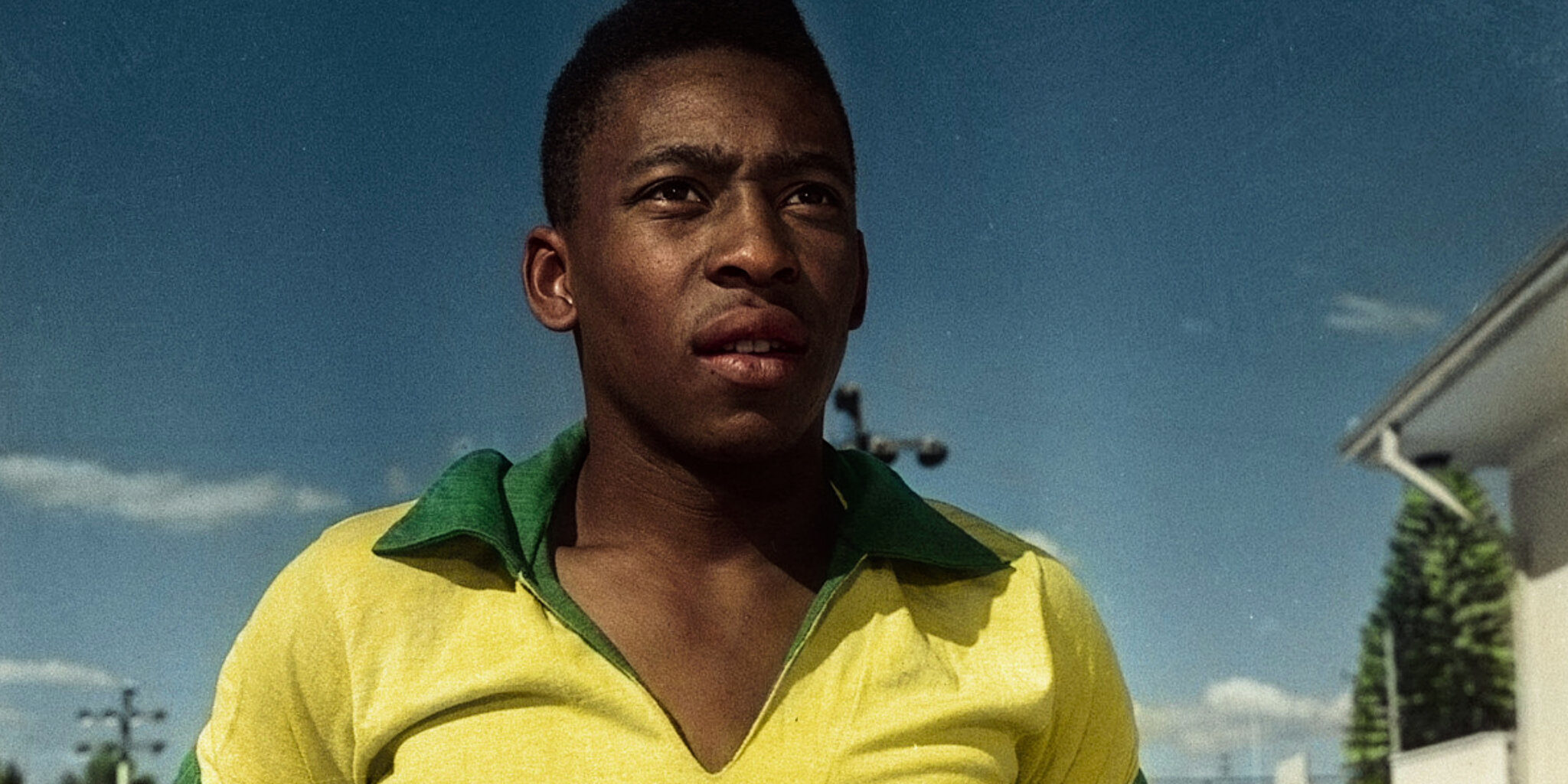 "Above all, his temperament was extraordinary, his coolness in the thick of battle, the most tense and dramatic situations, uncanny."
For the next two World Cups, coolness was to be no shield from the ferocity of his opponents.
En route to Brazil retaining the trophy in 1962, Pele suffered a torn thigh midway through the first half of their second group game with Czechoslovakia.
Four years later, he was once again in the crosshairs of coaches and defenders alike. He was brutalised so much in their first group match with Bulgaria, that their Czech coach Rudolf Vytlačil said, "I think every team will take care of him in the same manner."
Pele was left out of the game against Hungary, before his tournament was ended by Portugal defender Joao Morais.
"When I first came back to Brazil after the World Cup games of 1966, my heart wasn't in playing football", he would say later.
"The games had been a revelation to me in their unsportsmanlike conduct and weak refereeing. England won the games that year but in my opinion she did not have the best team in the field."
By '66, Pele had already achieved a lifetime's worth with Santos.
He'd been an integral part of the side that won five consecutive Campeonato Brasileiro between 1961 and 1965. They'd been crowned Copa Libertadores and Intercontinental Cup winners in 1962 and 1963.
Santos also won 10 Paulista championships between 1958 and 1973.
All that courtesy of a hatful of goals from Pele. While his career totals were inflated by tour matches and the like, there's no denying his 643 goals in 659 official appearances for Santos.
1970
If 1966 had proved the low point of his career, then 1970 was its highest of highs.
The Mexico World Cup was the first to be shown in colour around the world. The Brazilian players led by Pele - in bright yellow and blue set against a lush, verdant Azteca turf - would leave an indelible impression on those lucky enough to witness their genius.
Pele scored four goals in that tournament as Brazil claimed permanent ownership of little Jules Rimet. But two of his standout moments were shots that went wide.
In the group game against Czechoslovakia, he attempted a shot from inside his own half that had opposition goalkeeper Ivo Viktor scrambling for the ball, and perhaps later excuses.
And in the semi-final win over Uruguay, he galloped into an acre of space in the inside right channel. Pele was fed the ball by Tostao and allowed it to run across his body to the complete surprise of Mazurkiewicz in the Uruguay goal. The greatest dummy ever told resulted in the ball being hooked wide.
Four days later, he would paint his masterpiece.
The then 29-year old striker gave Brazil and 18th minute lead. Rivelino's hopeful cross from the left was met by the head of Pele who put the ball beyond Enrico Albertosi.
Mario Zagallo's side put on an exhibition that afternoon against a side undoubtedly drained by their marathon semi-final with West Germany.
Three minutes from time, and faced again with Inter's Tarcisio Burgnich, Pele played the ball to his right. To the millions watching on TV he'd given the ball away for nothing. That was until captain Carlos Alberto strode into view and walloped the ball past Albertosi.
For the third time in twelve years, the World Cup was Brazil's.
Beyond Mexico
A year later, Pele's international career was over. During a 2-2 draw with Yugoslavia, a banner was flown over the Maracana which read 'Viva o Rei'.
There was a pitch invasion as he was replaced by Claudiomiro and a shirtless Pele took a lap of honour.
His career would continue with Santos, which included frequent excursions around the world. As Pele wrote in his autobiography, Santos were keen to capitalise on their prized asset.
"The bird that laid the golden eggs was about to fly the coop," he said, "And they were really going to make him play, make him bank some money for the club."
One of those fundraising missions was at Dublin's Dalymount Park in 1972.
The home of Irish football was jammed to see the world's greatest footballer in the flesh. Santos beat a combined Bohemians/Drumcondra XI 3-2, but Pele did not find the net that day.
A dismissive report in the Connaught Tribune was not impressed, saying, "Well, after watching Pele "suckerizing" 30,000 gullible Soccer fans who had chipped in £2 per head for the privilege of watching him go through the motions at Dalymount, sure wouldn't £5 per head be cheap for all-action minutes of an All-Ireland final?"
After the 1974 season with Santos, Pele went into semi-retirement.
A year later - aged 34 - he was lured out of retirement by yet more missionary work. O Rei was to spread the word of soccer in the United States.
Pele signed a three-year contract with the lowly New York Cosmos, worth a reported $2.8million a year. He would the world's highest paid athlete playing what - at that stage - was a marginal sport in America.
But with Steve Ross' Warner Brothers machine behind the Cosmos, they would become two of the most recognisable brands - albeit briefly - of the late 70's.
He made his debut on June 15, 1975 in the less than impressive surrounds of Downing Stadium. Two years later he would make his exit at Giants Stadium in front of a packed crowd.
Aided by his former Brazil and Santos teammate Carlos Alberto, Franz Beckenbauer and the fiery Giorgio Chinaglia, the Cosmos became one of the Big Apple's hottest tickets.
He departed by telling the Giants Stadium crowd, "Love is more important than what we can take in life".
Pele would remain a much sought-after figure after his retirement.
In 1981 he was cast in the John Huston movie, Escape To Victory. His list of co-stars now reads like an acid flashback - Michael Caine, Sylvester Stallone, Bobby Moore, Max Von Sydow and former Republic of Ireland winger Kevin O'Callaghan among them.
Pele played Corporal Luis Fernandez, a prisoner of war from Trinidad (dodgy accent and all) who is part of an Allied Forces team that takes on their Nazi counterparts in Paris.
In the climactic scene Corporal Fernandez scores an acrobatic bicycle kick to level the match.
Recalling the scene, O'Callaghan told The 42, "He had the bit where he does the overhead kick. The story was that, back in those days, the slo-mo camera cost something like £5,000 a second.
"They said they had two or three takes max. And when you see him do that overhead kick, it was [a case of] first take into the back of the net.
"For him to do that at his age, he was [on the verge of turning 40], the ball hits the back of the net before Laurie Sivill dives. Everyone just looked at each other and went: 'Wow, that is unbelievable.'"
Six-years later, Pele starred in the significantly less memorable, Hotshot.
His later years were pockmarked with health issues. In 2012, he underwent a hip operation. He was in a wheelchair for 2017's World Cup draw in Moscow.
And he appeared frail and used a walking frame during scenes for the 2021 Netflix documentary, Pele.
Maradona | The flawed God of Argentina
His daughter Kely Nascimento announced the passing of the Brazilian icon on Instagram this evening, saying that "We are thanks to you. We love you infinitely. Rest in peace."
The news was later confirmed by his agent and his official social media accounts.
Download the brand new OffTheBall App in the Play Store & App Store right now! We've got you covered!
Subscribe to OffTheBall's YouTube channel for more videos, like us on Facebook or follow us on Twitter for the latest sporting news and content.