What is the worst that could happen after DMing a someone on Instagram? For Kerry's Paul Walsh, it is meeting Brazil legend Ronaldinho.
Walsh made headlines over the weekend as he went viral for sharing some pictures with Ronaldinho and his Kerry jersey, adding the Brazilian to the list of Kerry Mafia members that includes Usain Bolt.
However, the photos from Ronaldinho's home in Rio de Janeiro were only half of the wild, and somewhat chaotic story of how the Kerry U20's star met the legendary footballer.
Speaking on Monday's OTB AM, Walsh explained how sliding into the DMs of Ronaldinho's brother and manager ended with him taking a spontaneous flight to Brazil to meet him.
"His brother, who is his agent, Assis [Roberto de Assis Moreira] for some reason more than a year ago made a new Instagram account," Walsh said.
"I noticed it on the day that he made it and I thought there was an opportunity to get in contact because he only had a few hundred followers.
"I sent a follow request and he accepted it. I was typing out my messages and throwing it into Google Translate.
"I explained to him that [Ronaldinho] is my idol… and I asked if there was any chance that I could meet him somewhere for a photo anytime.
"Some time passed by after that message, so I thought, 'no, he isn't going to reply'. I didn't expect anything anyway.
"One morning I woke up and I saw there was a very short message from Assis; he just said, 'no problem'."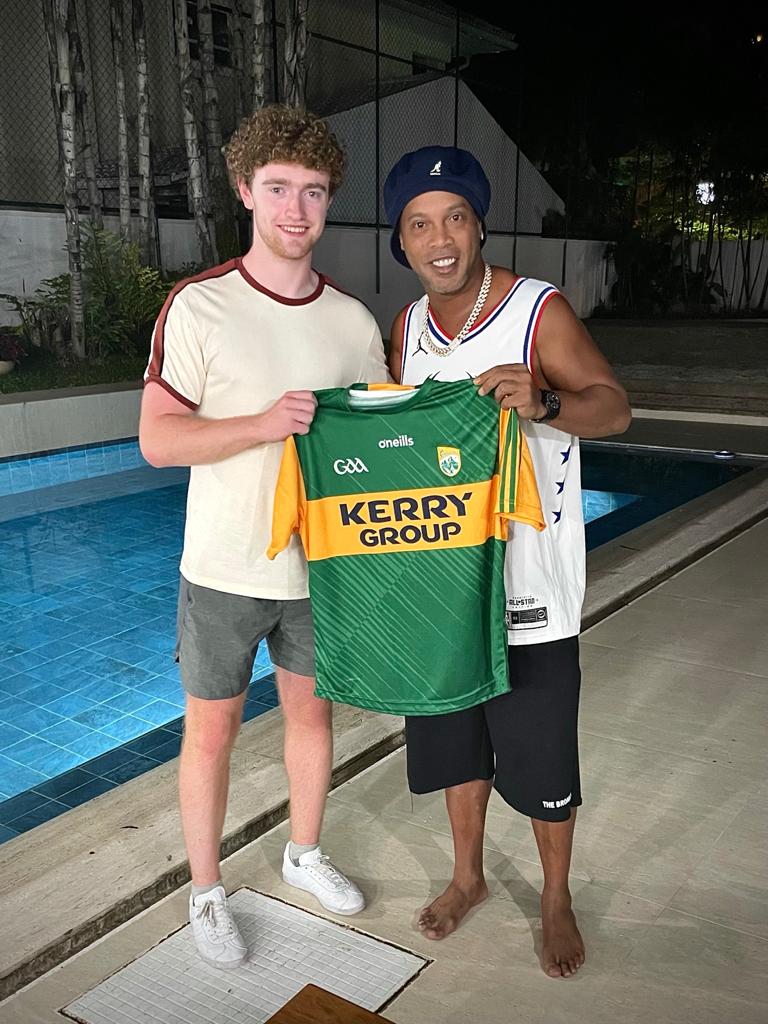 After the first couple of messages, Walsh and Ronaldinho's brother went back and forth for near-on a year before a plan was finally made to meet up.
By this time, Walsh had made sure to introduce the pair to the game of Gaelic football.
"There was no talk of going to Rio at this stage," Walsh said. "I was chatting to him about Gaelic football, showing him a few videos, and he got interested in that.
"They had never heard of the sport before, so it was nice to show them that. It was about a year or more of back and forth before anything was [organised].
"One day last week, I got a message from Assis. He said Ronaldinho is in Miami and will be going back to Rio, and I could organise something to meet him there.
"I genuinely could not believe it!"
Without telling anyone at home, not even booking a return flight, Walsh was on the next flight to Rio to meet up with his childhood hero.
"I didn't really tell anybody at this stage," Walsh said. "I just booked a flight. First of all, my parents would have probably been getting worried thinking that I was getting kidnapped or scammed by some lad on Instagram.
"I just didn't want to tell my friends in case it didn't happen. Nobody would have believed me in the first place anyway!
"When I was over there, I texted a friend saying, 'look I am in Ronaldinho's house', and everyone just started laughing."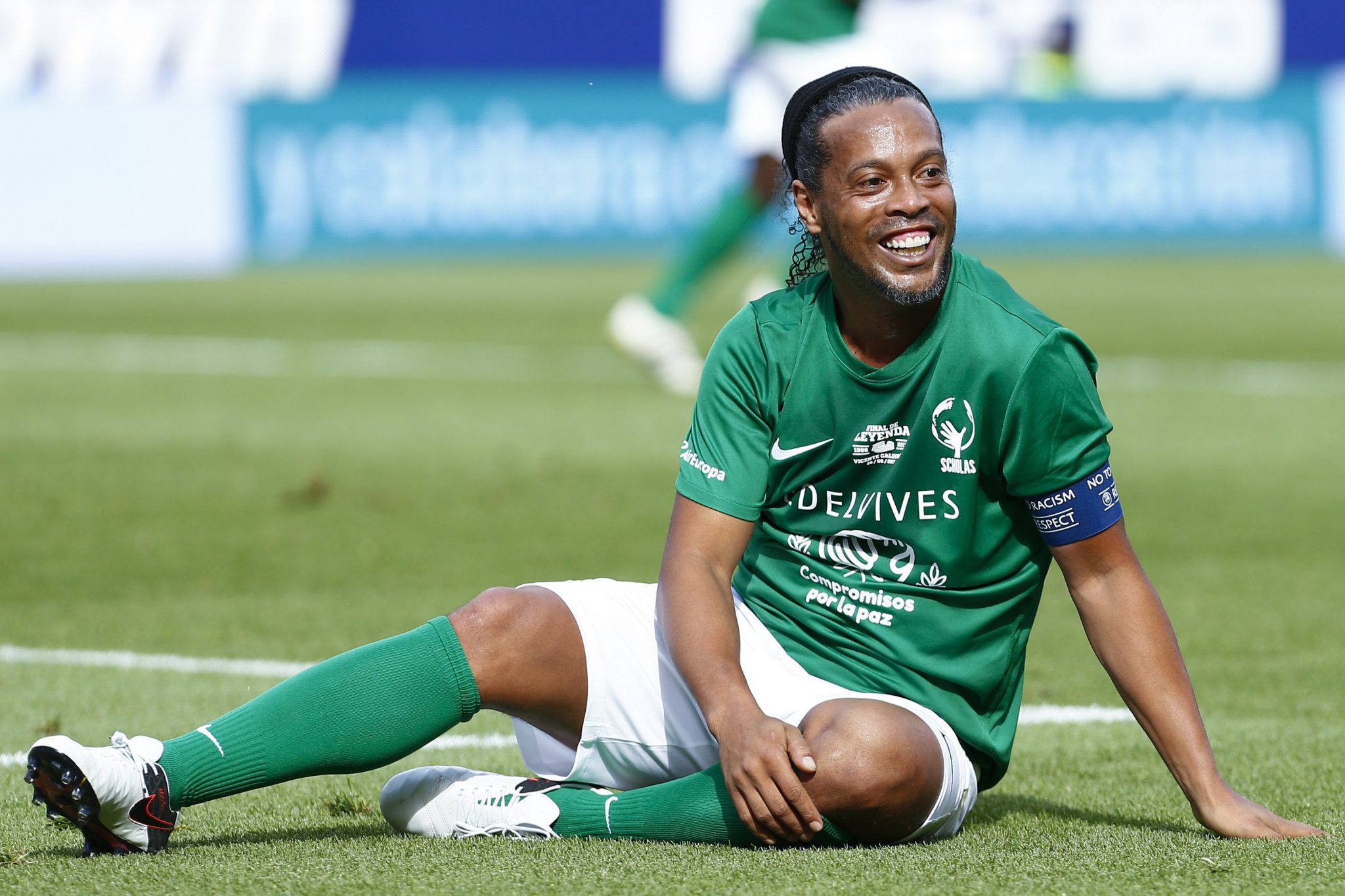 Waking a sleeping Ronaldinho
It was not all the stuff of dreams, however, as before he could come face to face with Ronaldinho, Walsh spent hours in front of his gated community, trying to convince the security out front that he was expected.
"I hadn't booked a return flight," Walsh said. "I had a bit of a scare going over because he sent me the address of the house and that the only conditions were to be alone.
"I went up to the security gate, I had to give them my passport to show that I was me, and they rang the house then.
"They were like, 'no one's after telling us you were coming, and Ronaldinho is asleep'. I'm thinking, 'Oh my God, I am after coming all the way from Ireland and I am not going to get into the house!'
"I had to wait outside the gate just with my bags for a few hours on the curb wondering if I am just going to have to go home.
"Eventually somebody got onto the housekeeper, and the security guard drove me into the house," Walsh added.
"I just had to wait until he was ready. I was with his friends for a few hours, having a few beers by the pool; it was absolute madness!"
Ronaldinho finally came downstairs, much to Walsh's glee, and the two shared some beers, played some footy and Walsh managed to convince Ronaldinho to join the Kerry Mafia, rounding out his childhood dream.
"He came down the stairs, he came over and gave me a hug," Walsh said. "I told him that I was going to bring him the jersey, so I presented him that, and then we sat around for a while, had a few beers and played a bit of foot volley and stuff.
"It was an absolute dream come true! He was genuinely the nicest person you could ever meet."
Download the brand new OffTheBall App in the Play Store & App Store right now! We've got you covered!
Subscribe to OffTheBall's YouTube channel for more videos, like us on Facebook or follow us on Twitter for the latest sporting news and content.