With many expecting Fermanagh to struggle in this weekend's Ulster clash with Donegal, Enda McGinley explained why Ryan McMenamin, his former teammate and current member of Rory Gallagher's backroom team, will thrive in the current circumstances. 
While many may expect Donegal and Tyrone to meet one another in the semi-final of the Ulster Championship in two weeks time, Enda McGinley isn't totally convinced.
After overcoming Derry in the preliminary round, few are considering the possibility that Tyrone will slip up against Antrim when the sides meet on Saturday evening.
However, as the reigning provincial champions Donegal prepare themselves for a trip to Brewster Park, McGinley believes Fermanagh will especially relish playing the role of the dark horse.
"Fermanagh have once again been written-off," McGinley stated, "but they've made a habit of being absolute giant-killers.
"They've beaten Armagh up here in the championship when they weren't expected to, and they famously beat Monaghan last year.
"They carry a confidence with them that, despite all their detractors, they can challenge the top teams."
Chief among Enda McGinley's thoughts, however, is his former Tyrone teammate, Ryan McMenamin. A member of Rory Gallagher's backroom team at Fermanagh, McGinley believes the three-time All-Ireland winner will relish the prospect of being overlooked.
I know 'Ricey' McMenamin well, and he never really cared what too many people thought of him, and he was all the stronger for it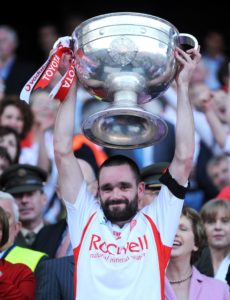 "The Fermanagh players are very confident," McGinley said, referencing an interview with James McMahon in the Irish News, "they know exactly where they are at, who they are and what they are.
"They are united behind what Rory Gallagher and Ryan McMenamin have styled them as. They see themselves as outsiders of the establishment, not really being given the respect they deserve.
"I think people aren't realising where Fermanagh are coming from, but that suits them and they'll use that as their ammunition.
"Any outside criticism [about their style of play] won't matter at all, in fact it'll play into their psychology.
"I know 'Ricey' McMenamin well, and he never really cared what too many people thought of him, and he was all the stronger for it."
Convincingly beaten in last year's Ulster final against Donegal, Gallagher & co. will have their chance at redemption on Sunday afternoon.
Download the brand new OffTheBall App in the Play Store & App Store right now! We've got you covered!
Subscribe to OffTheBall's YouTube channel for more videos, like us on Facebook or follow us on Twitter for the latest sporting news and content.