Tommy Walsh holds a degree of sympathy for the sentiments Dick Clerkin shared on Tuesday's OTB AM.
After the GAA announced their intention to raise ticket prices, the former Monaghan player defended the decision; highlighting the immense value of the GAA in Irish society as justification for the rising prices.
Joining OTB AM this morning to discuss the hurling year ahead, the Kilkenny legend weighed in on the matter himself; despite certain reservations about "getting involved in that side of things."
"I think what Dick said the other day, people are coming down hard on him," Walsh stated.
"I think, listening to him the last few years, that he is a proud GAA man, and probably a very good club GAA man up there in Monaghan.
"I think it was was just the way Dick got his point across probably didn't sit well with people."
The clubs are the fulcrum of Irish society at the moment, that's where everything goes on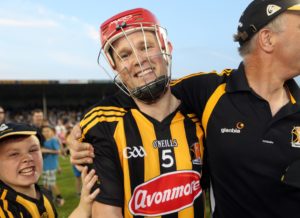 A topic Walsh admits he is uncomfortable talking about, the Kilkenny man nevertheless stressed his tendency to side with the GAA's hierarchy in this regard.
"If they're telling us they're putting the money back into the clubs, I'll take that," Walsh stated.
"The clubs are the fulcrum of Irish society at the moment, that's where everything goes on.
"We're in a different era now, in an era of the internet, of television, Sky, Netflix, where you don't have to get out of your house.
"You can have a wonderful evening [now] without ever leaving your house.
"Back in the day you had Mass, the local creamery, you had dances, everything was going on where you had to get out of the house. In modern society, they're doing everything they can to keep you in the house.
"What's getting people out of their house in Ireland at the moment? The clubs."
Detailing his preference to do all that is possible for the betterment of conditions at club level, Tommy Walsh isn't averse to highlighting the issues. However, on the particular topic of ticket prices, Walsh is content to side with the association on this occasion.
Subscribe to Off The Ball's YouTube channel for more videos, like us on Facebook or follow us on Twitter for the latest sporting news and content.