Padraig Harrington has been exceptional despite his players not performing, according to journalist Denis Kirwan reporting from Whistling Straights in Wisconsin.
Europe went down by four games to two after the opening day, losing the morning session's foursomes by three to one, while halving two of Friday afternoon's four-balls and doing down in the other two.
Rory McIlroy and Shane Lowry in particular were disappointing for Europe on Friday afternoon, as the Irish pair were beaten by four, not even needing to play the final three holes.
Speaking on Off The Ball live from Whistling Straits, Kirwan discussed Harrington's captaincy under the pressure from going behind by four after the first day.
"They just have to start playing better," Kirwan said. "A lot has been made of the captaincy in Ryder Cups, but the captain sends his team out to play to the best of their abilities, and in my view they haven't done that so far.
"I think Harrington has done a brilliant job so far. I think he has been an exemplary captain, he has done everything right.
"He obviously took a bit of heat for the decision not pick Justin Rose and picked Shane Lowry, or some would say Ian Poulter perhaps in place of Rose.
"There is very little that a captain can do. he can set his team up, he can go through all the stats like he has done meticulously with his vice captains over the last number of weeks, send out his team and it is 'good luck, lads! Go out and play your best!'
"Unfortunately they haven't done that."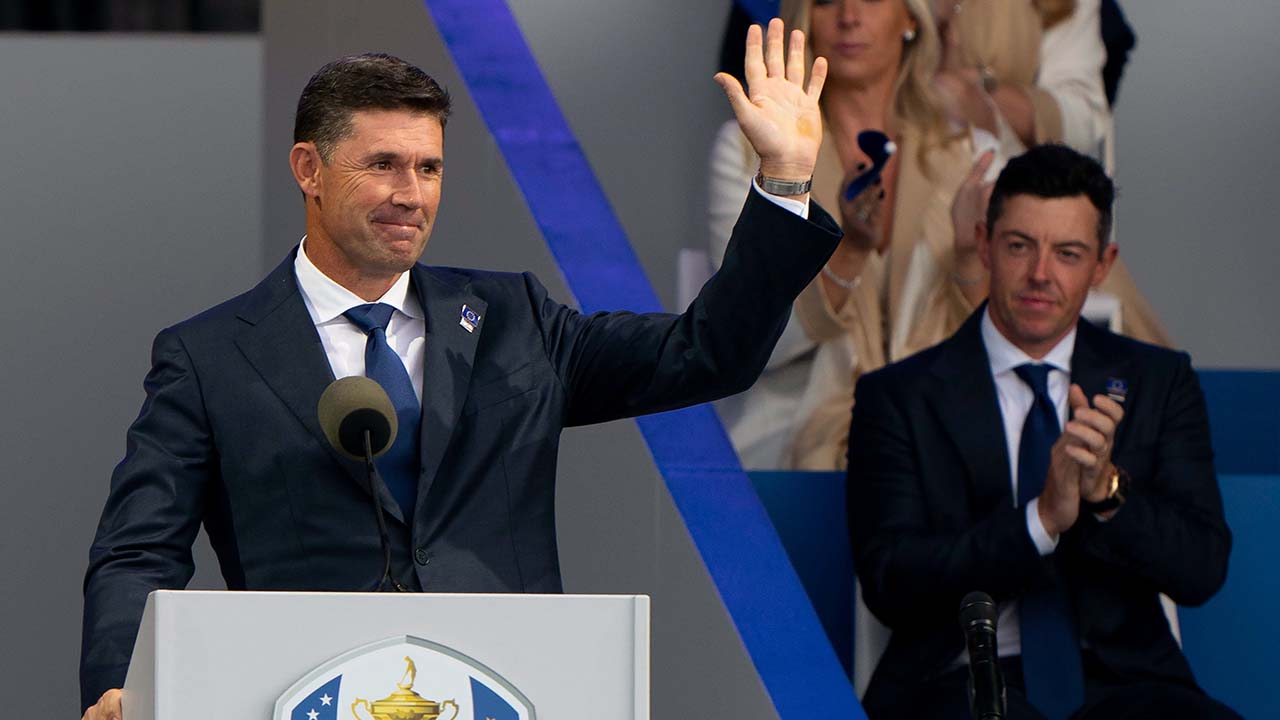 Kirwan is not hopeful that Team Europe can turn things around by the end of the day on Saturday, suggesting that anything more than a 10-6 gap after the afternoon session will be a bridge too far for Harrington's men.
"From my point of view, 10 to six is probably the cut off in terms of having a chance of winning in the singles," Kirwan added. "We know it has been done so many times before.
"If it is any more that 10-6, there isn't a hope. If it is 10-6, there probably still isn't a hope, but at least psychologically they will come out thinking, 'if we can go out there, play to the best of our ability and hole a few putts, there might just be a chance.'
"I don't think it can be any worse that 10-6 for the Europeans if they are going to have any chance."
This Ryder Cup is missing something
Despite Team USA being so dominant across the course, Kirwan believes that they are missing a big name draw on their team in order to put the crowd into a frenzy.
"This is the first time in a long time that there has been no Tiger Woods or Phil Mickelson on the US team, just a team of young, raw talent," Kirwan said.
"In some ways the Ryder Cup is lacking something here at the moment, and it is probably a big name like a Tiger Woods or Mickelson to get the crowd stoked up.
"But it certainly hasn't gone against their chances of winning this, and I think they are going to go on and win it quite comfortably.
"I hope for Padraig Harrington's sake that it is not a record defeat. Eighteen and a half to nine and a half is the record defeat, but at the moment it is not looking too good."
Our Ryder Cup coverage is brought to you in association with Sky Sports. Watch the Ryder Cup exclusively live on Sky Sports
To join or upgrade today and get Sky Sports for just €20 a month for 6 months, search Sky Sports Golf or visit skysports.com/golf
Download the brand new OffTheBall App in the Play Store & App Store right now! We've got you covered!
Subscribe to OffTheBall's YouTube channel for more videos, like us on Facebook or follow us on Twitter for the latest sporting news and content.