Sitting one-shot shy of the summit after two rounds of play at this year's Masters tournament, whether or not one should be throwing their lot in with Tiger Woods made for an interesting talking point on this afternoon's 'Saturday Panel'.
With as many as eight other golfers joining Woods on -6 or -7 under heading into Day 3 of the prestigious competition, Nathan Murphy put the question to a panel consisting of Michael Verney, Sarah O'Donovan and John Greene.
"The Masters ... morality, we're getting a text in already, 'Everyone seems to be getting on Tiger Woods bandwagon as one of the greatest comeback stories of all time, is everyone forgetting what he did?'," Nathan asked.
"Does it matter? He didn't break any laws."
I'm just looking at it from a golf point of view, but he brings the buzz to golf! Jack Nicklaus wasn't at his height in my lifetime so I've never seen anything like Tiger Woods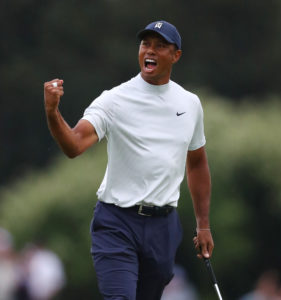 For Michael Verney, the appeal of Tiger Woods remains the same; irrespective of the well-publicised misdemeanors throughout his personal life.
"He brings the buzz to golf," stated Verney, "and [Jack] Nicklaus wasn't at his height in my lifetime so I've never seen anything like it."
"I don't even have the channels for golf, and I was literally following it on Twitter ... and there's no buzz like it, Twitter was on fire last night when he was on the way back.
"I'm just looking at it from a golf point of view and how intriguing he makes golf for me."
For Dublin camogie star Sarah O'Donovan and Sunday Independent Sports Editor John Greene, the question requires some further consideration.
"The extent of his back injury was severe," Greene commented in relation to the physical limitations that Woods appears to have now finally overcome.
"To be able to go out and walk anyway normal seems to have been a major accomplishment for him ... so to be competing at Augusta again is pretty remarkable.
"Of course then there's the mental recovery from that and all the other stuff that happened."
Posited by Nathan, the suggestion that Woods' extraordinary "public-shaming" surpassed that felt by any other sports person was generally regarded as true as the reality that he'd brought it upon himself.
"[Every aspect of his private life was] laid bare," O'Donovan stated. Considering the manner in which such a redemption would be received should the American golfer actually secure a fifth Masters title, these details are unlikely to be forgotten.
Subscribe to Off The Ball's YouTube channel for more videos, like us on Facebook or follow us on Twitter for the latest sporting news and content.