After Wexford's Davy Fitzgerald found himself sent to the stands in Sunday's Leinster Championship tie, former inter-county referee Brian Gavin revealed to Off the Ball how the then Clare manager attempted to exert an influence over him ahead of and during the 2013 All-Ireland final. 
On an afternoon where Wexford's hurlers were unfortunate not to defeat Galway in Pearse Stadium, manager Davy Fitzgerald commanded much of the post-match attention.
Overseeing most of the match from a perch within the stand, when the Clare native opted to navigate his way closer to the action early in the second-half, a brief interaction with the sideline official Mick Murtagh resulted in referee Johnny Murphy sending Fitzgerald back to where he had come from.
Although Fitzgerald's sideline behaviour has largely come to be expected, analyst Daithí Regan, speaking with Off the Ball in the immediate aftermath of Wexford's drawn match with Galway, examined the impact such outbursts can have on Davy Fitzgerald's own players.
"It didn't impact the way his team played [today]," Regan admitted, "but I remember speaking to Brian Gavin after he'd refereed the [drawn] All-Ireland final between Clare and Cork [in 2013].
"Players were back-chatting him in that game, and he told one or two Clare players to stop carrying on like their manager or he'd keep penalising them."
A blistering final that was ultimately decided by Domhnall O'Donovan's late equalising point for Clare, Gavin's memory of that 2013 final consolidates the idea that Fitzgerald's sideline antics had spread to his players own behaviour on the day.
"What I found strange in 2013 was the likes of Pat Donnellan and a few lads that I had refereed a good few times and never said much, that day they were a bit agitated and questioned a lot of decisions," Gavin explained to Off the Ball.
"Whether they were guided to question a lot of my decisions just to put me under that bit of pressure, or make me feel like I was being hard on Clare, I don't know.
"I'd never really had any hassle from the Clare players, so I found it very strange.
"I did turn around at one stage and tell them that there's no need to question every decision, your manager usually does that anyway.
"I'd say it was instructed, however."
Davy would have had the referee Seanie McMahon in his backroom team and his job obviously was to go through as much video as he could of referees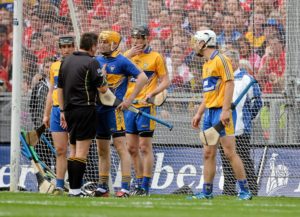 Additionally, Gavin disclosed a further manner in which Davy Fitzgerald reportedly attempted to increase the pressure on him before the 2013 final.
"Also at that time in Clare, he would have had an inter-county referee Seanie McMahon in with him in the backroom team," Gavin explains, "and his job obviously was to go through as much video as he could of referees and try to pick up on the styles."
Recalling the day of the 2013 final itself, it subsequently became known to Gavin that McMahon had allegedly attempted to make his way from Clare's dressing-room in Croke Park's Hogan Stand to the referees' designated area in the opposing Cusack Stand.
"He sent over Seanie McMahon to our dressing-rooms over in the Cusack Stand," Gavin claims.
"I was told this after and didn't know it at the time, but he's lucky that he didn't say anything to me or come near me.
"It was a ploy I'd say to try and put me under pressure.
"So, you could see [Davy] was covering all angles to get Seanie McMahon in too."
With the exception of one other incident in which Gavin was forced to reprimand Davy Fitzgerald for his behaviour on the sideline, the Offaly native spoke warmly of his relationship with the Wexford boss, and demonstrated no trace of ill-will for what he believes was an orchestrated attempt to undermine him.
Yet, in discussing the details of yesterday's incident involving Fitzgerald and the sideline official, Mick Murtagh, Brian Gavin believes that Fitzgerald's claim that Murtagh "wanted to make a name for himself" is disingenuous.
"He tried to say the sideline official was making a name for himself," Gavin stated, "but the sideline official doesn't want that.
"So what does Davy mean by that? You have to be very courteous and calm when you're a sideline official.
"But it's not easy to keep your cool when a lad attacks you like that. Mick Murtagh would be a strong character too, but he conducted himself well yesterday."
Subscribe to Off The Ball's YouTube channel for more videos, like us on Facebook or follow us on Twitter for the latest sporting news and content.