"They're mad to stay in this division," remarks Colm Bonnar of his Carlow hurlers ahead of this afternoon's Division 1B relegation play-off.
"Unfortunately you can't just stay there if you like though, and it'd be a real killer for Offaly too if they lost."
Attempting to consolidate the precipitous height of Carlow's rise, Bonnar knows what to expect when they meet an Offaly side managed by Kevin Martin, desperately scrambling to save themselves the ignominy of consecutive relegations: "It will be a dog-fight."
In Ennis, tensions will be similarly fraught.
Vying to inhabit the inevitable vacancy opening up in 1B, Joe Quaid's Westmeath will look to build upon a flawless run through Division 2A and go one step further than the county managed last year.
Three managers competing for two places in what will next year become one half of hurling's upper two tiers, the fourth, Fintan O'Connor of Kerry, is a notable odd man out.
"When I first came across him it was here at the college when he became the Student Union President," Colm Bonnar recalls of his introduction to O'Connor at Waterford IT.
Whilst enjoying tremendous success in charge of the Institute's Fitzgibbon Cup hurlers, Bonnar recalls a "very approachable and personable" young man who admittedly leant more toward rugby on the sporting side of things.
"I would never have played hurling myself," Fintan O'Connor admitted in a 2015 interview with the Irish Examiner. So, how had he found himself working alongside Derek McGrath in Waterford's senior set-up?
Derek McGrath brought him in because he was just so knowledgeable in terms of younger players that were in Waterford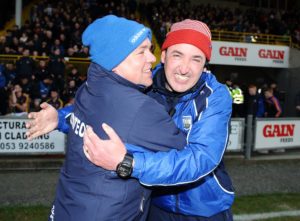 It was a transition that began with Fintan O'Connor taking up a teaching post in Lismore's Blackwater Community School.
As revealed to the Irish Examiner: "I didn't have much of a background but [the school's Principal] said that he would show me a few drills and we took it from there."
When Colm Bonnar opted for a return to Waterford IT and a crack at winning a fifth Fitzgibbon Cup, the former Student Union President would serve an altogether different purpose.
"He got involved with the school hurling and there wasn't a young hurler around the county he didn't know," Bonnar explains of Fintan O'Connor's quick adaptation to the game.
"That's why Derek McGrath brought him into Waterford, because he was just so knowledgeable in terms of younger players that were in Waterford.
"Around that time we asked him to get involved with Fitzgibbon here in the college too.
"He would have known a lot of the lads because at that time I think we must have had 14 Waterford players in the panel."
While such familiarity helped counteract the rigid time-constraints facing Bonnar and his team, O'Connor's role undeniably went beyond that of a friendly face.
"He could do anything really to tell you the truth," Bonnar acknowledges.
"It wasn't that there was any major plan or anything because we were dealing with a lot of inter-county players so it was a case of just trying to get them together, but he is very good with players, very approachable and a good bit of craic, and players respond to that.
"He's very personable, and he knows how to get the best out of people. We had great times there during those years."
So great, indeed, that Waterford IT would go on to win another Fitzgibbon Cup under Bonnar in 2014. As the Carlow manager notes of O'Connor's enjoyment in the role: "He liked it so much himself he took charge of it himself this year."
It's about being able to manage people and get the best out of them. Fintan is well able for that, and well able to speak too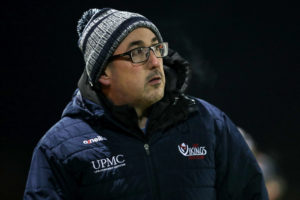 "He had a lot of knowledge of different sports," Bonnar states by way of expressing Fintan O'Connor's roundabout entry into hurling.
"But sport is sport, and once you're able to get lads together and work with them, whether it is rugby, hurling, Gaelic football or soccer, the only thing that's different really is the skills.
"It's about being able to manage people and get the best out of them. Fintan is well able for that, and well able to speak too.
"We worked well in terms of bonding lads together and getting them into a state of mind whereby they'd do anything for each other."
Describing O'Connor's communication with players as "top class," Bonnar is not overly surprised that a relative novice of inter-county hurling has nevertheless come within one win of bringing Kerry back into the upper echelons of the National Hurling League.
"Inexperience is irrelevant to younger players," Bonnar believes, "I don't think they judge you on that anymore."
"They'll judge you on how you set up your backroom team and their professionalism.
"That he's been involved to the level he has been with Waterford, WIT and Kerry, when he goes for an interview, they'll be looking at what he's done, how he's done it, and how he made the players feel."
Although O'Connor would likely argue that his goals at Kerry have yet to be realised, it is nevertheless tempting to imagine how much farther the stock of this unlikely inter-county manager may rise.
In comparison to Bonnar, a serial winner with Waterford IT, Ballyhale Shamrocks of Kilkenny and now Carlow, O'Connor has some way to go. Furthermore, as Bonnar notes: "When these big, big, big jobs come, a lot of hands go up."
While the Carlow manager stresses that he couldn't care less about a person's playing career when it came to appointing a coach, he admits such an approach may not be carried out across the board.
"If Fintan was up against someone of similar standard but they'd won an All-Ireland [as a player]," Bonnar hypothesises, "would it persuade the board to go with the other guy?"
"It's hard to know. Sometimes players can respond to big names when they come in, but it's a bit of a catch-22."
One thing that remains certain, however, is that Fintan O'Connor has come a terribly long way in no time at all.
Beat Westmeath this afternoon and he may well find himself up against the like of Brian Cody's Kilkenny, Liam Sheedy's Tipperary, John Kiely's Limerick or Micheál Donoghue's Galway within twelve-month's time.
The outsider in charge of an unfancied county, Colm Bonnar's experience of working within the latter assures him that Fintan O'Connor will meet whatever task emerges head on.
"Would he be capable of managing a top inter-county side? Of course," Bonnar states assuredly.
"I have no doubt that he could manage a group of players and manage their expectations and create a very good backroom team, because really, that's what it's about.
"It's about what he can do for the players, what he can set up for them, how much time he can give them, and that's something Fintan is never short of."
Download the brand new OffTheBall App in the Play Store & App Store right now! We've got you covered!
Subscribe to OffTheBall's YouTube channel for more videos, like us on Facebook or follow us on Twitter for the latest sporting news and content.