This is an unprecedented and worrying time. A global pandemic doesn't give you a map. Basic freedoms are being curtailed, correctly, for public health. It's funny that when I watched back the 2014 drawn All-Ireland Hurling final on Sunday night, all I could think of was that word, freedom. Freedom, freedom, freedom.
I am also thinking of the day when all this will return. Live sport. Hurling. A hot dog at Croke Park. The clash of the ash and the sound of it in a stadium. The parade. A salmon leap and a sliotar caught. The euphony of the crowd raising it several decibels when a goal is scored. The sheen of the Liam McCarthy Cup. I am hoping it won't be too long, but we just don't know. Writing this in my bedroom, it's the uncertainty that gnaws at you, reminding you to stay calm and to 'mind your mind' so to speak.
I have been lucky enough to attend 23 All-Ireland Hurling finals and countless more Munster and Leinster Championship games. It's a bank of memories and trips to Connolly Station with my late father on the way to Croke Park and hay-fever laden excursions to Semple Stadium and the Gaelic Grounds. I love the speed and the skill and the drama that hurling gives us. The ebb and flow is its essence and it enthralls me. It's a game as a gift.
When I watched the 2014 drawn game again for OTB's 'Classic Game Club', it transported me right back to the day, the 7th of September 2014. I always felt it was the greatest match I had seen and I haven't wavered from that view. The scoreline was Kilkenny 3-22 Tipperary 1-28. 54 scores. No wides between the 44th and 72nd minute. Two missed penalties, both by Tipperary. Incredible individual performances. To cap it off was that the match, the whole nine yards, the shebang, was decided by Hawkeye technology on the big screen.
With the sides level, Tipperary's John 'Bubbles' O'Dwyer was 97 metres out to attempt his free as the game slipped into injury time. When I was at the game, I thought he had scored the winning point. It took 30 seconds from the strike and the umpire signalling the square for the decision to be made. If you weren't at Croke Park, it's hard to describe what it was like watching a screen to tell us if it was a point or not. To decide the All-Ireland. The match was breathtaking and then time almost froze for the decision. It was a crescendo worthy of an Oscar for best screenplay.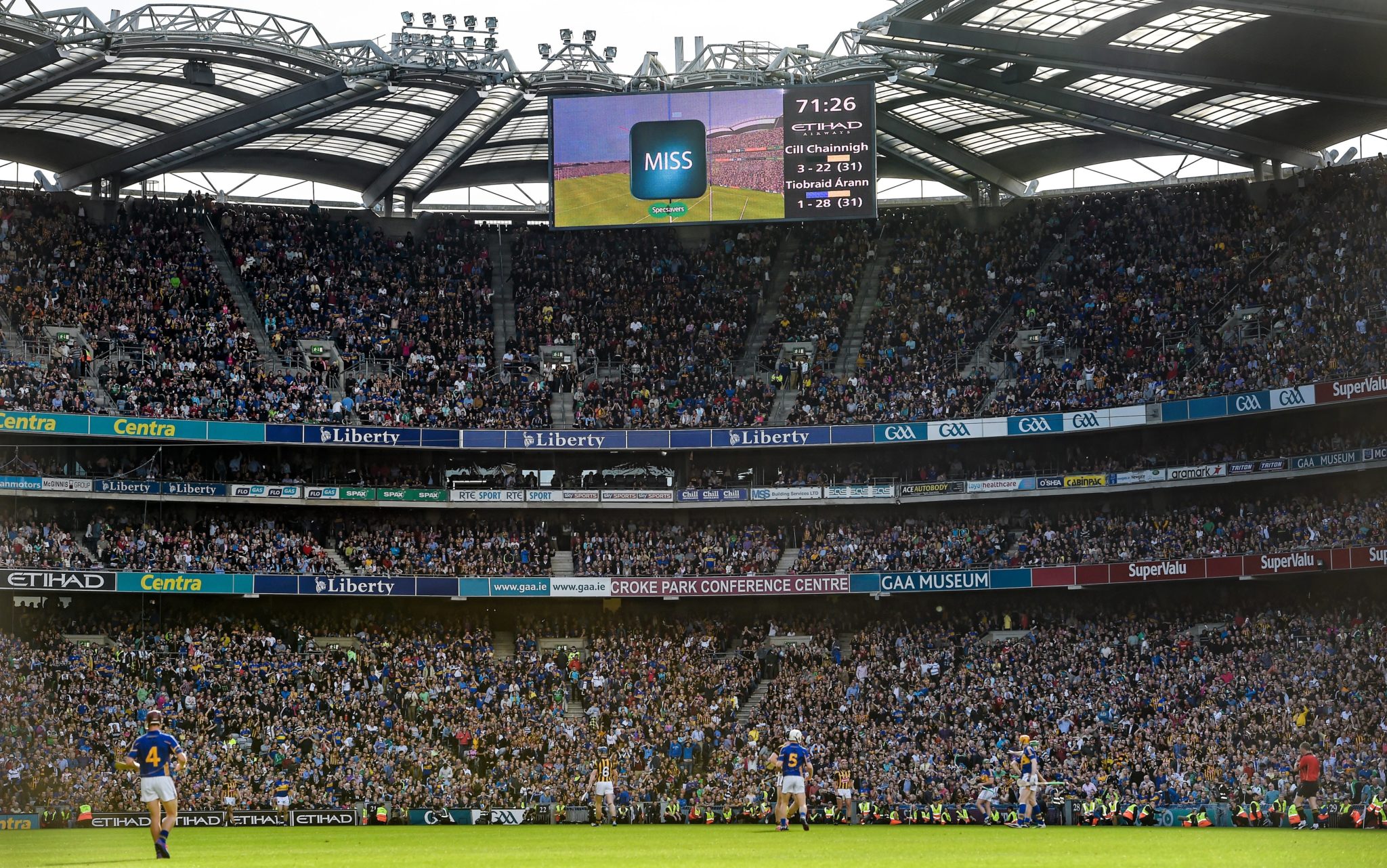 'Miss' came up on the big screen and referee Barry Kelly blew his whistle to signal a draw. In a way, it was a shame there had to be a replay, which Kilkenny won by three points. They should have shared the All-Ireland, the final was that good!
2013 was an anomaly of a season, with Kilkenny and Tipperary gone early, but they had been the big powers of the game, meeting in successive finals between 2009 and 2011 and the 2012 semi-final. Tipperary were resurgent under coach Eamon O'Shea, a hurling artist. Kilkenny were perhaps not at their four-in-a-row peak and Henry Shefflin and Tommy Walsh, linchpins of their dominant decade, were benched for the drawn match.
The Cats squeezed past Limerick in the semi-final, but what's often overlooked in the analysis of Kilkenny is how ruthless they were when it came to goal scoring. Kilkenny could kill teams in 10 minutes and it was these scoring bursts that I always felt was the hallmark of their golden age.
It was goals and the timing of same that kept the black and amber in this drawn final. Bonner Maher's route one goal to open Tipperary's account reminded me of a Packie Bonner assist from Italia 90. What did Kilkenny do? TJ Reid produced a glorious handpass to Richie Power, who scored a goal of delicious delicacy. All of this was occurring amid passages of play that had my eyes popping out of my head like a cartoon character. Clearances, blocks, hooks, runs, lightning points. Tipperary were zigzagging all over the turf, opening up a two point interval cushion.
Then, wallop, Kilkenny had the sliotar in the net in the first play of the second half, TJ Reid turning like Gerd Muller and finding the back of the net. Momentum was a pendulum that swung like your grandfather's grandfather clock.
Kilkenny's third goal was Richie Power's second of the day, his skill born in the cradle. I just remember that day being overawed by the mastery of Richie Hogan and John O'Dwyer. Every time Hogan and Bubbles got the ball, it was over the bar. Lar Corbett bobbed and weaved and was a menace. Tipperary ran up the points tally, but this game wasn't all about attacking; both Paul Murphy and Cathal Barrett had stormers.
What I forgot looking back was that Tipperary scored the last three points of the game, one of them from a young Jason Forde. What I forgot was that Henry Shefflin did come on, but the impact of the King was limited.
Oh, and what about those two missed penalties, which Seamus Callanan and John O'Dwyer failed to convert. The environment at the time didn't exactly favour attackers when it came to penalties.
A year later, I had a seat behind then Galway manager Anthony Cunningham for the 2015 final. At ground level you get a completely different sense regarding the pace of the game and how quick it actually is. That wasn't even a great final! 2014 had a flow to rival the Niagra Falls.
So when you add it all up, it would have been a classic without Hawkeye. It would have been memorable with just Hawkeye. That for an organisation that couldn't get its central timing right in the 1998 All-Ireland semi-final between Clare and Offaly to rely on technology to rule on the winning or losing of the All-Ireland was an example of how progressive everything had become.
As we do our best to stay safe and reach out to our loved ones while thinking of the doctors and nurses on the front line, let's hope these days will return soon.
If you want more discussion on this brilliant final that I call 'hurling as the definition of freedom', you can watch back the Classic Game Club feature with Eoin Sheahan, Ger Gilroy and yours truly from OTB AM below!
Subscribe to Off The Ball's YouTube channel for more videos, like us on Facebook or follow us on Twitter for the latest sporting news and content.