Limerick manager John Kiely praised his team's work rate and execution as they successfully defended the Liam MacCarthy Cup on Sunday.
Limerick defended their All-Ireland title on Sunday, beating Cork 3-32 to 1-22 in Croke Park in what was a dominant display from the defending champions.
While Cork's Kieran Kingston likened this Limerick side to the great Kilkenny sides under Brian Cody, Kiely simply compared his team to the families that came out in their numbers to cheer on the defending champions.
🗣 'You will be celebrating?'

🗣 'We absolutely will! We are good at that too!'@LimerickCLG boss John Kiely was delighted with his side's All-Ireland win when he spoke to @ashoreilly after the match | ⬇️ pic.twitter.com/KLnfHcUbJa

— Off The Ball (@offtheball) August 22, 2021
Speaking to Off The Ball's Aisling O'Reilly after the match, Kiely expressed his admiration for his players, and their ability to make use of the ball with every possession.
"It was something to behold, and something to be very proud of," Kiely said. "They hit a great flow today and worked really hard, which we are particularly pleased with.
"It was something that was front and centre of what we wanted to do today coming into the game. It is all very well working hard, but when you get the ball, what do you do with it?
"It was really pleasing that we used the ball really well, we minded the ball really well. As a team, we worked for each other, we moved for each other and we supported each other.
"When somebody made a mistake, somebody else came in and helped out, and that was really, I suppose, the most pleasing aspect of our performance today."
In many cases throughout the game it seemed as if the Limerick players knew where their teammates were going to be without looking, making it look easy to complete their passes.
Kiely chalked it up to immense trust within the team that has been built amongst the players.
"It takes great trust in yourself to deliver the pass, and in your colleague to retain it and to be there," Kiely said. "That trust has built up over years of hard work on the training field.
"We are constantly telling them to back themselves, and thankfully today they did and they were rewarded for it."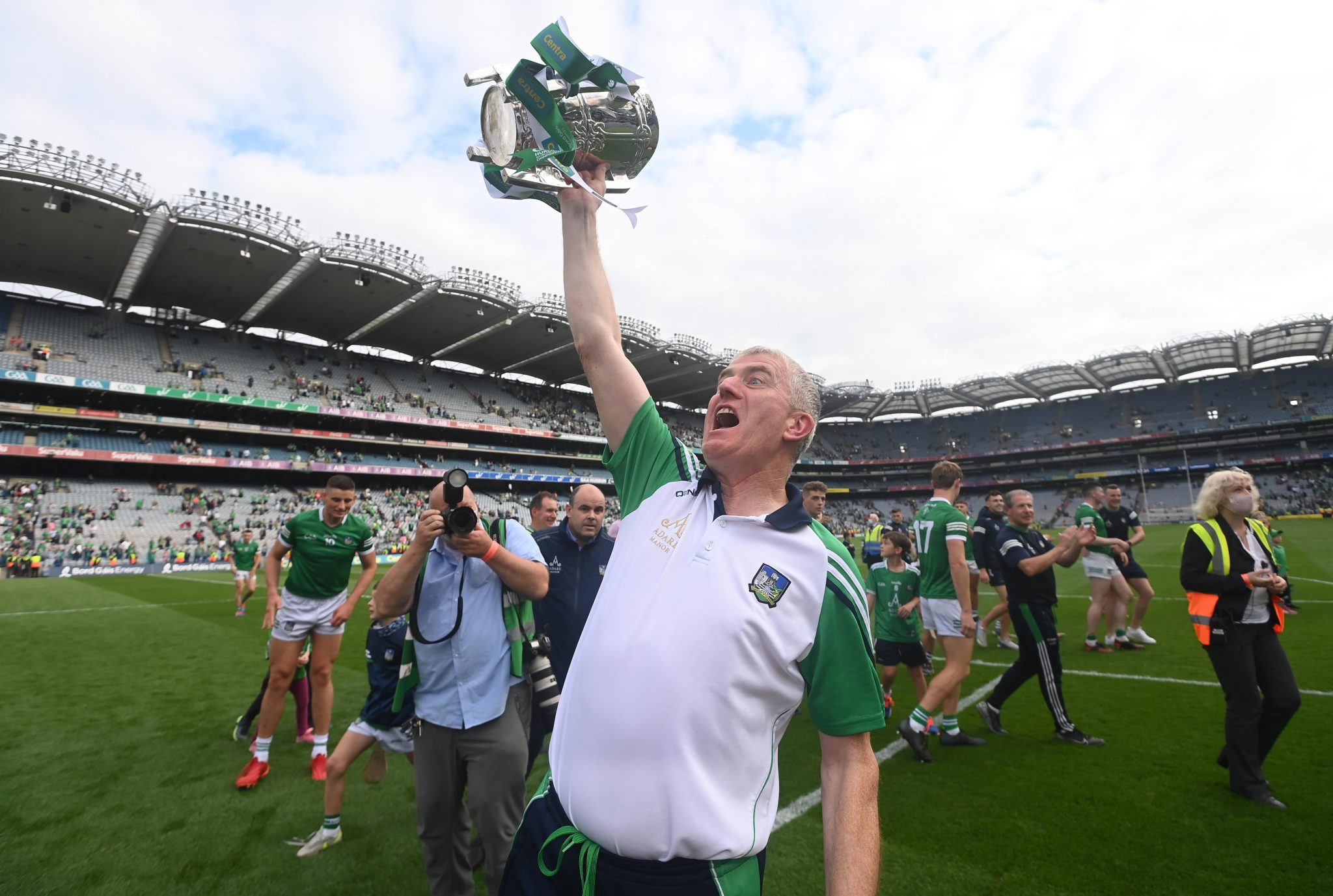 Limerick defended the All-Ireland for the first time, with this being Kiely's third All-Ireland title as manager of the Treaty County.
While he has been involved in Limerick hurling for over a decade, Kiely mentioned that winning one All-Ireland was not what he thought was possible, let alone three in four years.
"I didn't even dream of it," Kiely said. "We got involved to contribute what we could and I have enjoyed my time working with the lads over the last 10-11 years now.
"I am very fortunate to be a part of this group and to lead this group. It is a very privileged position, and i give it everything I can, but ultimately it is about the group and the team and the performance, and representing our group on the pitch as best as we possibly can.
"The honesty and the humility of our guys is something that is front and centre of every performance, and that is something that I am very proud of."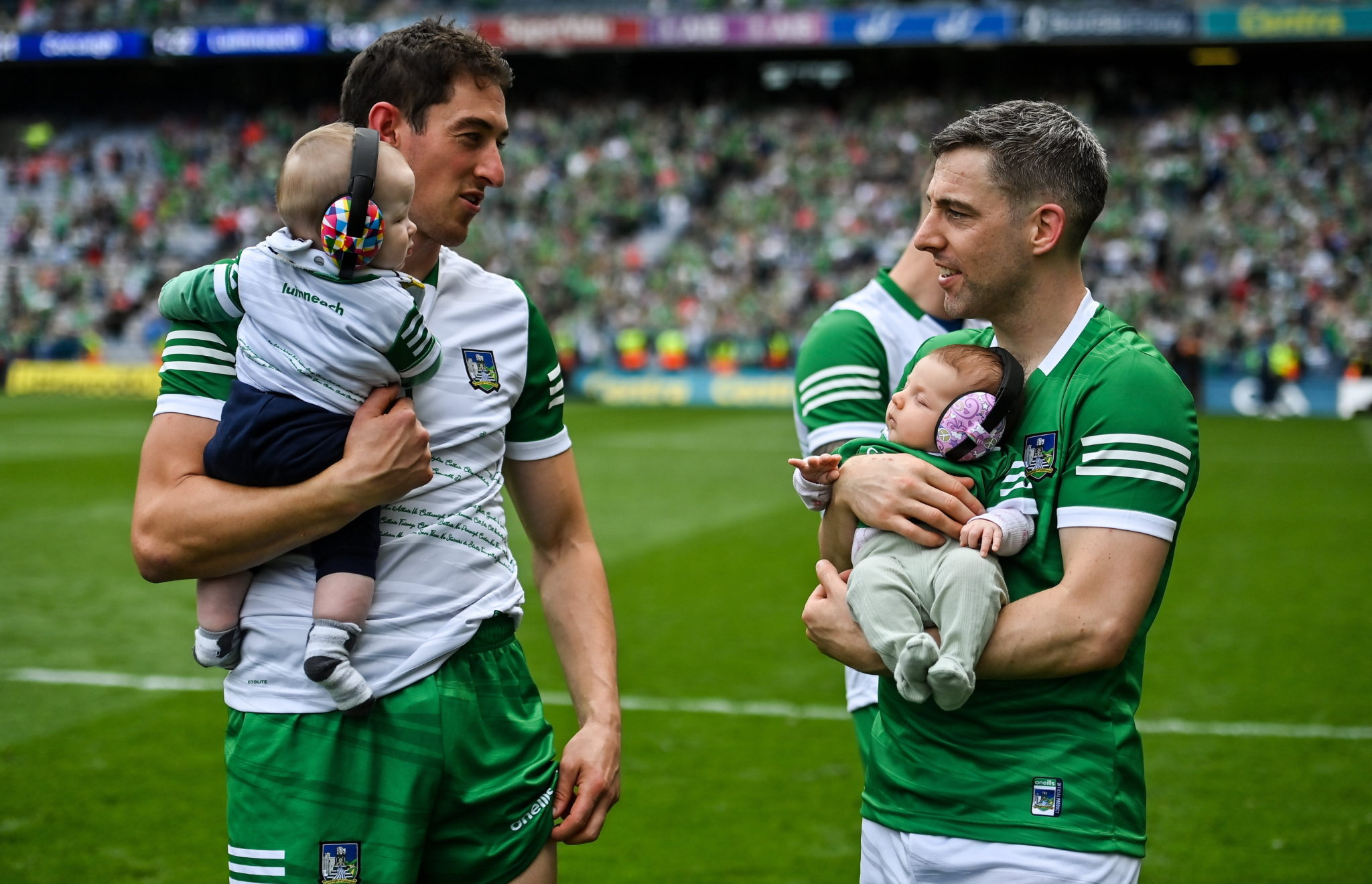 Limerick hurling is a family affair
The Limerick supporters gathered on the pitch with the team after the final whistle, all of whom were the families of the players.
"Our families invest a lot in us, in giving us the opportunities to do what we do," Kiely said. "Not everyone would.
"It takes an incredible amount of time with huge sacrifices. So, days like today are paybacks for that, which is why we got all of our families on the pitch because we want them to be able to share in those moments.
"In time, when we step away from it, they will be the times that we cherish as families and individuals.
"Limerick is one giant hurling family and we had 20,000 of them here today, and please god, we will have many more days with many more of them next year."
Amongst the swathes of family members that joined the team on the pitch, there were quite a number of very young babies.
"They are brand new, I can assure you!" Kiely said. "They are only two and three weeks old. We have had a maternity ward going as well as a dressing room going over the last couple of weeks!
"I nearly had to deliver one myself! No, it is great. It is a sign that the group are progressing along and it is a natural evolution."