Liam Griffin was a guest on Off The Ball on Monday as he continues his efforts with club players representative body, the CPA.
The CPA has been in existence for almost four years but is still not officially recognised by the GAA.
Griffin and others have put together several proposals as to how the vast majority of players in the GAA can be accommodated.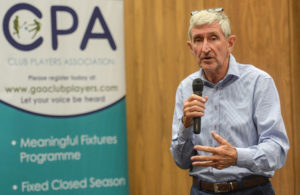 Griffin believes that hundreds of man-hours on a voluntary basis have been committed to plans that cannot even get an airing. The CPA chief wants the powers that be just to have a look at what the organisation is proposing.
"It's down to logic and sure if it's stone mad they can write it off," says the former Wexford báinisteoir.
"Let's sit down and try to get it resolved," says Griffin, but he says he has been made to feel like an outcast: "we're not the enemy."
"Three or four years have gone by and we have not gone very far," admits Griffin, who has been sent round the houses to try to get recognition for the organisation.
"They say you have to go to Congress and get recognised, I went there and we were slaughtered. So we're not recognised."
The process and occasion were hurtful incidents for Griffin personally: "you feel like a troublemaker".
Humiliating
People on the floor at the GAA gathering made their feelings clear on the CPA through their actions long before Griffin took to the floor, "There were people who wouldn't say hello to me at Congress."
"It was humiliating," says the All-Ireland winning manager.
The maze of administrative structures is what is holding back the GAA according to Griffin, "We're caught behind a web of structures in the organisation.
They are not fit for function."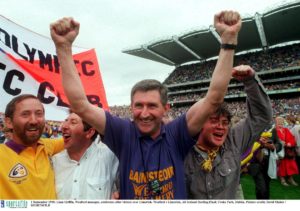 "If they say the organisation is perfect, that is not reflected in the club player. It's been recognised as far back as 2002, it's not fair to the club player, they are 98% of all players."
Griffin wondered when the last time the organisation "reevaluated all our structures and systems" as he feels they are "not fit for function."
Griffin quoted a recent study to show how stark the participation numbers are for the GAA. The ESRI survey showed there was a 60% drop out rate in hurling and 70% for football for players between the age of 25 and 30.
"By any standard, that's a crisis," says the Wexford legend.
When asked about what structures need to be changed, Griffin pointed out that even the most treasured competitions could be outdated: "The provincial system is broken anyway."
The CPA proposes dividing the counties up into a simple four-by-eight county competition and allow that to develop with relegation and promotion and a B Championship.
Griffin cited his own club of Rosslare who won a Junior B title and it was like "winning the lotto," when it was suggested that a B Championship would demean the structures.
With the simple 32-team structure, Griffin is suggesting the administrations could maintain their same titles of the competitions.
So regardless of what counties are involved, each title could still retain the name of a province, just like Galway currently do in hurling.
Liam Griffin just wants the CPA's thought's to be heard before it's too late, as currently, Griffin says: "From my perspective, it's not a fair system."
Download the brand new OffTheBall App in the Play Store & App Store right now! We've got you covered!
Subscribe to OffTheBall's YouTube channel for more videos, like us on Facebook or follow us on Twitter for the latest sporting news and content.