Former Ireland defender David Meyler is backing his home county of Cork to lift the Liam MacCarthy in Sunday's All-Ireland Senior Hurling final.
Cork have made it to their first All-Ireland final since their 2013 defeat to Clare in the replay, having last lifted the Liam MacCarthy all the way back in 2005.
While many would forgive the former Sunderland and Hull City defender for not having a strong connection to his county's hurlers, Meyler has a history with hurling dating back to his father, John Meyler, who was most notably an All-Ireland winner in 1982, and managed the Kerry hurlers twice as well as Cork.
Speaking on OTB Football Saturday, Meyler expressed his excitement to watch his county in their first All-Ireland final in eight years.
"It has been a long time coming," Meyler said. "Obviously my father was involved a few years ago when they got beaten in the semi-final, so it is good to see Cork back in the All-Ireland final.
"We are a county that obviously pride ourselves on our hurling, we want to be in the final year in, year out. It has been far too long, so it is good to see them back and I wish them all the best.
"It is going to be a tough ask to beat Limerick, who are a very good team."
Meyler grew up as a hurler first, as his father was then-Kerry manager and he would often find himself at training when he should have been busy with schoolwork.
"My earliest memories would be when he was manager of Kerry in the mid-90s," Meyler said. "Getting collected from school and getting thrown into the car and dragged down to Kerry.
"You'd have training, back in the car and away home. During training you'd be doing your homework or whatever; that was where I grew up.
"I was very fortunate with him playing for Cork that whenever Cork got to the All-Ireland semi-final or final [I would head to Croke park].
"My first memory of Cork winning the All-Ireland would have been '99 and there is a great photo of me and Jimmy Barry with the Liam MacCarthy Cup.
"They used to bring it around to the different clubs, and I was playing with Blackrock. So they brought the trophy in, Jimmy Barry was there and I got to meet him."
"Hurling was my first love," Meyler added. "I went everywhere with a hurley and a sliotar, and I loved it."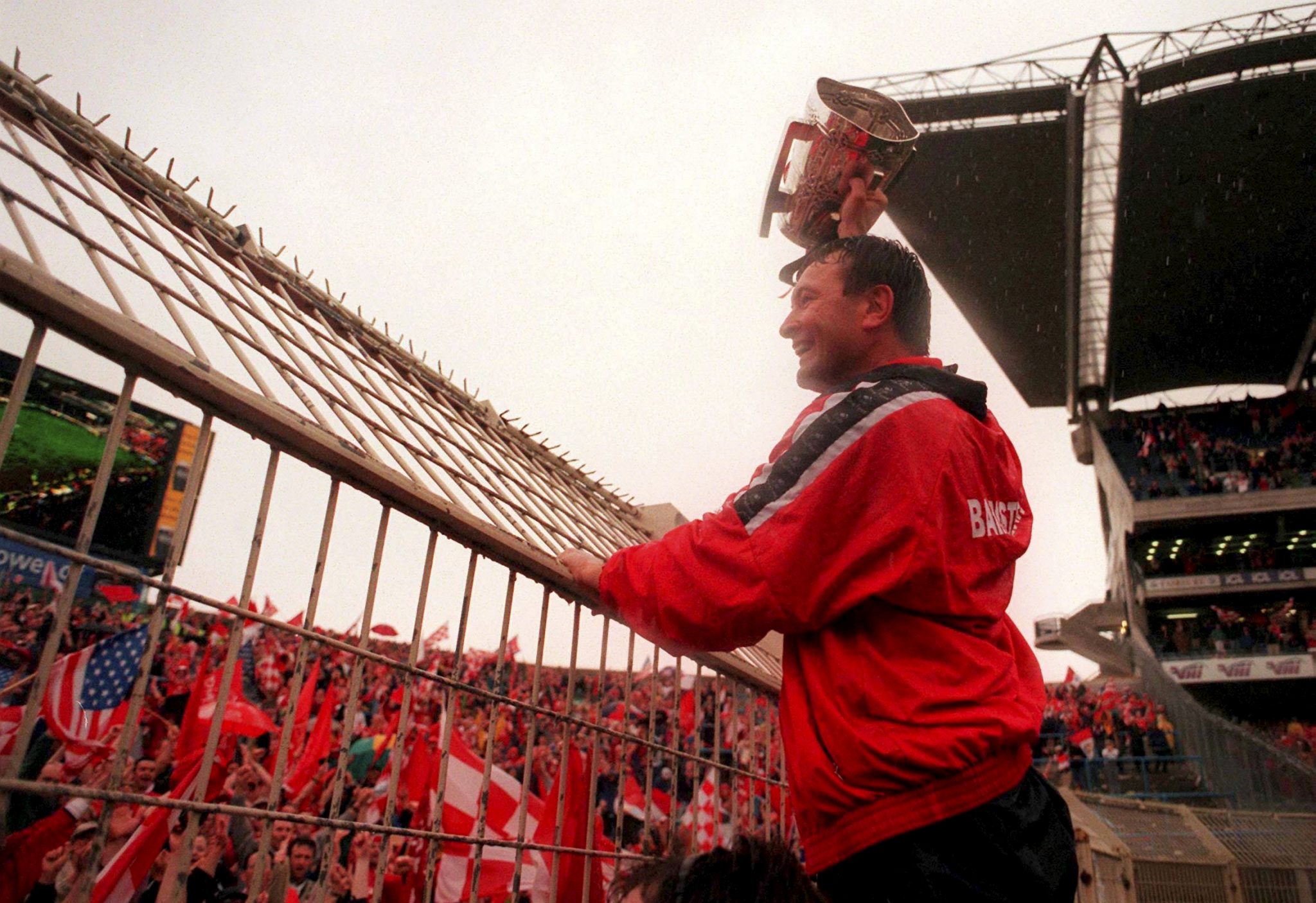 Irish athletes have all had a go at hurling
While he was more than just a two-sport athlete himself, Meyler suggested that Ireland was blessed as athletes in the country often could be elite-level in multiple sports, showing the lack of a need to focus on one sport early on.
"Simon Zebo is a prime example," Meyler said. "I went to primary school with Simon and he could have played Cork hurling, Cork Football, probably could have carved out a career professionally in soccer, and he chose to go down the rugby avenue.
"There are so many different examples of fellas playing different sports and I think it is great because you learn so much from each sport."
In spite of his love of hurling and his desire to cheer on Cork on Sunday, Meyler will have to play catch-up as he is otherwise engaged on the morning of the All-Ireland final.
"Would you believe I am actually togging out tomorrow in a charity match for Hull City Legends?" Meyler said. "I'm playing that in the morning, but when I come back I will watch the game."
Download the brand new OffTheBall App in the Play Store & App Store right now! We've got you covered!
Subscribe to OffTheBall's YouTube channel for more videos, like us on Facebook or follow us on Twitter for the latest sporting news and content.