As people patiently await the return of Gaelic games, OTB Sports talked to the Offaly man with a lasting dedication to Sligo GAA, Paddy Galvin. 
The Markievicz Park committee has not been so busy since Covid-19 brought Gaelic games to a halt.
Nevertheless, Paddy Galvin is not getting complacent.
"I drop up to the Park maybe a couple of times a week to make sure everything is OK," he explains, the ground only a short drive from his home in Carraroe just outside Sligo town.
An Offaly native in his 85th year, his stint as Secretary of the committee has run beyond the 30-year mark at this stage - his overall involvement stretching back further still.
"I've tried to get out of it a number of times but no luck at all," he claims, "and they've convinced me to do another year, so I'll do that much anyway."
Talk about Markievicz Park and Sligo GAA with Paddy Galvin for any length of time, however, and it seems doubtful that anyone had to twist his arm too firmly securing this extension.
A man of the GAA, he takes immense care of the keys to Sligo's beautiful kingdom.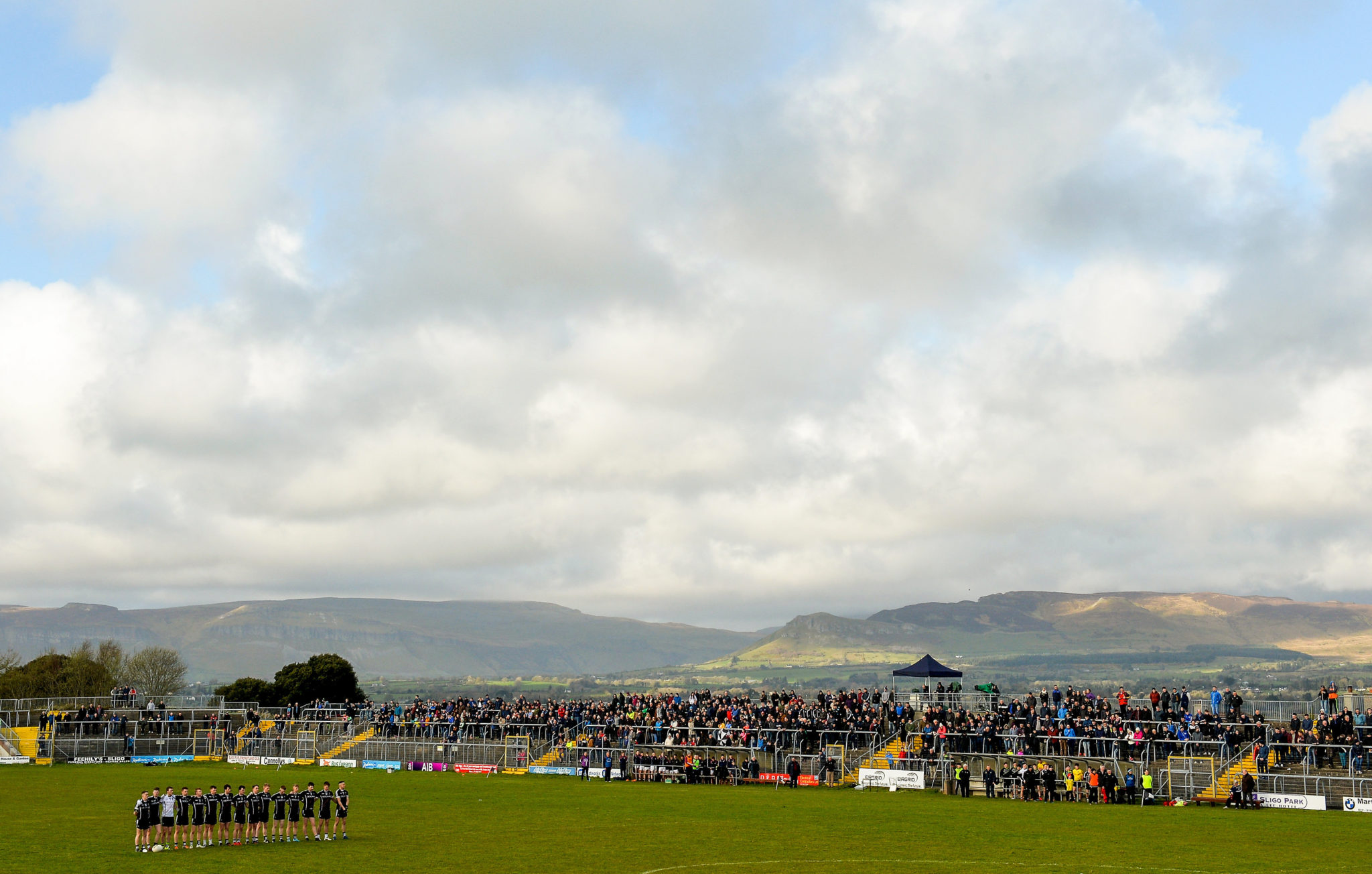 The obvious esteem in which Paddy Galvin is held locally has already been revealed nationally.
An inductee to Sligo GAA's Hall of Fame in 2014, Christy Cooney presented him with the GAA President's Award in Croke Park two years earlier.
At a time of the year when Paddy and the "small but very active committee" should be toiling away for another busy year in Markievicz Park, there are no games to be played.
Without much to look forward to on that front, he indulged OTB Sports in looking backward.
"I started off working in Drogheda in 1954," he explains, our conversation taking place one day before the 67th anniversary of his first day in work.
"I did relief work then as I was qualifying in places like Kells and Navan, before moving up to west Donegal and from there down to Sligo. I moved back to Donegal town, but came back to Sligo where I'm still in existence."
Involved with a variety of GAA clubs throughout, he regularly extols the virtues of a community that allowed him to create a number of lasting friendships and memories.
Where there was no club in his immediate vicinity, he became involved in setting up St. John's around the late 1980s; a club that has produced one of Sligo's four All-Star footballers, Charlie Harrison.
When he could play no longer, Paddy Galvin's enthusiasm for off-field jobs was never found wanting.
However many games have been played in Markievicz Park across the last 40 years or so, Paddy Galvin reckons he has been there for about 99% of them.
"A lot of time goes into it," he admits, "and during a normal week a lot of us will go and clean the place up to make sure it is in pristine condition for games.
"The pitch has to be in tip-top shape too and one man I must mention, Tom Gallen, he looks after that and keeps it in very good shape - he cuts it 50 times a year!
"We have to get stewards in from various clubs then for the running of games then, get ambulances on site, portable toilets and even arrange bands for the big games.
"I wouldn't often get down to midfield to view a game properly, but I'll enjoy whatever is going on - juvenile games or the big senior matches."
Reeling off names like Mickey Kearins, Johnny Stenson, Barnes Murphy, Paul Taylor, Ross Donovan and Mark Breheny, his enjoyment of Gaelic football played well is clear.
Expertly maintaining a place fit for them to play, what is clearer still is the pride he takes in facilitating the unforgettable moments such figures create.
Rarely was this more vigorously tested then in 2003 when Westlife performed one night of their latest tour at a venue he has never known to host a concert before or since.
"We were deeply involved in that," he remarks of the committee's work to ensure a successful homecoming for a band then made up of three Sligo natives and two Dubs.
"The goalposts were taken down and a lot of fences had to be taken down to ease people coming and going. We gave them a hand right through the night the concert was on then too.
"We knew most of the Westlife lads though, especially Shane Filan who had done a little bit of hurling with my lads and was a good footballer himself.
"I was delighted to be able to welcome him into Markievicz Park to play a different kind of game."
From W.B. Yeats to Joseph N'Do, Paddy Galvin slots into a tradition of outsiders who have given something of themselves over to Sligo and found a home in return.
Firmly loyal to Offaly roots, the extent of his legacy in Sligo has nevertheless run beyond his own contributions to those of his sons Michael and Peter - two men who have done remarkable work for the benefit of hurling in Sligo.
Amidst clichés of 'what the GAA is all about', he remains a living embodiment of what it can be at its best. Yes, the games are important, but in this extended moment of their absence he is feeling the true benefits.
"I'll go down to the pitch at St. John's everyday and do a number of laps to keep myself sane," he explains of his new daily routine. "Whenever I go down there I meet people and interact with them still - socially distanced!"
"You do miss the old adrenalin flow for big games, but I've always plenty of work to do around the house now anyway, you know."
When the games do eventually return though, Paddy will be the first person up at Markievicz Park to open up the gates.
Download the brand new OffTheBall App in the Play Store & App Store right now! We've got you covered!
Subscribe to OffTheBall's YouTube channel for more videos, like us on Facebook or follow us on Twitter for the latest sporting news and content.