We've already reached our fifth county as we choose the sporting Mount Rushmore's for each of the 32 across the country - with Wexford down for decision today.
Former Wexford hurler Diarmuid Lyng and All-Ireland winning manager Liam Griffin joined Ger and Eoin on OTB AM with their picks.
And where will the Wexford mountain be located? 1996 boss Liam Griffin says there's only one place that would make sense. "On top of the Black Stairs, so the Kilkenny boys can see it as well!"
There is no lack of talent in the Model County, and narrowing the shortlist down to four was no easy task. But here are the final four on the Wexford mountain:
HURLING - Nicky Rackard
The Killane-born man is widely considered one of the greatest hurlers of all time, and Lyng tells us there's no doubting he is deserving of being in this Wexford top four.
"Nicky Rackard was Cúchullain's son like. He was a story, he was barely a living creature to me, he was a legend.
"He was who we grew up with, the mythical figure. Nicky Rackard just has to go on it, he was a man-mountain himself anyway.
"Seventeen years he played for, in 1954 in the Leinster final he scored 5-5, he went out in the All-Ireland semi-final and scored 7-7. I mean who scores 7-7 in a game of hurling, like?
"Two All-Ireland's, four Leinster's, one league and one Leinster football title as well. Nicky Rackard is facing east on Mount Rushmore, the sun is going to rise on Nicky Rackard's face, because the sun rose on Wexford hurling through Nicky Rackard."
Griffin spoke about his own personal memories of Rackard, who passed away at the age of 53 in 1976.
"I did see him, I saw him at the very end of his days. I was lucky to be on a Wexford team one time that he was involved with. He put his hand on my shoulder, and that was like the hand of god touching you.
"He was a fantastic man, his presence was just unbelievable. To see him standing in the dressing-room, you wouldn't be worried about going out, you'd be just looking at him. That's a fact."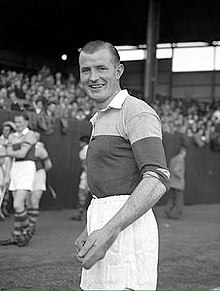 ===
GAELIC FOOTBALL - Mattie Forde
"The impact on football and the way a game is played, walking away from grounds... sometimes I felt grateful walking away from a stadium that I got to witness him doing his thing at the height of his game", says Lyng.
"You'd feel lucky to have seen him. They didn't win All-Ireland's, but [this was] at a time where there was a huge shift back towards Wexford football.
"Mattie Forde was definitely the best footballer in the country for me at a time."
Liam Griffin spoke about his fond career memories of the Kilanerin-Ballyfad clubman.
"Mattie Forde was a magnificent footballer. My great memory of Mattie Forde was Wexford played Sligo in Wexford Park, and he went over to one sideline and put the ball over with his right foot, and he went over to the other sideline and put it over.
"He was the same as Maurice Fitzgerald, that was a great Wexford football team. He was poetry in motion, he beat us in a bloody county semi-final with eight points from play in hurling, so that makes me sick!
"He was an absolutely brilliant hurler. He could point the ball from 70 or 80 yards, if he had concentrated on hurling he would have been one of the all-time greats."
===
BOXING - Billy Walsh
The former boxer-turned Irish Olympic coach has done a lot for the sport in this country, and Lyng says his impact earns him his place on the Wexford Mount Rushmore.
"Billy Walsh for me represents something that is in the Wexford character, his sense of himself based on where he is from.
"A new mindset and a new sense of himself, a certainty, and an organisation and a skill, and an ability to observe... a sense of Wexfordness. Billy Walsh to me... I've such pride when I see him on the international stage.
"His skill as a boxer was one thing... but, as a coach he represents something exceptionally strong and certain."
===
HURLING - George O'Connor
Georgie's 1996 All-Ireland winning manager Griffin gave his reasons why O'Connor has to be on their county's Mount Rushmore.
"George, 17 summers in purple and gold. I would say he would represent all the guys in '96, we had some magnificent players on that Wexford team.
"George never backed off, he never would yield, as the poem about him says. Myself and George had a pact that the All-Ireland final would be his last game of hurling, he had nothing left to prove.
"He was some man... as regards hardship, sacrifice, and keeping a job down and doing it, George would represent that team of '96. It would be very hard to leave George out of that list."
===
There were a number of people very unlucky to miss out - among them former Republic of Ireland international Kevin Doyle, Tadhg Furlong and Gordon D'Arcy from the rugby world, and the likes of Aidan O'Brien in racing.
Who would your top four have been? Let us know in the comments! 
Here is Nathan Murphy's selection of Mayo's Mount Rushmore from Episode One!
Here is Colm Boohig's selection of Cork's Mount Rushmore from Episode Two!
Here is Will O'Callaghan and Paul Rouse's selection of Offaly's Mount Rushmore from Episode Three!
Here is Shane Hannon and Gráinne McElwain's selection of Monaghan's Mount Rushmore from Episode Four!
Download the brand new OffTheBall App in the Play Store & App Store right now! We've got you covered!
Subscribe to OffTheBall's YouTube channel for more videos, like us on Facebook or follow us on Twitter for the latest sporting news and content.