Tommy Walsh joined OTB Sports to name his All-Stars from the year in hurling. 
As Limerick claimed their second All-Ireland triumph in three years with a convincing defeat of Waterford, it is John Kiely's team that dominate proceedings in this All-Stars selection.
However, the Treaty men have not had it all their own way and there's plenty room for debate and discussion surrounding some of the Kilkenny legends picks.
Tommy Walsh's Hurling All-Stars
Goalkeeper - Nickie Quaid (Limerick)
A player who missed out on All-Stars selection after Limerick's 2018 triumph, Nickie Quaid is likely to be among the recipients this time around. "No matter what happens on the pitch, he is up for it," Walsh noted of Quaid's diverse skills-set. "He always seems to be in the right place at the right time. He has been brilliant for the last few years."
Right corner-back - Seán Finn (Limerick)
Tommy Walsh's first nomination for Hurler of the Year, Seán Finn is in the running for his third successive All-Star win. "He has been absolutely outstanding," Walsh said. "He has been consistent and whether the ball comes in high or low he is able to win it. He marks the top players and it is no problem to him."
Full-back - Daithí Burke (Galway)
Although Galway fell short at the All-Ireland semi-final stage, Tommy Walsh believes Daithí Burke has put himself upon the game's very best players in this position. "He is the best full-back in the game," Walsh stated, "and he is already legend there with the likes of Brian Lohan and Diarmuid O'Sullivan."
Left corner-back - Dan Morrissey (Limerick)
Out of position in Walsh's XV, it was nothing new for Morrissey this season. "He came back from the wing-back position where you have more freedom," Walsh recalled of the injuries to Mike Casey and Richie English that forced Limerick into drastic changes this year. "I thought Dan Morrissey had a really, really good year [at full-back] and while he is still quite young, his leadership and strength [were clear to see]."
Right half-back - Diarmuid Byrnes (Limerick)
Another Limerick players who missed out on the All-Stars in 2018, Walsh believes his performances in 2020 leave him in a strong position to win this time out. "All the talk coming up to the final was about the aerial ability of Waterford," Walsh noted. "First ball that came down around Diarmuid Byrnes, he caught the ball. You could see then that he and his team knew what that meant. Look at his scores as well - a wing-back - and he got 0-12 in total."
Centre half-back - Tadhg De Búrca (Waterford)
Although his All-Ireland final was cut short due to injury, Tadhg De Búrca is more than deserving of a place in Tommy's XV. "He is arguably the best #6 in the game right now," Walsh suggested. "When he went down [injured in the Final], you could see the heartbreak in his eyes but after about 20 seconds he just jumped up. He knew this wasn't about him and it was about Waterford trying to get over the line - that's the measure of the man."
Left half-back - Kyle Hayes (Limerick)
Young Hurler of the Year in 2018 for his performances in the half-forward line, Kyle Hayes was a mainstay of Limerick's half-backs in 2020. "He gave one of the best performances in the first-half of an All-Ireland Final that I've ever seen," Walsh asserted. "He was outstanding all year."
Midfield - Cian Lynch (Limerick)
Hurler of the Year after Limerick's last All-Ireland triumph, Cian Lynch will be hoping to win a second All-Star after this year's second win in close succession. "The wizard himself," Walsh noted of Limerick's highly skillful operator. "I know he kind of played between the lines, midfield in some games and centre-half forward in others, but I think he is the top midfielder in the country at the minute."
Midfield - Tony Kelly (Clare)
One of the year's outstanding stars, Clare's Tony Kelly was a certainty in Tommy's XV. "Another nomination for my Hurler of the Year," Walsh remarked of a player who first won that award in 2013, "in a year where Clare were missing so many of their marquee players he made sure they still had an impact."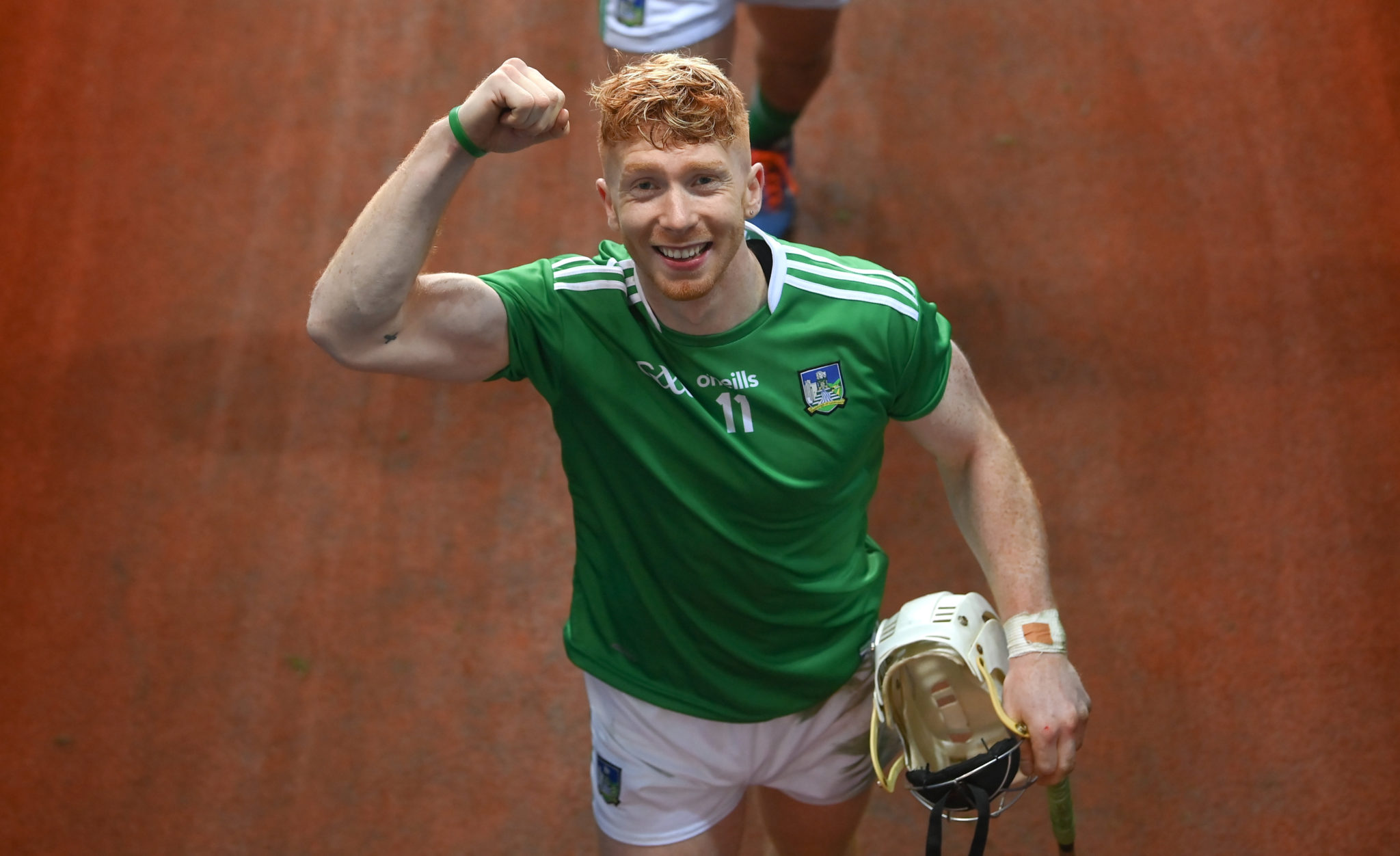 Right half-forward - Gearoid Hegarty (Limerick)
A good tip for this year's Hurler of the Year, Walsh had few issues piecing this trio together. "They say he players on the edge, but I don't think so," he noted of how some perceive Hegarty's approach. "I think he plays the way the game should be played - he is a role model for how the game should be played. When any game was there to be won, he was there."
Centre half-forward - TJ Reid (Kilkenny)
A beaten All-Ireland semi-finalist with Kilkenny, Walsh explained why the Ballyhale Shamrocks man made his XV. "Even in club action he is mesmerising," Walsh suggested, "he makes the ball talk. I think he is after elevating himself up to the same level as Henry Shefflin, Eddie Keher and DJ Carey in terms of Kilkenny greats."
Left half-forward - Tom Morrissey (Limerick)
The second Morrissey brother selected by Walsh, he made up the half-forward trio. "He had a quite Munster Final and was taken off," Walsh recalled, nodding toward the Ahane club man's mentality. "He comes back then in the All-Ireland semi-final and final and was pure magic again."
Right corner-forward - Aaron Gillane (Limerick)
Another player who missed out on the All-Stars in 2018, Gillane was one of only two Limerick players to claim the award in 2019. "He is their go-to man inside," Walsh asserted, "and I don't think they could play how they play without Gillane inside and his quality of movement."
Full-forward - Stephen Bennett (Waterford)
One of Waterford's outstanding players in 2020, he was another certainty for Walsh. "In the semi-final against Kilkenny he was the man who set up the goal that won it for them and scored another goal himself," Walsh outlined. "He was one of the main reasons Waterford got to that All-Ireland Final."
Left corner-forward - Dessie Hutchinson (Waterford)
The former professional footballer who made his inter-county debut earlier this year, Dessie Hutchinson has impressed Tommy Walsh greatly. "His performance against Clare showcased the quality that could have resulted in Waterford winning the Liam MacCarthy Cup," Walsh explained. "He's my #15."
From a quartet of nominations, Tommy Walsh decided Gearoid Hegarty that out-performed Seán Finn, Kyle Hayes and Tony Kelly to win the award for 2020.
"I had narrowed it down to Kyle Hayes and Gearoid Hegarty," he noted of his all-Limerick short-list, "and the defender in me wanted to give it to Kyle Hayes.
"You can't look past a man who scored 0-7 in an All-Ireland Final though, 0-4 in a semi-final, the guy who was tipped for Hurler of the Year before the Final and had all the pressure on him.
"Everyone said there was a way to stop him, but nobody could do it. He was a man-mountain and Gearoid Hegarty is fully deserving of it."
You can watch Kieran Donaghy name his Football All-Stars of 2020 here
Download the brand new OffTheBall App in the Play Store & App Store right now! We've got you covered!
Subscribe to OffTheBall's YouTube channel for more videos, like us on Facebook or follow us on Twitter for the latest sporting news and content.