Zak Moradi took the unusual route from war-torn Iraq to Lory Meagher Cup glory with Leitrim, but his story is about much more than inter-county success, writes Alex McCarthy, who spoke to Off The Ball's Joe Molloy about a golden interview the pair did.
Moradi took on hurling late in his childhood, after he and his family fled from Saddam Hussein-controlled Iraq, amid the general fear in the country after the terrorist attack in the USA on September 11th, 2001.
Moradi and his family found solace in the comparably quiet and peaceful Leitrim, where Zak found belonging and welcoming at St.Mary's GAA club.
Turbulent childhood
In 1991, Moradi was born in Ramadi in Iraq. In 2018, he told us about the situation he was born into: "That night I was born, there was bombs going on at the same time".
"We were in the area where all Saddam Hussein's close allies would have been. That's where all the armies and all the fighting would have been, where we were based," he continued.
Upon reflection of his childhood, Moradi told Off The Ball, "When I was over there everything seemed normal because you're brought up with the system".
"In Rahmadi, everywhere, there's pictures of [Hussein]. He was the god in Iraq. When you look back it was mad. It's kind of similar to North Korea," he continued.
After the 9/11 terrorist attacks, it became clear to Zak's family that they had to leave: "I remember my parents were arguing: I'll go anywhere, we have to get out of here".
"My brother was talking to someone in the UN, and they said look we have Australia, New Zealand, Sweden, and there's a little country [called] Ireland. I didn't know what Ireland was," Moradi recalled.
His father chose Ireland, as he simply wanted "to be left alone" in a "small country with no war".
Adjusting to Ireland
After arriving with no English, Moradi recalled his early experience in school: "Everyone was really good to me in class. They were saying 'come on play football'. I wanted to learn. I had to learn, there was no choice".
"As a kid, you love any sport. I started off with Gaelic [football], and then Clement Cunniffe used to come into the school with hurls and helmets," he continued.
"I couldn't even hit the ball. I was holding the hurl arse-ways, but I just kept at it," Moradi recalled.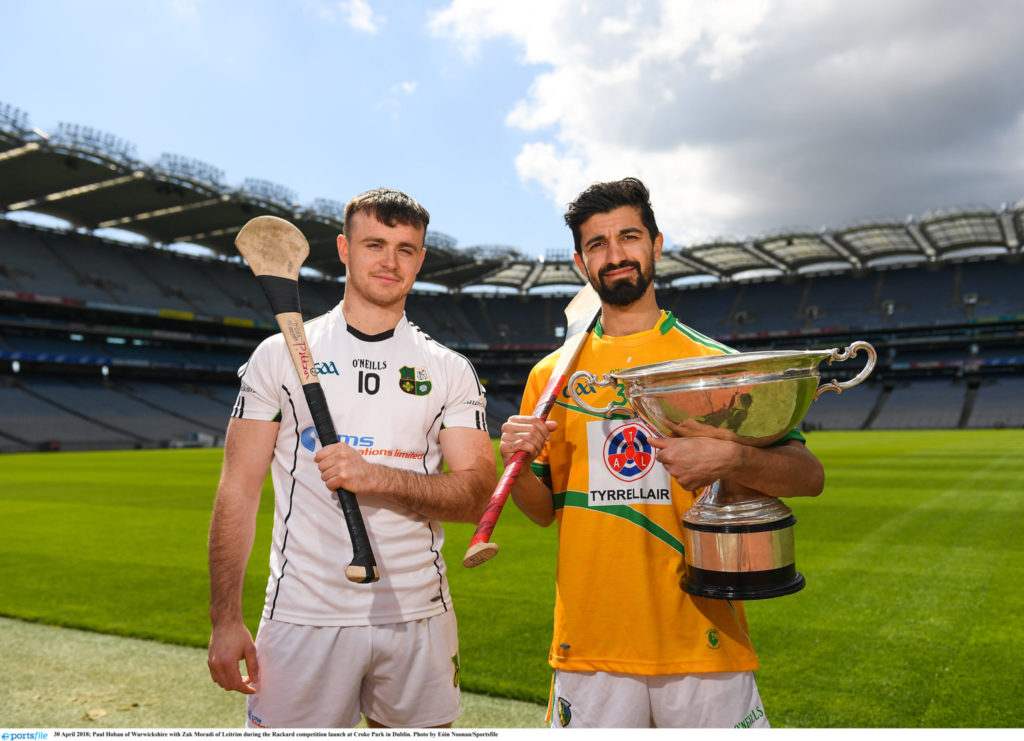 30 April 2018; Paul Hoban of Warwickshire with Zak Moradi of Leitrim during the Rackard competition launch at Croke Park in Dublin. Photo by Eóin Noonan/Sportsfile
Moradi went on to develop his hurling skills, and play at inter-county level alongside the man who first showed him a hurl: Clement Cunniffe.
Moradi didn't begin with these ambitions, he played hurling simply to fit in, and managed to do even more than that: "Sport is a way [to fit in], but I think the GAA is different to all other sports".
"It just brings everyone closer. All the lads would end up going off hanging out together. Even now, any job I have ever gotten is through the GAA," Moradi told Off The Ball.
"I remember I went for a job interview and your man said 'sure look, your CV wasn't great, but I've seen you play hurling, and I play hurling myself, so you're alright then," he continued.
High-level success with Leitrim
Moradi represents Leitrim while living in Dublin: "I love playing with Leitrim. All the lads at Leitrim would have the same passion as the lads from Cork and Kilkenny".
Moradi believes the GAA "need to lump [investment] into the smaller counties", so that future generations can benefit from the enjoyment and community engagement he experienced as a young hurler.
"You need to go to the schools and talk to these kids, and bring them up to the clubs to start them off with hurling and football," Moradi stated.
The interview with Off The Ball
I sat down with Joe Molloy to look back on his interview with Zak 2 years later, and chat about his story.
"The thing that jumps out about Zak is a big smile, shook hands with everybody, an utterly charming person. Any time Leitrim play hurling now I check the result," recalled Joe.
"What was brilliant from my point of view and hopefully for listeners as well, is that we don't hear people from Iraq ever effectively on the show, so it was brilliant to be able to ask somebody who has lived there, for instance: 'Did you like Saddam Hussein?'," said Joe.
"He gave this funny and also kind of tragic answer about how they worshipped him," he said.
"The other great aspect of the story is how sport is this brilliant vehicle for him to come to a country where he doesn't know anybody, doesn't speak the language, and in his own words it allowed him to instantly fit in," he continued.
Joe got an insight into just how much representing Leitrim means to Zak now: "He stayed afterwards chatting with myself and JP [Gilbourne, Off The Ball producer], and he was talking about just how limited the resources are for the Leitrim hurling team. He was saying their tracksuits are far from guaranteed".
"I got the sense that he is trying to fight the good fight for hurling in a place like Leitrim".
On the potential impact of cases similar to Zak's in future could mean for the GAA, Joe said: "It's going to be amazing to watch players of different colours and breeds win All Irelands and having an impact on the game and how it is played".
At a time where many Irish inter-county stars are removing themselves from the game, a story like Zak's reminds us what a valuable asset the GAA is to our society.
Since his interview with Off The Ball, Zak has gone on to score a late winner in the Lory Meagher cup final in 2019 and continue to perform for Leitrim.
You can listen to Zak's full interview below, or on OTB Gold from 6pm today on OTB Sports Radio.
Download the brand new OffTheBall App in the Play Store & App Store right now! We've got you covered!
Subscribe to OffTheBall's YouTube channel for more videos, like us on Facebook or follow us on Twitter for the latest sporting news and content.