Irish taekwondo Olympian Jack Woolley criticised the scoring system being left to the discretion of referees during this year's Tokyo Olympics.
The 22 year-old Jobstown and Dublin local bowed out in his first round of the Olympic 58kg competition – losing narrowly to Argentinian Lucas Guzmán 22-19.
In his post-match interview with RTE, a heartbroken Woolley spoke with raw emotion about his dissappointment of the result.
With time to reflect, Woolley spoke with OTB's Joe Molloy about rewatching his performance and managing his bitterness of the result.
"I've given myself a bit of time. I'm trying not be as harsh on myself as I came across in the post-fight interview," Woolley says. "I'm trying to take the positives. Because if I keep being so negative on myself, I don't think that's going to put myself in a good place to focus on getting to Paris at the next Olympics,"
'The ref made a mess of it'
Frustration undoubtedly still lingers about the manner in which Woolley got knocked out. Prior to the match with Guzmán, Woolley shared that the referee had a word about his signature 'scorpion' kick – someone he says, he has a past with.
"He was giving me unnecessary warnings for things where I know other referees wouldn't have given. He's refereed me in the past, so it was tough to take," says Woolley.
"Especially when I seen him and he said 'Right Jack your scorpion kick isn't going to get you out of jail here'. But I was in positions where I was like: 'why not just throw it?'" says Woolley.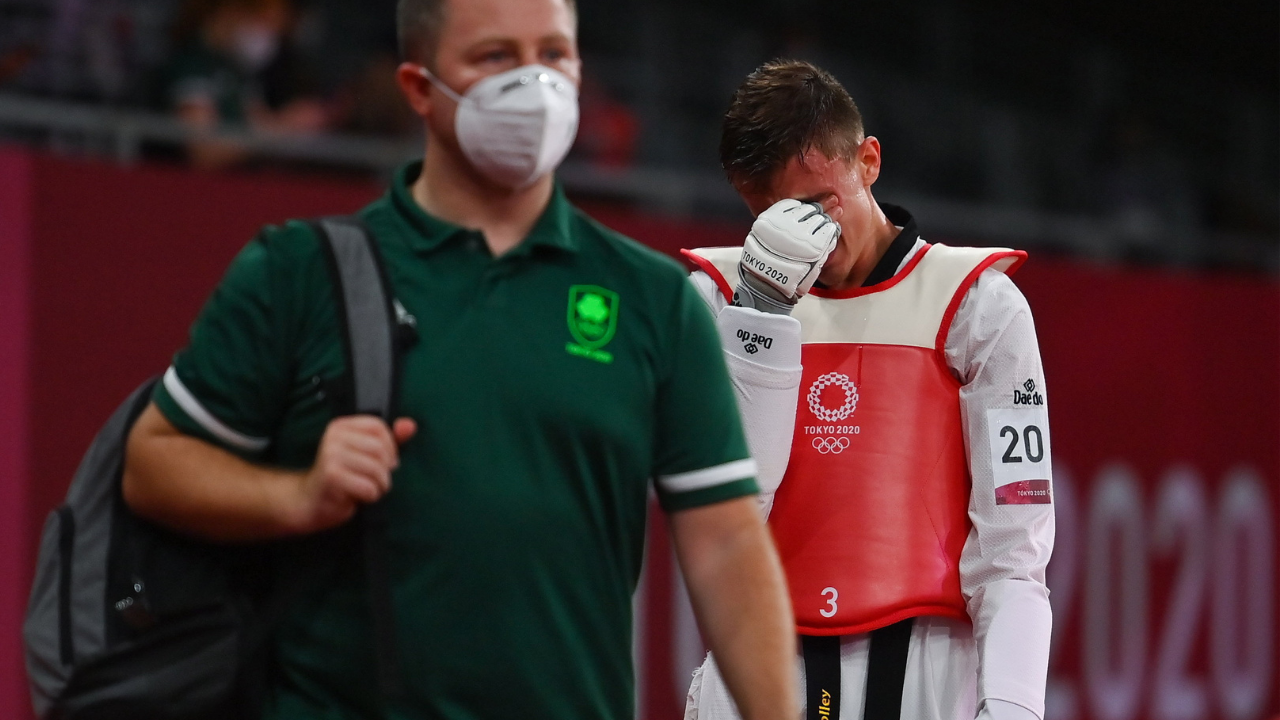 "It's not a martial art it's a sport" 
Taekwondo is an ever-evolving sport. But, it seems, with a traditionalist old-guard of judges too stubborn to change their views. While trying not to blame the result on the referees, Woolley alluded to a more broader inconsistency as to how scores are decided.
"Certain referees don't like how taekwondo has adapted over the years. It's an extremely modern game now. We're not going out and throwing spinning kicks or doubles, or jumping around. We're smarter about how we pick [opponents] off. To me, it's not a martial art it's a sport.
"Referees don't necessarily like that. Especially when they come from a traditional background. You can't pick and choose but I guess that's sport at the end of the day."
Do you think taekwondo needs to evaluate its scoring system?
'Some people have come here to participate at an Olympics, I came here to win'
A 'devastated' @jackwoolley_tkd speaks to @OFlynnPaul#tokyo2020 #olympics #rtesport
📺Watch Tokyo 2020 live - https://t.co/b2OI4OoWVJ
📱 Report - https://t.co/SgbVNe935i pic.twitter.com/SSg9eGb3P9

— RTÉ Sport (@RTEsport) July 24, 2021
Indeed are proud to support Team Ireland at the Tokyo 2020 Olympics.
Indeed believes the world works better when people are given every opportunity to unleash their true talents. #TalentUnleashed