With the 20x20 campaign now into the latter half of an initial two-year plan, co-founders Sarah Colgan and Heather Thornton have found their perspectives on what constitutes success shifting somewhat.  
From the outset, they had designed the campaign's strategy with three specific targets in mind: engineer a 20% increase in media coverage, participation and the attendance of women's sport in Ireland by the end of 2020.
Ambitious but manageable, should the remaining months of their plan follow the trend set during the opening year, the 20x20 campaign will have facilitated a change beyond what may have been initially envisaged, however.
"From our perspective, the campaign has been a huge success," explained Colgan to Off the Ball. "We're thrilled with the momentum it has picked up in all corners.
"We won't know the percentages until the end but the support has been huge, and there have already been four attendance records broken this year: the Women's Six Nations, the Camogie All-Ireland finals, the Ladies Gaelic football finals and Ireland's Euro 2021 qualifier against Ukraine in Tallaght.
"In terms of a temperature that can be gauged, that's been pretty important."
Not long after sitting with Colgan and Thornton in their Dublin office to discuss the opening year of the 20x20 campaign, the Ireland Women's Hockey Team took that number through five and onto six.
Over a two-legged defeat of Canada in Donnybrook last weekend, their Olympic qualification was carried out with two crowds of over 6,000 people supporting them. Some 12,000 tickets sold, for the hockey, in Ireland ... when it's raining.
As the players made their way onto the pitch last Sunday night, the inordinate nature of what was occurring found some semblance of understanding in the logo emblazoned upon each mascot's black jumper: '20x20 - If She Can't See It, She Can't Be It'.
Beyond last weekend's landmark, the surprising journey being taken by this Irish hockey team has neatly coincided with the boundless ascent of the 20x20 campaign and a nationwide awareness - and steadily growing interest - in women's sport.
Almost two months before Colgan and Thornton launched the campaign in October 2018, the Women's Hockey World Cup final had taken on unforeseen importance at home.
"I remember thinking, 'Let's launch it now!'," recalled Thornton of the excitement surrounding the build-up to Ireland's appearance in the Hockey World Cup final. "Everyone was jumping on board [with women's sport] already."
"We were full-on in launch mode," explained Colgan, "and had a huge amount of the development work done.
"During one of the games, my daughter, who was seven-years-old, turned to me with this incredulous look and asked, 'Are we watching the girls on telly?' With aunts, uncles and relations in the room, she shouted over to her brother that it was the girls that were on today.
"Suddenly, it hit me all at once that these younger generations don't see the family crowd around the telly for a sporting event unless it is a men's game."
Such was the appeal of Ireland's World Cup journey then and the work of the 20x20 campaign from shortly thereafter, their appearance at next year's Olympic games has already taken on the feeling of a national sporting moment.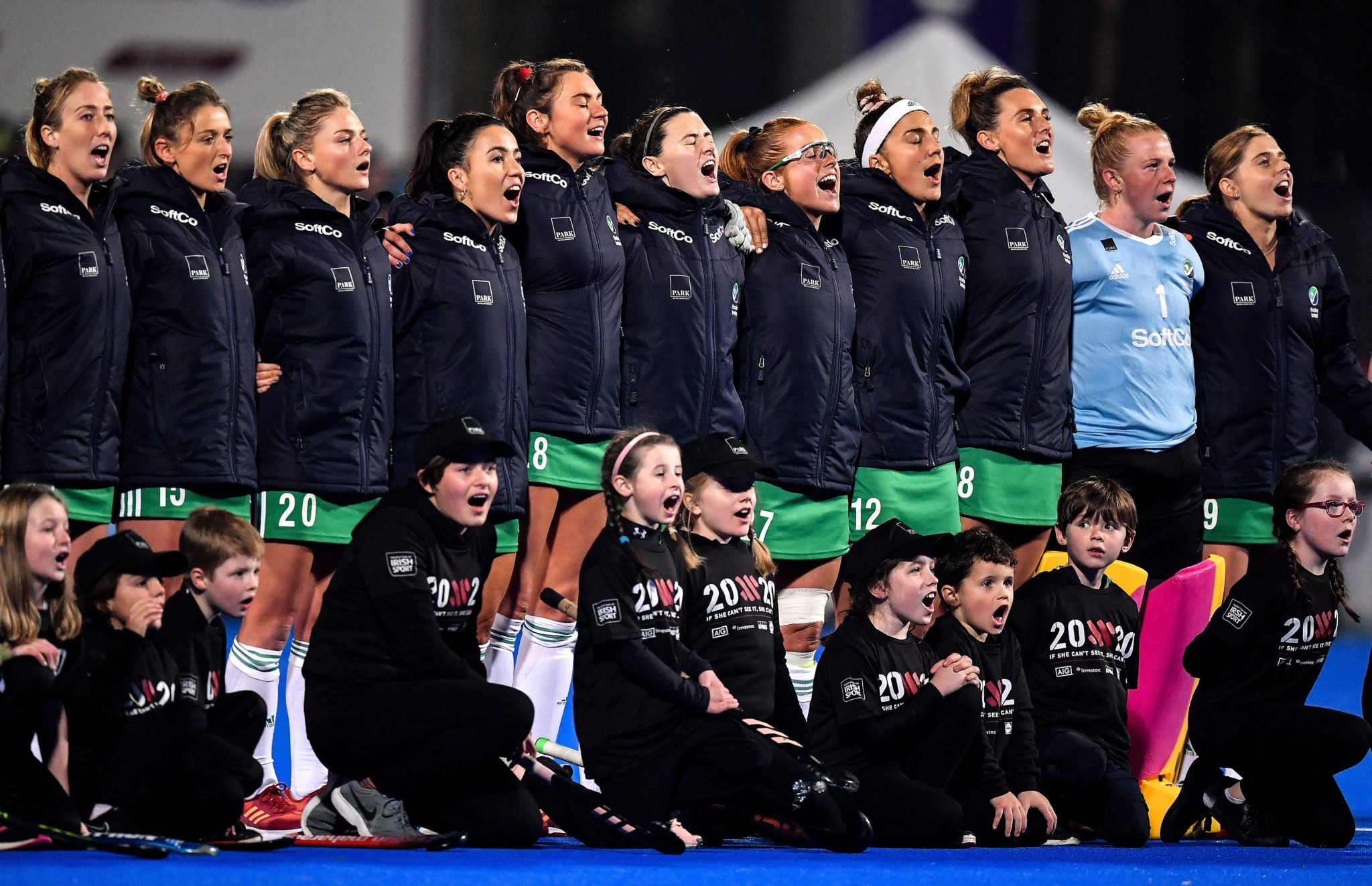 The great normalisation of women's sport in Ireland highlights in part the remarkable success that the hard work of Sarah Colgan and Heather Thornton has enabled the 20x20 campaign to become.
Eagerly 'changing a national mindset' as Thornton terms it, this eagerness allows for only the briefest moments of satisfaction; their interests are firmly focused on what has to happen next.
"Society only has a finite amount of time for 'women in sport' to remain on the agenda in terms of its growth," predicts Colgan, "but there are a load of people that haven't yet seen what women's sport has to offer."
"People whose minds can be changed," pointed out Thornton, "without sounding like we're hypnotists or something."
Between this split of the unconverted and the damned, the approach is necessarily catered accordingly.
Over a 12-month period where success on a national scale has come repeatedly and across a range of sports by way of record attendances and a greater awareness of female sportspeople, particularly, the challenge of reaching the grassroots remains crucial to the wholeness of this project.
With assistance from the Federation of Irish Sport and numerous associations and individuals across the country, it is the next step for the 20x20 campaign.
"We have to have the governing body of each organisation use their status to take a leadership position within the campaign," outlined Colgan. "That has a trickle-down effect, but won't hit the local clubs immediately.
"We are already getting a huge number of requests from the public looking for how they can support the 20x20 campaign and the steps they can take."
For Thornton, Ireland's recent defeat of Ukraine in Tallaght Stadium highlighted the essence of their long-term vision in action.
"Just to see the stadium filled with young girls who are really, really into the game," she recalled, "that was a moment.
"I was a bit emotional that night because I didn't really know if that could happen. Looking at that, those girls then go back home and when it's time to go to football training on a Saturday morning, they feel like they can be one of those girls."
A demonstration of 'If She Can't See It, She Can't Be It' in action.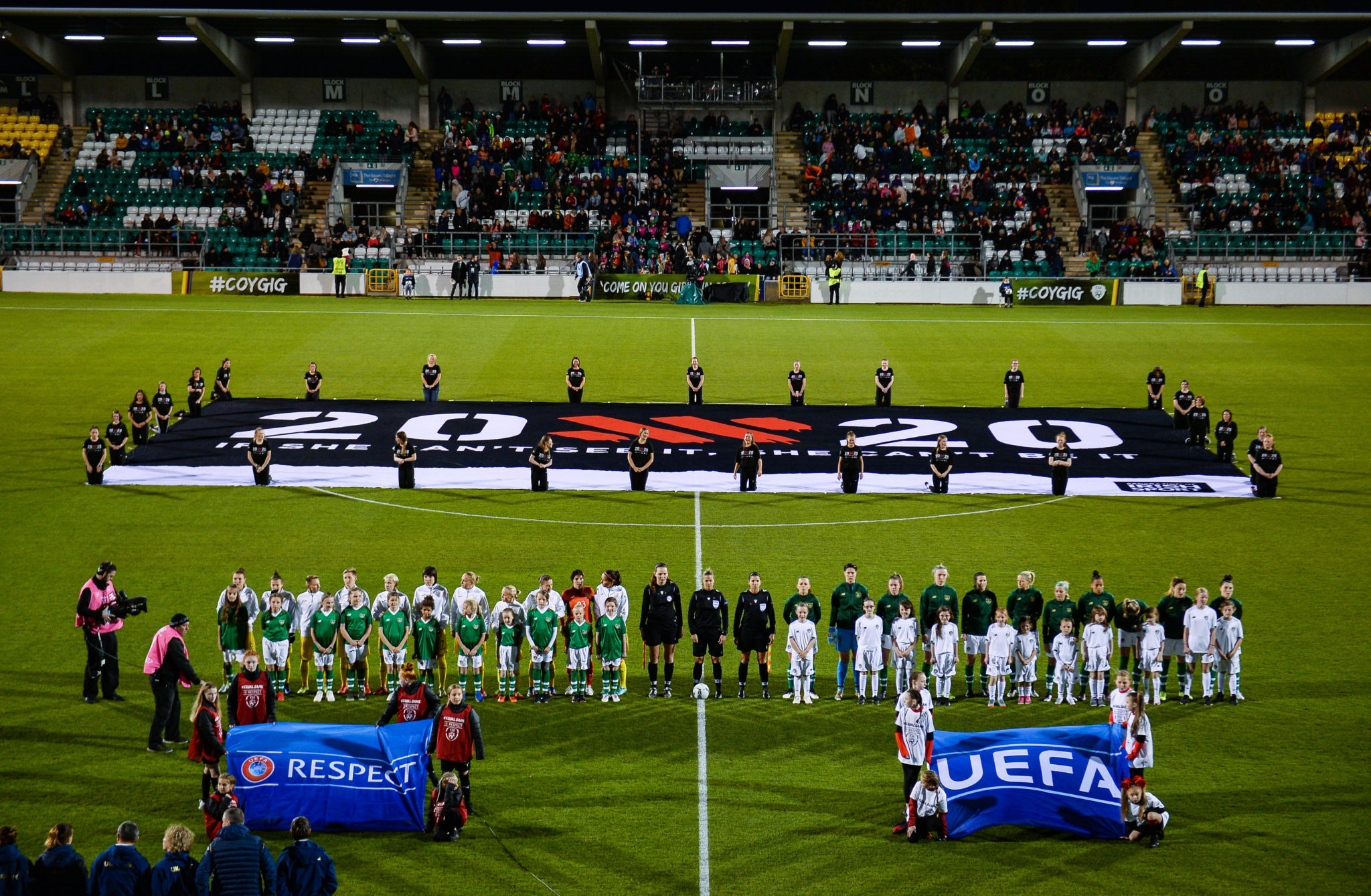 Of those resistant to the very idea of women's sport being afforded a public platform, a puzzled Colgan and Thornton refuse to altogether ignore the diminishing fringe.
"We've read those comments," confirmed Colgan of the largely negative remarks that followed an interview carried out with the42.ie late last year, "all of them.
"20x20 is not about shoving women's sport down anybody's throat. It's about making women's sport more prolific and visible so people can see what's out there.
"A society with gender equality has been proven to be a happier society," added Thornton. "I feel like gender equality in sport is simply a move forward.
"I think we're going to look back at this in 40 or 50 years time and it'll be like women coming into the workplace and how unusual that was considered at the time.
"There's loads more room for improvement. The 20x20 campaign has been good, but there's a lot more to do."
Indeed, from addressing the nomenclature surrounding teams and competitions ("No more Women's this or Ladies' that"), to the more widespread appearance of female pundits and analysts in the sporting media, Sarah Colgan and Heather Thornton appear to have every angle covered moving forward.
Admittedly unsure if women's sport will ever be considered an equal of the male alternative in Ireland, one crucial aspect of campaign's success has been its determination to never let us forget that this disparity exists.
Subscribe to Off The Ball's YouTube channel for more videos, like us on Facebook or follow us on Twitter for the latest sporting news and content.