Well, there you have it. Better Call Saul Season Five has been completed, and it's time for our final Player Ratings until we decide what to fill the void with.
**SPOILER ALERT - Don't read on if you haven't watched all of Season Five!
The action in Albuquerque has kept us enthralled in recent weeks, as Saul's relationship with Kim progressed, Lalo Salamanca came to the fore, and threats to Nacho's family left him deciding to act.
Eoin, Ger, and Joseph reflected on the madness of Season Five on OTB AM, and Eoin's summary of what he thought of the season effectively summed up the thoughts of most fans of the show.
"I'm sure there are going to be no disagreements here. That is one of the greatest conclusions that has been drawn out in the history of television.
"And I'm talking about a five-pronged attack on all of our senses, to our heartstrings. Those last five episodes, utterly sublime."
Ger said certain elements of the season finale are predictable, but that it doesn't take away from the show whatsoever.
"You knew that they weren't going to kill Lalo, you just knew it. When Jimmy and Kim are celebrating Lalo's death before they know, before they've seen a picture of the body, you know he's not going to die. You just know he's not going to die.
"What they've done here is not kill any important character. They've managed to keep everybody just about alive in these different narrative strands.
"Maybe they've killed the old [Kim] Wexler. Look it was really good, I'm going to give my first ten at the end of this!"
What about the Breaking Bad versus Better Call Saul argument? Eoin says the prequel has reached the point where it has to be mentioned in the same breath.
"Really you were always going to pick Breaking Bad, up until this season. This is the five-episode run, once you have Wexler versus Goodman, that's when it goes to Breaking Bad's level.
"That's when you go into the realms of you can't argue against this being at least a nine out of ten episode week after week after week."
Joseph says Season Five episode eight in the desert really set the bar.
"The walls break really down on that desert episode, which basically is a Breaking Bad episode. You've got that buddy dynamic of having two people put in a crazy situation, you've got the problem-solving thing they used to always do in Breaking Bad.
"You've got that back, Vince Gilligan is actually back directing that. It feels like after that we're living in this new thing, that's not Breaking Bad, not Better Call Saul, it's kind of like trojan-horsed... a follow-up to Breaking Bad that's not a prequel, it's just its own new thing."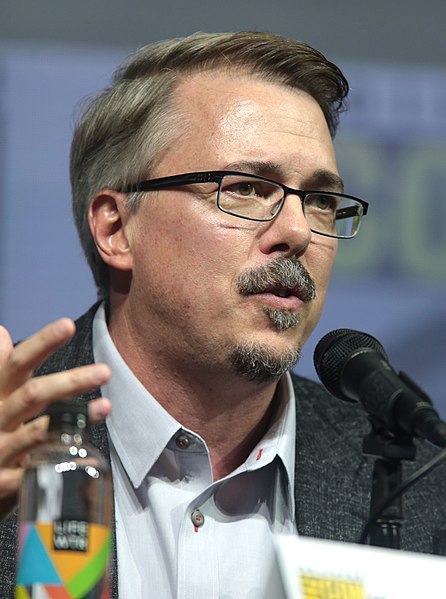 Eoin says episode eight in the desert made him react in a way he hadn't expected.
"That's the first time in the entire series, for me anyway, where you're sitting there and you actually audibly have to say something. You can no longer keep your silence to yourself, you actually have to make some sort of noise.
"It's like Rafa Nadal serving in the fifth set. You have to concentrate your energy into something aural, and at that moment when Jimmy's lying there...
"I think I was saying something along the lines of 'holy fuck, holy fuck.' Gilligan does an unbelievable job of this, you almost realise immediately how significant this whole shoot-up is going to be, and what it does for [Saul Goodman's] senses.
"It's five different directors for five different episodes. When Mike calls Jimmy, Jimmy opens the phone, and you immediately realise Lalo's at the door. But you can actually make out Kim Wexler's silhouette in the background.
"You realise 'well this is it, she's done, she's dead', and you think what a Breaking Bad / Better Call Saul way to kill off a character. He's going to be on the phone to Mike, and in the background you're going to see her get shot, that's exactly how I expected it to happen. But it doesn't."
Download the brand new OffTheBall App in the Play Store & App Store right now! We've got you covered!
Subscribe to OffTheBall's YouTube channel for more videos, like us on Facebook or follow us on Twitter for the latest sporting news and content.