Actor Mickey Rourke joined Andy Lee to talk through a life rich with stories of good and bad deeds, and disclosed the details of his friendship with 'the most interesting man' he's ever met, Bob Dylan. 
Mickey Rourke has not formed many lasting friendships during his five decades within the film industry.
In conversation with Andy Lee for Off The Ball, the star of The Wrestler seemed secure in the knowledge that too much of his life experience off-screen stood between him and the good graces of Hollywood's elite.
Among the more esoteric people he encounters, however, Rourke tends to strike up relationships with those who are easily misunderstood.
It is little wonder then that he considers Bob Dylan a friend.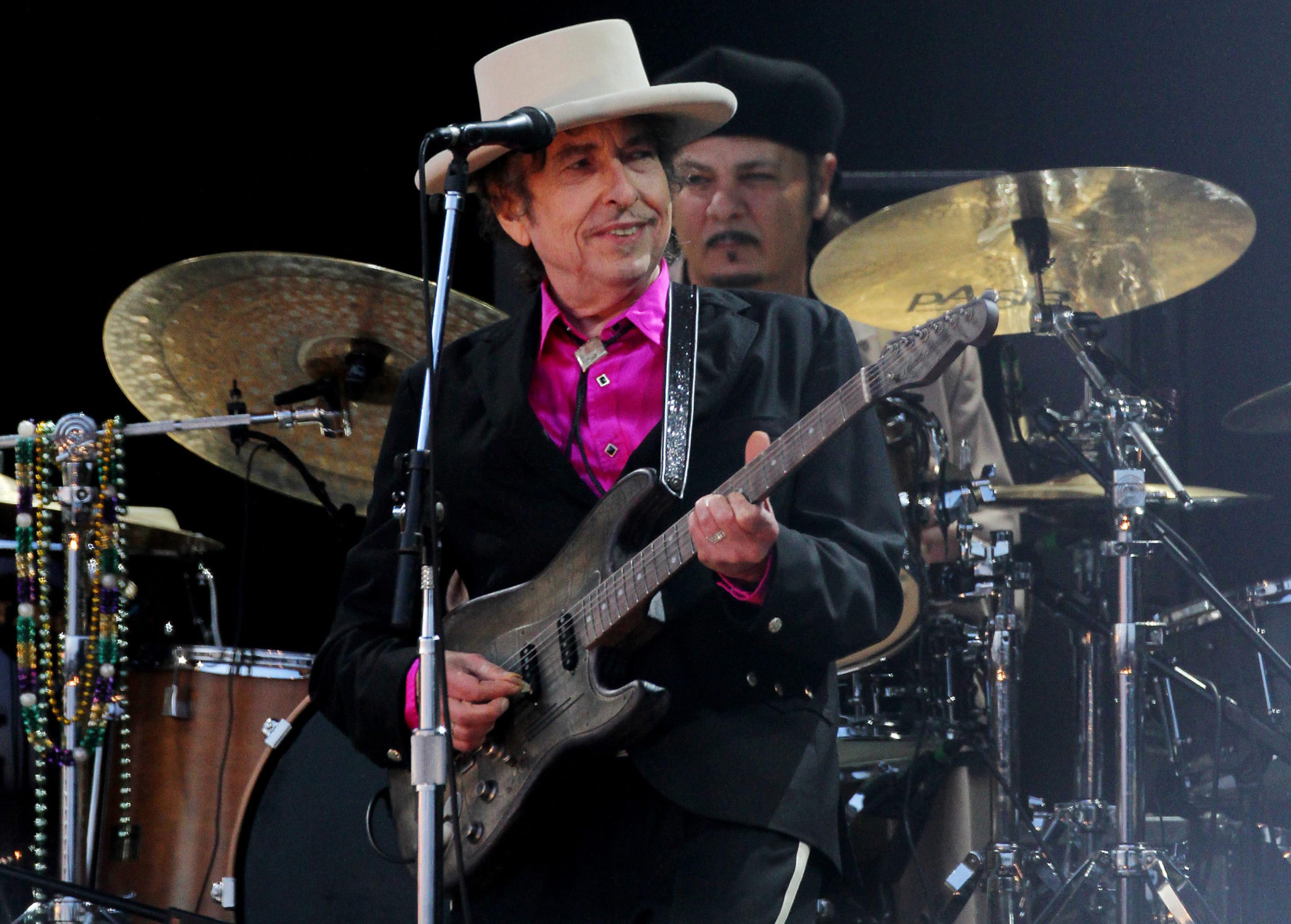 "Bob Dylan is the most interesting man I've ever met," admitted Rourke of the legendary singer-songwriter he first came to know on the set of the 2003 film, Masked and Anonymous. 
"I remember that he would knock on the door of my trailer and I would look out to see who it was. 'It's me.' That's all he would say.
"He would ask to come in and he would have his guitar with him so he would go and sit on the couch. 'Bob, can I get you a coffee, a coca-cola or anything?' He'd be playing his guitar, would look over at me and just shake his head."
A fan of the artist's work, Mickey Rourke did what he could to engage Dylan further.
"We were on the set together one day and I was just so enamoured," he admitted. "I wanted to be friends with him because I really looked up to him.
"So I just said, 'Bob, do you go out? Do you want to go out and hit the town?' He didn't even look at me. 'Oh, no, I don't go out.' I just said, 'You don't go out?' 'No, I don't go out.'
"He told me that he'd just had a baby with the girl he was with. I congratulated him and asked if the baby was a boy or girl. 'I'll tell ya later.' He never told me."
In the years that followed, as Dylan enjoyed a period of late creativity and Mickey Rourke recaptured the limelight as the leading man in The Wrestler, their paths crossed once more.
"Couple of years later I got offered The Wrestler," he recalled, "and as I'm reading the script I'm thinking, 'I'm going to call up Bruce Springsteen.' He's a buddy of mine, and I'm going to ask him if he'll write a song for the movie.'
"Seven days later, I'm driving through Miami when the phone rings and its Bruce. He wanted me to listen to the song he'd written. The car pulled over and Bruce sings me the song down the phone. It was a beautiful song and it did well, got nominated and shit. But I was very proud that he'd done me that honour.
"Anyway, some time after the movie came out I'm there at a Bob Dylan concert. There's all these stars there buzzing around and I'm standing in the corner waiting for Bob to get done talking to them because I don't like any of them anyway.
"Eventually he makes his way over to me. 'How come you didn't ask me to write that song?' I told him, 'Bob, I've been trying to call you for five months!' You cannot reach him. He doesn't go out."
You can watch Mickey Rourke's in-depth interview with former middleweight world champion boxer Andy Lee in its entirety here. 
Andy Lee Meets on OTB Sports is in association with the all new SEAT Leon, the brands' first fully connected car.
Download the brand new OffTheBall App in the Play Store & App Store right now! We've got you covered!
Subscribe to OffTheBall's YouTube channel for more videos, like us on Facebook or follow us on Twitter for the latest sporting news and content.