UFC 249 is set to go ahead tonight, despite one of the scheduled 24 combatants testing positive for COVID-19.
While we were sleeping, news broke that middleweight Jacare Souza had tested positive for the virus.
Hours before that revelation UFC president Dana White first-bumped the fighter (who was at least wearing gloves) at the ceremonial pre-fight stare-down.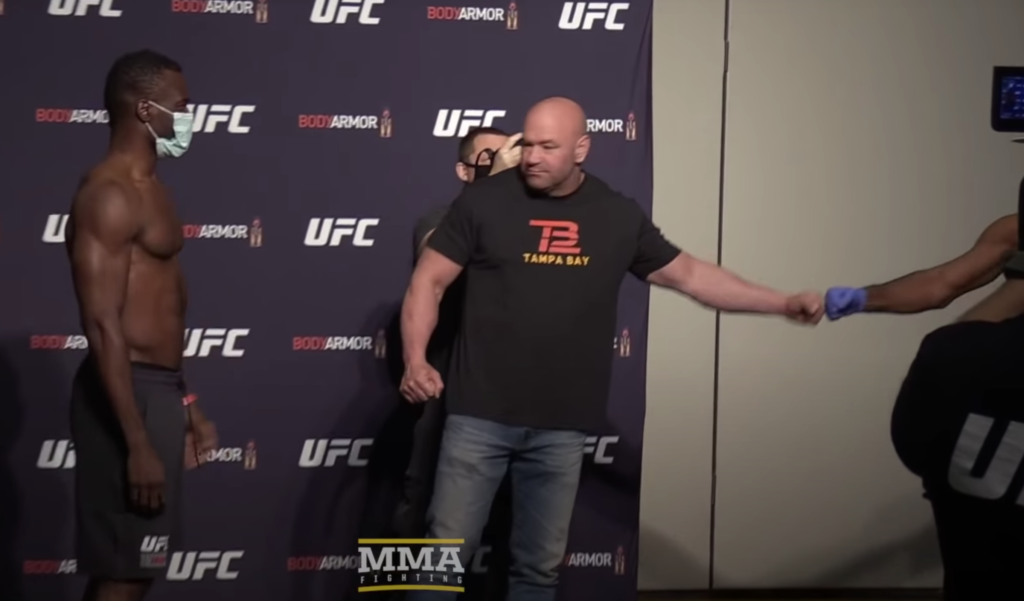 This was a practise the promotion's boss did with each competitor as they arrived, to square-off with their foes.
This action is a bit like the promotion's general approach to the virus, it could be harmless and everything might be grand, or it could look really-really stupid in a few days' time.
The Las Vegas-based company has shown a consistent willingness to gamble amid the Cononavirus pandemic.
What the UFC knew
According to ESPN - the UFC's US broadcast partners - the organisation was informed by the fighter that he was aware that a member of his family may have the virus days ago, when he initially got to the fighters' hotel.
At this point, like every other fighter, he was tested and monitored. Despite his airing of concerns, Souza remained in the fighter hotel and attended the prescribed pre-fight events.
This was earlier today from Werdum's Instagram story.

"Jacare" very close with a group of people all certainly within 6 feet. pic.twitter.com/x1Dcus734G

— Danny Segura (@dannyseguratv) May 9, 2020
When he was confirmed to be carrying COVID-19, it was also confirmed that it has been passed on to his two cornermen.
The UFC has pulled his fight - but plan to go ahead with the rest of the UFC 249 event.
UFC 249's missing link
The UFC has skipped one major step in its rush to come back.
From the Premier League's 'Project Restart,' to the NBA's 'bubble plans,' most blueprints to bring back major sporting events involve a period of pre-event isolation.
Professor Sam McConkey, Professor and Head of the Department of International Health and Tropical Medicine at the Royal College of Surgeons in Dublin joined OTB AM last week.
We said that these bubble ideas can work in principle if all members of a team are in isolation and test negative for COVID-19 for a two week period (the length of time when the virus is carried and transferable) - teams could compete if they were facing other teams in uncorrupted bubbles without major risk.
In the rush to return, this phase was skipped in the UFC, with many fighters arriving in Florida on planes days before their fights.
If the Jacare Souza story was breaking at the start of a two-week period of pre-competition isolation, that's a totally different scenario to testing positive hours before UFC 249. That's the gamble that the UFC decided to take.
All in the plan...
In the wake of the positive test Dana White told ESPN that they had prepared for this situation:
"We administered 1,200 tests this week, on 300 people... It's not unexpected one person would test positive. The system works. And what's good about this, is now we know Jacare tested positive, he's doing what he needs to do and we're in a position to help him if he needs it."
UFC will be the first sport back and it's happening May 9, 13 and 16 in Jacksonville, Florida. I'm excited for the rest of the sports world to join us! Let's get back to work America! pic.twitter.com/83qKfEuQhG

— danawhite (@danawhite) May 2, 2020
If he/they expected positive tests it begs the question, 'Why are they having the card?'
When if comes to those motives you're into the land of speculation regarding the benefits of being the first sport back.
That's another article for another day - but beyond speculation, the UFC's behaviour to date shows consistent haste and a willingness to do whatever they can to keep the show on the road.
It's due to also host a mid-week card on Wednesday of next week, and another event next Saturday.
COVID-19 Track record
This is the third incarnation of UFC 249. It was first due to take place on April 18 at Barclays Center in Brooklyn, New York.
As the severity of the pandemic became clear, the Big Apple plans became untenable and the organisation planned to run the event in at Tachi Palace Hotel & Casino in Lemoore, California on the original April 18 date.
That complex sits on tribal land and could have allowed the UFC to bypass state and federal public health measures which would have scuppered their plans.
Sidebar...
This was a significant moment. When the UFC was bought-out by the super-rich Fertitta brothers in 2001 for $2m - they put Dana White in charge.
At that point, the promotion was banned in states across the US. Under White's stewardship, the UFC cleaned up its rules, curbing the most-violent elements, and embraced State regulation.
This long process resulted in the rehabilitation of the sport and got the UFC to a position where it sold for $4bn in 2016 - with White retaining boss-man status under the new regime.
His attempt at a rouge-tribal UFC 249 bucked that trend.
Time was eventually called on these plans when national press caught wind of the story. It was cancelled when pressure from Disney, ESPN's parent company, caused the promotion to fold.
This came shortly after a New York Times article profiling and criticising White's plans.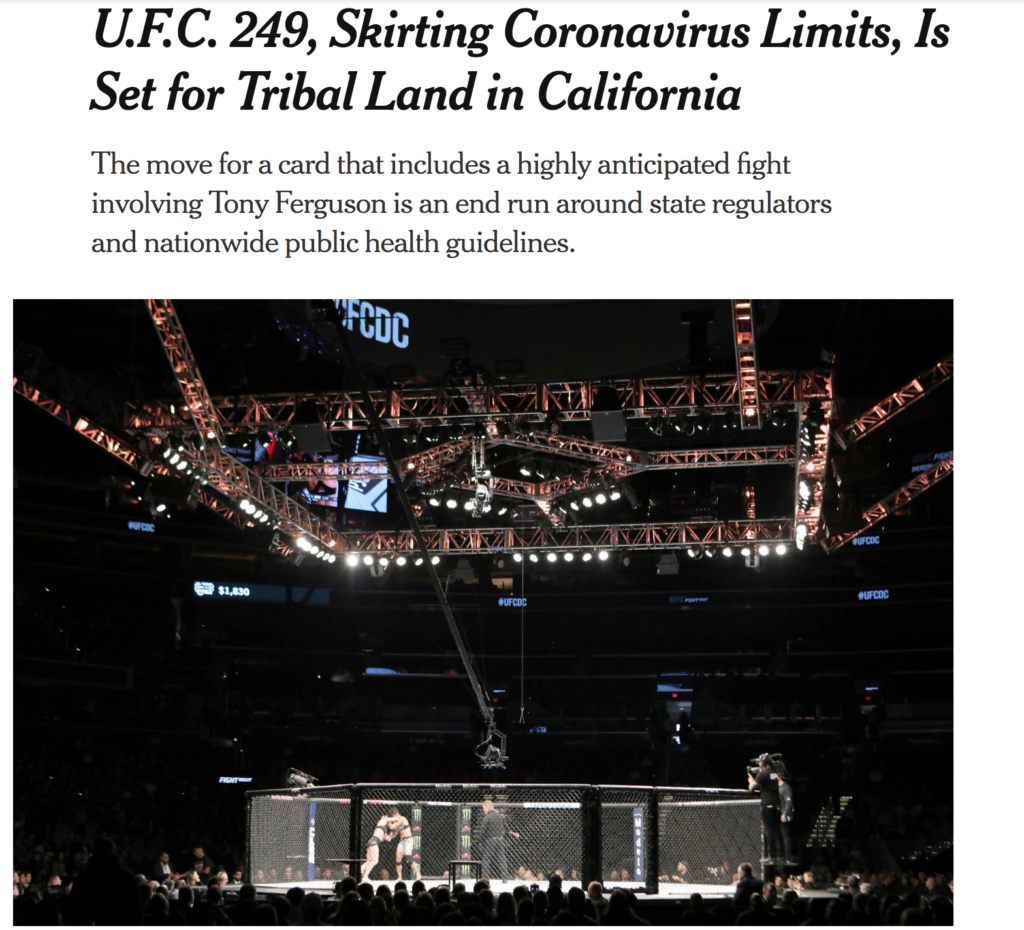 He refuted the veracity of the details in the article and insisted that if Disney didn't stop him, he would have put on a safe card last month.
The first preliminary fights are due to begin at 11:30pm - live on BT Sport in the UK and Ireland.
Fighting through COVID
The organisation also went ahead with a fight night on March 14 in Brasília, Brazil.
On that occasion, the bouts went ahead behind closed doors and without COVID-19 screening.
Is Fight Island real?
In a word, yes - according to the UFC.
Dana White says that the promotion has secured a location on a secluded island where it will stage international fight events.
Speaking during a UFC 249 press event yesterday, he said he hopes to have that site operational by the end of June.
Download the brand new OffTheBall App in the Play Store & App Store right now! We've got you covered!
Subscribe to OffTheBall's YouTube channel for more videos, like us on Facebook or follow us on Twitter for the latest sporting news and content.