The next generation of Irish cricketers are currently miles apart but their Cricket Ireland Academy boss is ensuring there is no let up with their work.
While COVID-19 pandemic is causing a major disruption to the way we all live, work and play, the coaching staff of the Shapoorji Pallonji Cricket Ireland Academy were determined to keep in touch with the squads.
That job is made a lot harder for Cricket Ireland's Academy and Performance Manager, Pete Johnston, when the players are spread across three countries.
"The Academy is a year-round programme, where we not only aim to develop the specific cricketing skills and techniques of the players, but to develop their mental and physical health, as well as building resilience to cope with challenging situations,"explains Johnston.
"Given that we couldn't meet physically to train or undertake fitness work, we have gone to work developing an online programme that we can deliver over video conferencing.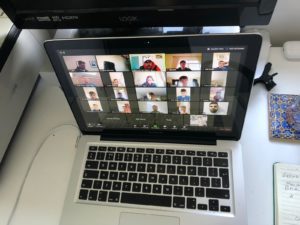 "We had 18 of the 19 players in attendance for our first week, all on video which was brilliant.
"During our first weekly meeting we had a session with Anne Marie Kennedy, our consultant psychologist, that looked at tips to keep positive, motivated and focussed during this emergency period.
"The squad also heard from our Strength and Conditioning Coach, Performance Analyst and even participated in a cricket-themed group quiz to inject a bit of fun."
The Academy was established in 2013, with Johnston in his position since 2017, and it continues to be instrumental in producing Irish cricket talent – both male and female.
Cricket Ireland say the aim is to "identify and support the most promising young players in the country and provide them with a bespoke player development programme under the ethos of supporting them to be 'the best version of themselves in life and cricket'".
Johnston has been drawing on the expertise of his team of top coaches.
"Ryan Eagleson [Academy Coach], Albert Van De Merwe [National Talent Pathway Manager] and I also encouraged learning and development on the skills side of things with some pointers, while Jay Shelat [Performance Analyst] has also provided links to some great resources around tactical and technical awareness – from his parent's house in India.
"The key message for the lads was to 'Stay Ready' for when the season does eventually start – to use this time to prepare and reflect on their game, their health and fitness."
Johnston outlines how they have tried to keep players fit as best they can while also improving their knowledge of the game.
"In the first week, each player has been challenged to begin to keep a journal to track their mental and physical health, along with their individual skill development and fitness work," he adds.
"They were additionally challenged to use some creativity on practicing and sharing videos of drills from their home environment with the group.
"That sharing within the group is proving particularly engaging, with plenty of good ingenuity on display.
"Greg Hollins [Strength & Conditioning Coach] has also implemented some fitness challenges to keep that competitive edge going, and we will even be tapping into Albert's umpiring experience to challenge the players on the laws of the game."
It his hard to improve players in any sport by remote methods but Johnston has been encouraged by the way his budding stars have responded to what they have put in place.
"This was the first of many sessions we expect to be running during this period, and so far the lads have responded very well to being provided some structure and goals during what is a challenging time for all," says Johnston.
"I firmly believe our players can come through this period with gains, increasing their self-resilience and self-discovery along the way.
"The everyday home environment has helped shaped many a world-class player in the past, and this group are already beginning to use their limited resources to the maximum which is exciting to see.
"It's also reassuring that we have the backing of a great partner in Shapoorji Pallonji who help make the Academy possible through their long-term sponsorship."
The 2020 Cricket Ireland Academy Squads
The Academy's male programme is split into two squads - an Emerging Academy squad and a Senior Academy squad. The average age of Academy participants tends to be around 18 years of age, and the youngest players can start at 15 years of age, however, there is no specific age limit on players benefitting from the 'finishing school'.
Senior Academy Squad: JJ Garth (Pembroke CC), Fionn Hand (YMCA), Neil Rock (Rush CC), Nathan McGuire (Rush CC), Mitchell Thompson (YMCA), Graham Kennedy (Ballyspallan CC), Will Smale, Ross Allen (Brigade CC), Conor Olphert (Bready CC), Mike Frost (Malahide CC).
Emerging Academy Squad: Tim Tector (YMCA), Jamie Forbes (YMCA), Seamus Lynch (Terenure CC), Jamie MacNulty (Merrion CC), Theo Dempsey (Phoenix CC), Oliver Metcalfe (Instonians CC), James Hunter (Instonians CC), Kyle Magee (Brigade CC), Zubair Hassan Khan (Cork Harlequins CC).
Download the brand new OffTheBall App in the Play Store & App Store right now! We've got you covered!
Subscribe to OffTheBall's YouTube channel for more videos, like us on Facebook or follow us on Twitter for the latest sporting news and content.